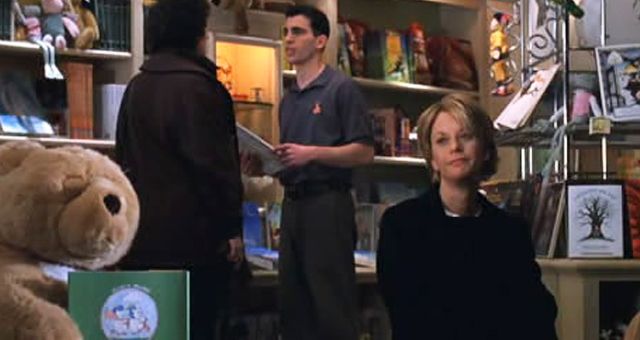 Critical Linking
Would Kathleen Kelly Approve of BALLET SHOES Modern Update? Critical Linking, January 27, 2020
Critical Linking, a daily roundup of the most interesting bookish links from around the web is sponsored by Book Riot's new literary fiction podcast Novel Gazing.
---
"Ballet Shoes, Noel Streatfeild's classic tale of three adopted girls hoping for – or dreading – a life on the stage, is to be reimagined for the modern era by writer and actor Carrie Hope Fletcher.
Endorsed by Streatfeild's estate, Fletcher's novel will, like Ballet Shoes, follow three adopted children. But while Ballet Shoes' Pauline, Petrova and Posy Fossil are brought together when they are adopted by the eccentric elderly palaeontologist they know as Great Uncle Matthew, Fletcher's children are found by the eccentric pebble collector Great Aunt Maude. They live in a rickety old London theatre, rather than the home on the Cromwell Road inhabited by the Fossils, and Fletcher has also made one of them – the ballet dancer of the three – a boy."
I say we make a sequel to You've Got Mail and get Kathleen Kelly's opinion on this.
---
"While Cummins' assault of Mexican culture is bad, it arrived right on time as the crisis at the border became a national talking point. She went from white to "Irlandaisa/Boricua/Persona" at the most opportune moment, trading in the traumas of others for her own benefit. The timing is not lost on any of us, particularly those of us who for years have engaged in an ongoing fight to get our stories told. We fight in newsrooms, boardrooms, studio meetings, book proposals, and other spaces where white editors hungry for all of our pain and none of our nuance serve as gatekeepers."
About that craving for immigrant trauma porn.
---
"Anglo-Irish author Maria Edgeworth's letters are a font of information about dress and dressing practices. By comparison, only 161 of an estimated 3,000 of Austen's letters survive. Edgeworth moved in more exalted social circles as a celebrated author, which Austen unfortunately never lived to experience. The Edgeworth letters share fashion details of the aristocracy as well as her tactics for dressing well in such company. In this portrait, the writer wears a blue satin gown, and her age-appropriate cap is bedecked with matching ribbons."