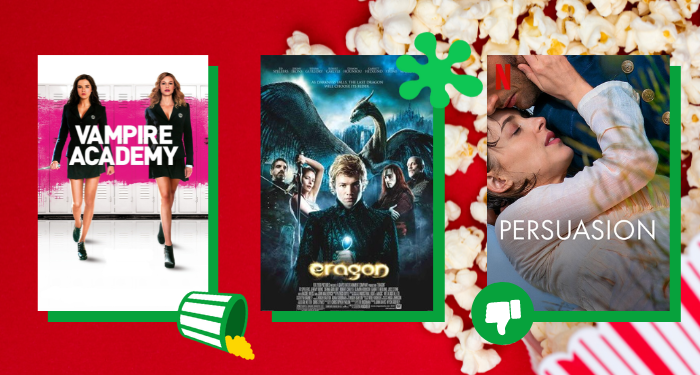 Featured
The Worst-Rated Book-to-Movie Adaptations, According to Rotten Tomatoes
This content contains affiliate links. When you buy through these links, we may earn an affiliate commission.
When a book you love is being adapted into a movie, you get excited. It's hard not to get your hopes up. You're about to see the worlds and characters you've imagined blown up on the silver screen. Will they look like what they pictured in your mind? Will the scenes play out with the same kind of drama and page-turning suspense that made the book so good? What will the movie add to the book that will surprise you and make the story feel fresh again? The possibilities are endless!
So what happens when the movie turns out to be a total flop? Yes, it's disappointing, but it's so much more than that. Now the books we love will be forever associated with a movie that practically no one enjoyed. If you ever reread the book, you won't be able to stop yourself from visions of the (very bad) movie in your head. So yeah, it's more than just a bad movie. It's an affront to the book and its legacy.
We all have our opinions on book-to-movie adaptations. For instance, many people (myself included) think adapting The Hobbit into three (3!) movies was completely bananas. But some people loved the films. There are some book-to-movie adaptations so bad, though, that nearly everyone agrees the movie should just never have been made.
Here are the worst book-to-film adaptations that nearly all critics and viewers can agree were totally bad ideas. They're organized from highest Rotten Tomatoes score to lowest rotten tomatoes score, so settle in because it's going to get worse as we go.
Look, I love movies! I love books! I want book-to-movie adaptations to be good, which is why these movies need to be called out for being so disgracefully bad. But on a more positive note, here are some of the best recent book adaptations. Here's hoping 2023 will be a good year for adaptations too!