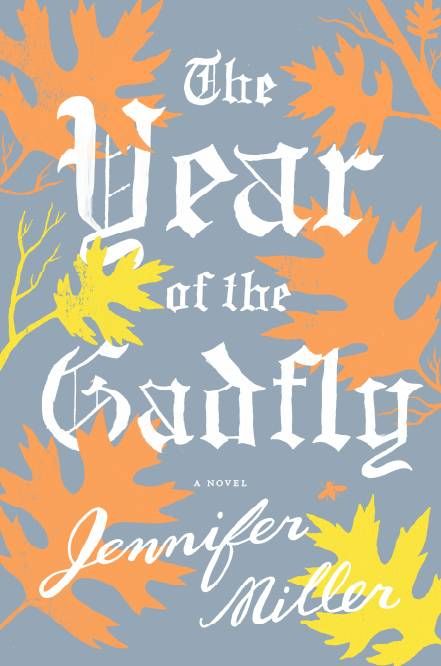 Lists
Worlds Collide: Books about Journalism and Fiction
In her debut novel The Year of the Gadfly, author Jennifer Miller imagines what might happen if a high-school student who communes with the ghost of Edward R. Murrow might do when faced with a story to investigate right under her nose. Miller, who holds degrees in both creative writing and journalism, wrote a post for us about some books that are the result of her two worlds "colliding" between two covers.
____________________________
At Columbia University in New York, the School of Journalism and the MFA building stand parallel to one another, but also back to back, like two stubborn friends locked in an argument. They are, in the words of the hit single by Hall and Oates, "so close, yet so far away."
It makes sense that the hard-boiled disciples of Joseph Pulitzer would be skeptical of those dreamy-eyed, fiction-writing types. Never mind that both professions enjoy drinking and brooding. The J School and the MFA share no happy hour mixers. (James Frey tried to mix journalism and fiction and look what happened to him!)
But as a graduate of both the J-School and the MFA in fiction, I wish we could all just get along. Reporting provides direct fodder for my fiction and allows me to convincingly write outside my own experience. Fiction, in turn, has given me the stylistic tools to write non-fiction that reads like a good short story or novel. And without both genres, I couldn't make a living as a writer. Journalists have always written fiction and vice versa, and the following list proves it's possible to write across genres without blurring them.
Three Great Novels By Journalists
Tabloid City by Pete Hamill: A star of the New York newspaper scene, Hamill spent decades at the New York Post and the New York Daily News. He knows the hidden heart of the five boroughs like nobody else. Tabloid City follows a dozen characters over 24-hours, including a newsman watching the dying breaths of the paper he loves.
Bloodmoney by David Ignatius: When you've covered foreign affairs, the CIA, and the Middle East for The Washington Post, The International Herald Tribune, and The Wall Street Journal, you've probably got enough material for a dozen spy novels. Ignatius has written eight so far. His latest thriller, set in Pakistan, follows a young CIA agent trying to solve the mystery behind a series of CIA deaths.
1984 by George Orwell: Yes, he was a journalist first. (If you haven't read Homage to Catalonia, you should go do that right now.) When you're finished, though, be sure to revisit the terrifying government of Oceania and the doomed love between Winston and Julia.
Three Great Nonfiction Books by Fiction Writers
Innocents Abroad by Mark Twain: Twain is best known for his great American novel, Huckleberry Finn, but his journalism should also be required high school reading. Innocents Abroad is a series of collected newspaper articles about Twain's travels through the Mediterranean. It is a hilarious satire and the best-selling travel book of all time.
Zeitoun by Dave Eggers: An incredible feat of journalism that reads exactly like a novel, Zeitoun follows a Syrian-American father and husband who stayed in New Orleans to protect his home after Hurricane Katrina.
A Moveable Feast by Ernest Hemingway: Published three years after Hemingway's death, this memoir follows Hemingway's ex-patriot life in Paris in the 1920's. The book is based on notebooks he kept during his years abroad and catalogues his relationships with all your Lost Generation favorites.
Three Great Novels Starring Journalists
Scoop by Evelyn Waugh: This satire follows William Boot, a bungling hick who becomes an accidental (and bungling) reporter sent to cover a fictional African country. This novel is a blast.
The Shipping News by Annie Proulx: Winner of the Pulitzer Prize and the National Book Award, this novel follows the hapless Quoyle, who moves to his ancestral Newfoundland after leaving his horrendous wife. Quoyle finds a place in his new and inhospitable home by covering shipping for the local paper.
The Columnist by Jeffrey Frank: This novel is a darkly humorous portrayal of journalism at its worst. The book follows columnist Brandon Sladder, for whom breaking the story always trumps morality, ethics and basic decency. The story is a despicable romp involving lust, greed, and self-involvement of the basest sort.
Jennifer Miller is author of The Year of the Gadfly (Harcourt, 2012) and Inheriting The Holy Land (Ballantine, 2005). Her journalism has appeared in numerous print and online publications. She has taught writing at Columbia, WritopiaLab, and the Free Bird Writer's Workshop. Jen holds an MFA in fiction-writing and a MS in journalism from Columbia. She is a native of Washington, DC and currently lives in Brooklyn, NY, with all the other writers.