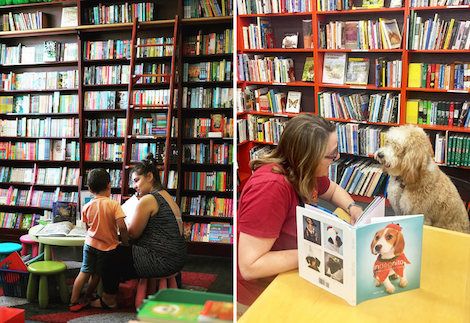 62 of the World's Best Independent Bookstores: Critical Linking, May 11, 2018
Critical Linking is sponsored by Flatiron Books and The Fact of a Body by Alexandria Marzano-Lesnevich.

---
SATURDAY, APRIL 28 IS INDEPENDENT BOOKSTORE DAY, the day each year when we celebrate the importance of small book shops around the world. To mark the occasion, we asked Atlas Obscurareaders to tell us about their favorite local book sellers, and the response was overwhelming. From small towns to big cities, hundreds of readers wrote in to explain exactly why they love their favorite independent bookstore, in words and in photos.
Many of you raved about selection, great prices, and beloved store pets, but more than anything it was the people, and the sense of community that your favorite bookstores help foster, that you said make these shops special. So before you head out to visit your local independent bookstore this Saturday (or any other day!), read some of these hearty recommendations from the Atlas Obscura community. And next time you're out on the road, maybe you'll be lucky enough to visit one of these shops for yourself.
Independent Bookstore Day might be over, but this is a helluva bucket list for bookstore hopping!
____________________
Thirteen years after it was published, John Green's Looking for Alaska has finally found a TV home.
Hulu has picked up an eight-episode limited series from Josh Schwartz based on Green's novel.
More YA hitting your television screens.
Chelsea Clinton has locked down her next book.
The best-selling children's author has reteamed with Penguin Young Readers to publish Start Now! You Can Make a Difference this fall, EW can exclusively announce. The book —featuring facts, stories, and tips on how to change the world — will be aimed at readers ages 7-10 years old.
Clinton will use her platform to break down issues relating to health, hunger, climate change, endangered species, and bullying for young readers to understand, and see how they can make a difference in their own lives, as well as in their communities and the world at large. Start Now will include cartoons, photographs of young people making a difference today, and lists of ways to get involved.
I'll be reading it as a grown-up person.
____________________
We Need Diverse Books™ is now accepting applications for the 2018 Walter Dean Myers Grants. This year, WNDB will give 5 grants at $2000 each to unpublished writers or illustrators from marginalized backgrounds working on children's or young adult literature projects. The submission window is open from now until May 31st, 2018.
Eligible? Go apply!