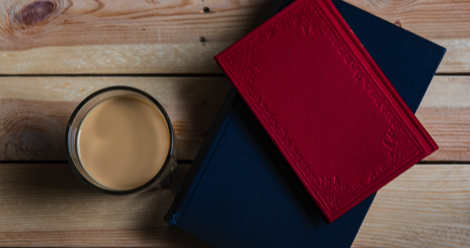 Lists
Literary Inspiration for World Suicide Prevention Day
This content contains affiliate links. When you buy through these links, we may earn an affiliate commission.
Words have a way to come into our lives at exactly the right time and powerfully impact us. The theme of this year's World Suicide Prevention Day is "Take a minute, change a life." And today, I wanted to take a minute to share some words that came into my life when I was at my lowest and helped me through the hard days. Often times in psych hospitals, electronic devices aren't allowed—books became my only refuge.
Thank you, from the bottom of my heart, to all authors out there for putting your pen to paper (or fingers to keyboard) and sharing your gift with the world. Your words truly do matter.
"So, this is my life. And I want you to know that I am both happy and sad and I'm still trying to figure out how that could be."

Stephen Chbosky,
The Perks of Being a Wallflower
"There is only one page left to write on. I will fill it with words of only one syllable. I love. I have loved. I will love."
Audrey Niffenegger, The Time Traveler's Wife
"Just… isn't giving up allowed sometimes? Isn't it okay to say, 'This really hurts, so I'm going to stop trying'?"

"It sets a dangerous precedent."
"For avoiding pain?"
"For avoiding life."
Rainbow Rowell,
Fangirl
"I can't change where I come from or what I've been through, so why should I be ashamed of what makes me, me?"
Angie Thomas, The Hate U Give
"There's nothing wrong with someone saving my life, I've realized, especially when I can't trust myself to get the job done right. People need people. That's that."

Adam Silvera,
History Is All You Left Me
"You cannot protect yourself from sadness without protecting yourself from happiness."
Jonathan Safran Foer, Extremely Loud and Incredibly Close
"It's so dark right now, I can't see any light around me."
"That's because the light is coming from you. You can't see it but everyone else can."
Lang Leav, Love & Misadventure
"Harold sighs. "Jude," he says, "there's not an expiration date on needing help, or needing people. You don't get to a certain age and it stops."
Hanya Yanagihara, A Little Life
"Fear can be good, Laia. It can keep you alive. But don't let it control you. Don't let it sow doubts within you. When the fear takes over, use the only thing more powerful, more indestructible to fight it: your spirit. Your heart."
Sabaa Tahir, An Ember in the Ashes
"You can't stay in your corner of the Forest waiting for others to come to you. You have to go to them sometimes."
A.A. Milne, Winnie-the-Pooh
"I will be stronger than my sadness."
Jasmine Warga, My Heart and Other Black Holes
"If you're going to live, you might as well do painful, brave, and beautiful things."
Jeff Zentner, The Serpent King
"We're all human, aren't we? Every human life is worth the same, and worth saving."
J.K. Rowling, Harry Potter and the Deathly Hallows
"if you were born with
the weakness to fall
you were born with
the strength to rise"
Rupi Kaur, Milk and Honey
(And not from a book, but it's still a fave from a writer)
"Have enough courage to trust love one more time and always one more time."
Maya Angelou
The National Suicide Prevention Lifeline is open 24/7 for calls, video chats, and text messages for anyone struggling with suicidal ideation. You are not alone and your struggle is valid.
1-800-273-8255