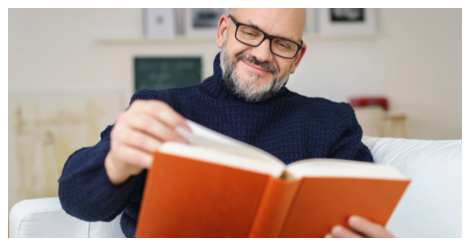 This content contains affiliate links. When you buy through these links, we may earn an affiliate commission.
I'm a daddy's girl. I share with him my my love of words, the English language, and a good story. My dad was a high school English teacher, and when I was young I was treated to impromptu grammar lessons at the dinner table: I'll never ever stop correcting people's use of "ly" adverbs.
My dad loves three things: his wife, his kids and grandkids, and his hometown, Pasadena, California. So with that in mind, I developed a reading list for my dad, for no reason other than I love him, and words are our bond.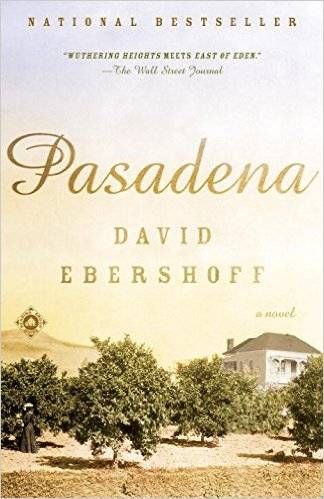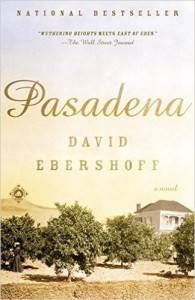 Pasadena by David Ebersoff. For our shared love of the beautiful city-of-roses, which originated as a city-of-citrus, I chose this book about Pasadena's rise from farming town to sunny suburbia. Pasadena is one of my favorite places in the world: sitting in the foothills of the San Gabriel mountains, tree-filled, with dry arroyos weaving their way to the coast-as the car drives, just 30 minutes away, on a good day. It's also proudly multicultural, and this sweeping saga follows one Mexican/Irish woman and the three loves of her life; father, brother and love interest, and how they came to reside in the city as it morphed into the mini-metropolis it is today. Also-I have a fond memory of the entire family secretly watching a Gone with the Wind tv marathon from our own corners; we sheepishly meet up in the family room, took a look at our red eyes and laughed at each other for the rest of the day. Pasadena, the book, is like that other southern saga, mixed with a little Wuthering Heights, and it's all about love and our little corner of the world, and I love it.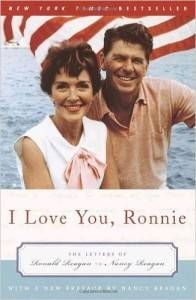 I Love You, Ronnie: The Letter of Ronald Reagan to Nancy Reagan, compiled by Nancy Reagan. My dad is mostly conservative in his political views, and a Reagan fan, from the movies to the White House. This compilation of letters just blew my mind and even had me tearing, as I got to know the man behind the name through his love letters to his wife, and his deep love and devotion to his wife and family. Even when they weren't love letters, they are so, so loving. So I know my dad—who presents my mom with roses on every single rose-worthy occasion, and will tell anyone who asks (or doesn't) how he simply would not be the person he is without his wife—he would appreciate it.
Spanning their entire relationship, the letters chosen by Nancy paint a portrait of a man who is completely unashamed to express his emotions to his family, as in this letter from their earlier years:
"Man can't live without a heart and you are my heart, by far the nicest thing about me and so very necessary. There would be no life without you nor would I want any."
P.S. I wrote this and was thinking of the bond between the Reagans prior to Sunday, March 6th, when Nancy passed away. So I'm happy to share this sweet book, a lasting tribute to a beautiful relationship.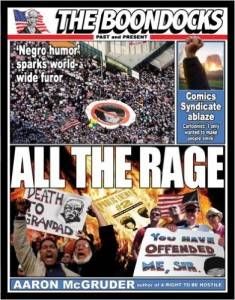 All The Rage: The Boondocks Past and Present by Aaron McGruder. Because my dad IS Granddad, watching the grandkids and the world grow up around him, incredulous and more than a little curmudgeonly. And because he would love this compilation of the comic strips that spawned the tv show, unflinchingly taking funny as hell hits on everything from Hurricane Katrina to Brittany Spears to Bill Cosby to Obama. The panels during the "Vote or Die" years never cease to make me lol, and this joke between young revolutionary Huey and and his friend, aspiring MC Caesar, is exactly what I'm talking about:
Caesar: I dunno – I really hope the Bill Cosby story isn't true. There has to be some other explanation…

Huey: Maybe it's a last-ditch publicity stunt for "Fat Albert: The Movie."
McGruder skews the real world so precisely, with such humor and despair, it's a perfect multi-generational take on current events.("Wait-there was a book?!?" my niece just exclaimed, reading over my shoulder.) And so also proof, that if you don't know your history you're doomed to repeat it.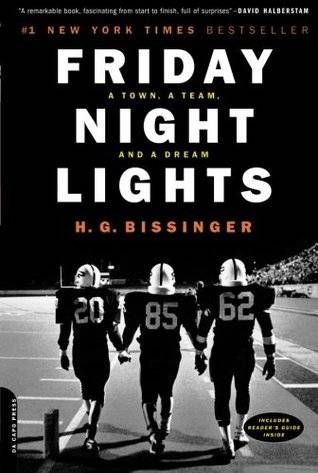 Friday Night Lights by H.G. Bissinger. Because my dad was a high school football star, and that shaped a lot of his young life. And he would LOVE this book, about the winningest high school team in Texas history and their trials and tribulations on and off the field: love relationships, race relationships, family relationships, all coming together for the big Friday night games. Our high school, John Muir, plays the big homecoming came (aka The Turkey Tussle) against rival Pasadena High School in the Rose Bowl every year, and it's a big, big deal, and my dad usually goes back to see how the old team is doing (never as good as when he was a player, natch).
My dad was on his way to taking it to the big leagues (ok, college), and then one day he got in his car…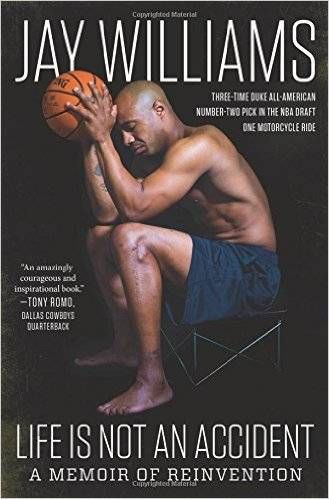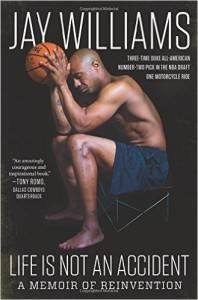 Life is Not an Accident: A Memoir of Reinvention by Jay Williams.
…and got in a horrible car accident that left him alive (or I'd not be here!) but in bad shape, not able to play football again. And it was pretty devastating, to say the least. But: then he met my mom, and had a family, and came to every game his kids played (soccer and swimming for me, baseball for my brother, band for us both) and continues to sideline coach his grandchildren every single week.
I'm not a huge sports fan, but I love Wendy Williams (how you doin'!) and when I caught the show the other day and saw Jay Williams, a brilliant basketball player drafted by the Chicago Bulls and expected to be the next Michael Jordan, until he got on his motorcycle one day and, showing off, slammed into a utility pole, and ended his career…well. Bittersweet. But the sweet part is, like my dad, Williams didn't just give up and fade away. He picked himself up, readjusted, and used his other skills to be a sports commentator, successful entrepreneur, and memoirist. That's the kind of story my dad would appreciate, because he lived it himself. #happyending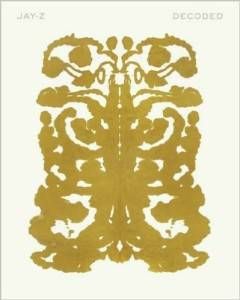 Decoded by Shawn Carter. As an English teacher, my dad loves him some Shakespeare. As a Black man, my dad loves him some music and is constantly breaking into song – anything by the Temptations, Smokey Robinson, Earth Wind and Fire – he's like a human mixtape. But the one thing my brother and I have never gotten him to truly love and appreciate is rap, and that's where Jay-Z comes in. Decoded is part lyrics and part memoir, as Hova reminisces about growing up on the streets of Brooklyn, witnessing the origins of rap, and how he turned The Life and Times of Shawn Carter into anthems that inspired a generation. And that's what I'd like my dad, aka Granddad, to get: how rap speaks for and to us, how it documents the lives of Black folks, expresses love and pain, anger and bravado, and is constantly reinventing itself. If I could get him to see the meaning behind the words, sans beats, maybe he could see the symmetry, the metaphor, the story behind the music, and love it like I do.
It's not Father's Day, it's not his birthday, it's an "I just called to say I love you" list for my dad. And I'm taking suggestions!