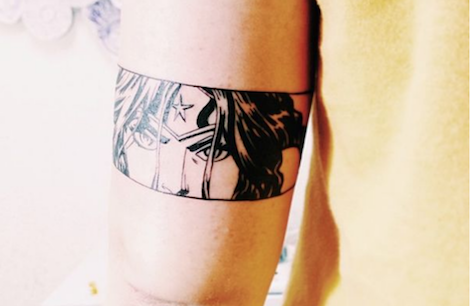 Wonder Woman has always been a badass. When she first debuted in comics, she made a splash. She's strong, powerful, graceful, compassionate. Not only is she one of the premier female superheroes, but she is the embodiment of female strength and empowerment. She was born a hero, a goddess. She comes from an all-female homeland and doesn't need a man. Even her love interests are second place to her goals and power. Last year's Wonder Woman movie brought this superhero added acclaim and attention. Not only so, but this version of brought her even more fans, empowered to see a woman kicking ass on the big screen free from the male gaze. Many people have permanently etched this this badass on their bodies with super cool Wonder Woman tattoos.
To celebrate Diana and the female empowerment she brings, I've rounded up ten rad Wonder Woman tattoos! Some simple, some complex, there's something for everyone.
Check out more bookish tattoos here and here. You can also check out all of our Wonder Woman coverage!