Feminism
Digital Feminism: Righting the Gender Divide for Authors on Wikipedia
This content contains affiliate links. When you buy through these links, we may earn an affiliate commission.
Have you heard about the 2015 Art+Feminism Wikipedia Edit-a-thon? It's aim is to increase the number of female participants sharing knowledge on Wikipedia, and in turn, teach readers and researchers more about important women in the arts and sciences that have been ignored or left out.
We here at Book Riot came up with a list of women writers who need entries (or more extensive entries) on Wikipedia (though there are SO MANY MORE). Do you know about these particular writers, and can you give them the web-presence they deserve?
(For most of my information, I consulted the Literary Reference Center Database, which should be available through most public and university libraries).
Wikipedia page to create
Eloise Bibb (1878-1928?): According to the Digital Schomburg African American Women Writers of the 19th c. page, Bibb was born in New Orleans to a prosperous African-American family. Her first book, Poems, was published in 1895, and includes "To the Sweet Bard of the Women's Club," a paean to fellow writer Alice Dunbar-Nelson. A graduate of Oberlin College's Preparatory Academy, and Howard University's Teacher's College, Bibb ultimately took a leadership role in Howard's Colored Social Settlement House. Upon her marriage in 1911, Bibb moved to Los Angeles, and then New York City, where she died around 1928. Not only does Bibb not have a Wikipedia page, she doesn't even have an entry in the comprehensive Literature Resource Center database. However, with a little bit of research, I'm sure anyone interested in 19th century African American literature could find more information about her, and discuss more of her writing.
Wikipedia pages to update
Bebe Moore Campbell (1950-2006): a successful African-American novelist, essayist, and writer of children's books, non-fiction, and radio plays, Campbell dealt with topics like mental illness and family issues. Her page offers a brief overview of Campbell's personal and writing lives, and then lists "selected works" and one reference. And that's it. How about some in-depth exploration of Campbell's style and interests, and some analysis of her bestsellers (Brothers and Sisters, Singing in the Comeback Choir, and What You Owe Me)?
Margaret Coel (b.1937): A chronicler of the American West, Coel (born in Colorado) is well-known for her Wind River mystery series set among the Arapaho in Wyoming. Her award-winning biography of the Arapaho Chief Left Hand and memoir-history of railroading in Colorado were named as two of the best 100 books on Colorado history by the Colorado Historical Society. Coel graduated with a degree in journalism from Marquette University and wrote for the Boulder Daily Camera. Her page includes a paltry mini-bio and a list of her works (and one reference). Come on, now. We can do better than that.
Marele Day (b.1947): Day is an Australian writer of mystery novels, most known for her four novels that feature the country's first female private investigator- Claudia Valentine. Day has also written a screenplay and edited a "how-to" book about writing crime fiction. Her page screams out for further discussion of her Valentine books, especially her brilliance in expressing a sense of place.
Janet Campbell Hale (b.1946)- A Native-American writer living on the Coeur d'Alene Reservation in De Smet, Idaho, Hale is known for her award-winning poetry and her novels, which explore Native-American issues and identity. Her page includes just a brief biographical note and a few references, as well as some links. A more extensive discussion of her poetry and novels would greatly enhance it.
Cynthia Kadohata (b.1956): Kadohata is a Japanese-American children's writer and winner of the Newberry Medal in 2005, as well as the National Book Award in 2013. She has written both literary fiction and young-adult fiction, some of which explores the role of Japanese-Americans in the U.S. after WWII. Her page would benefit from even brief discussions of each of her novels and her experimentation with different genres.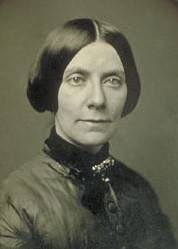 E.D.E.N. Southworth (1819-1899): I have a particular affection for Emma Dorothy Eliza Nevitte Southworth, having read her recently-republished The Hidden Hand (1888) and her first novel, Retribution (1849), which I discuss here. Southworth was wildly popular in the U.S. during the 19th century, with much of her writing appearing first in serial form. The biographical information on her page doesn't adequately reflect the turmoil of her marriage and ultimate separation from her husband, a trope that she explores in her fiction.
____________________
Follow us on Twitter for more bookish goodness!
Save