Nonfiction
Women Are Trailblazers: Three Biographies
Musicians Ann and Nancy Wilson of Heart. Former Secretary of State Condoleezza Rice. Astronaut Sally Ride. Born in the beginning of the 1950s, these women went on to break through the glass ceiling of their respective fields. As the trailblazers they became, their work continues to reverberate across the globe. Curious to know how it all happened?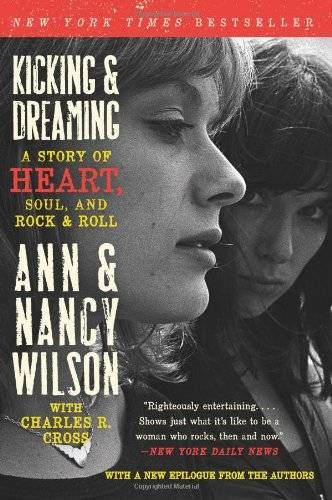 Kicking & Dreaming. A Story of Heart, Soul, and Rock & Roll by Ann & Nancy Wilson with Charles R. Cross
Arguably, there is no better way to describe the music industry than in the words of James Brown: "It's a man's world." Sisters Ann and Nancy Wilson of the rock band Heart have experienced this fact up close and personal. As for so many other kids of their generation, the life-changing event of Ann and Nancy's existence was The Beatles on The Ed Sullivan Show. But Ann and Nancy were different from all their other friends. While their friends wanted to marry The Beatles, Ann and Nancy wanted to be The Beatles.
After years of struggle, Heart's debut album Dreamboat Annie was released in 1976, launching an international career now entering its fifth decade. Ann and Nancy Wilson are not the first female musical performers, but they are the first to be the leaders of a rock band that performs their own songs.
Kicking and Dreaming is Ann and Nancy's joint autobiography. It tells their story, from early childhood as part of a military family in the early 1950s, to the present, never shying away from the difficult issues of gender roles, sexism, drug abuse, and family.
No Higher Honor: A Memoir of My Years in Washington by Condoleezza Rice
Regardless of the personal opinions one might have about the policies of the George W. Bush administration, it can't be denied that the life journey of former Secretary of State Condoleezza Rice is a remarkable one. Born in 1954 in Birmingham, AL, of the Jim Crow South, Rice's options were limited from the start because of her skin color and her gender. Brought up in a politically active home, she overcame those obstacles and went on to secure a tenured position at Stanford University.
In 2001, Rice became the National Security Adviser to President George W. Bush, the first woman to hold that position and the second African-American, Colin Powell having been the first. In 2005, she became the 66th Secretary of State of the United States of America. She was not the first African-American to hold this position either, once again preceded by Powell. Neither was she the first woman, Madeleine Albright having come before her. But she was the first African-American woman to become Secretary of State.
No Higher Honor is Rice's memoir of her eight years in Washington D.C. The book is a candid first-hand account of that time, providing insights into some of the most controversial decisions made in American politics in recent years.
Sally Ride: America's First Woman in Space by Lynn Sherr
Sally Ride reached for the stars and twice she traveled among them. Born in 1951, Ride's first career choice was tennis. Realizing her limitations as an athlete, she turned to her second passion: physics. While studying for a PhD at Stanford University, Ride submitted an application to NASA when the space agency changed its recruitment policy. The astronauts of the United States were no longer to be white alpha male fighter pilots, but a cross-section of American society. Therefore, NASA asked women and persons of color to apply for the space shuttle program. Ride was not the only woman admitted, but through hard work and a talent with the space shuttle's equipment, she was chosen to become the first American woman in space. Ride flew twice on the space shuttle Challenger and was later selected to be the only woman, and only astronaut, on the committee investigating the disaster with that particular shuttle in 1986.
In 2012, Ride passed away from cancer. Still, her legacy at NASA continues to affect our daily lives. The International Space Station's monitoring of Earth is Ride's idea. Initially, NASA had its eyes set on the vast expanse of the universe. Ride, however, advocated the importance of studying our own planet. When asked why this was so important, Ride reportedly answered that Earth should be the object of study because "there is a deep suspicion in the scientific community that there is intelligent life there."
____________________
Expand your literary horizons with New Books!, a weekly newsletter spotlighting 3-5 exciting new releases, hand-picked by our very own Liberty Hardy. Sign up now!