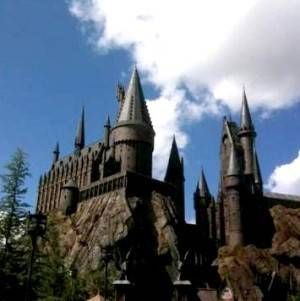 Sometimes, we're so swept away by the scenes in the movies (and the assumption that all the prettiest sets are just that – sets in some studio lot) that finding any real-world locations like them seems out of reach. I'm here to show you that they aren't. With the recent-ish news about the Harry Potter-themed hotel in London, we figured it was a good time to round up various Harry Potter tourism destinations around the muggle world where you can bask in a bit of magic.
While we're getting the more obvious things out of the way, you can also check out a recent (admittedly gushy) post I wrote about the Wizarding World of Harry Potter at Universal Orlando, with a reminder that Universal Studios Japan (near Osaka) has the Hogsmeade experience as well. To be brief: Universal Studios Orlando just opened up Diagon Alley and it's uh-may-zing.
I'm going to separate the rest by country, but really what you need to know is the key locations for Harry Potter-related tourism are going to be in the UK. Whether you're interested in beautiful vistas or the hallowed halls of Hogwarts, there'll be something for everyone. The best part is almost every Harry Potter-related location is tourist-friendly for your muggle pals who don't particularly care one way or the other.
Things to do in Scotland:
Glenfinnan: If you liked the vistas accompanying the ride on the Hogwarts Express, you might want to stop over at the Glenfinnan Viaduct, where during certain parts of the year you can even ride a steam locomotive across it.
Another vantage point for the amazing scene shots in the films would be Glencoe. If you're all about those outdoorsy things and soaking in some views, this area has it.
Edinburgh: This location isn't related to the films, but with the author. J.K. Rowling lived there for a time while writing Harry Potter. If you're interested in going to the actual, famous cafe she used to hang out at to write, stop over at The Elephant House for some tea.
Bonus: there's other, non-Harry Potter but still literature-related tourism you can do in and around Glencoe.
Things to do in England:
From now through February 2015, there's a Making of Harry Potter: Hogwarts in the Snow event happening at Warner Brothers London. But you can actually check out the Harry Potter studio tour any time.
London is probably a full article all on its own when it comes to Harry Potter sights, but I'll just mention some Potter Spots: Platform 9 3/4 at King's Cross Station where the Harry Potter Shop is also located, London Zoo's Reptile House, Westminister Tube Station, and Leadenhall Market's "Leaky Cauldron."
Oxford: Check out Christ Church College (this is where the Great Hall is) and Bodleian Library and feel like you're at Hogwarts.
Gloucester Cathedral is another lovely place to visit if you're looking for more bits and pieces of Hogwarts Castle.
One last Hogwarts Castle-related location I'm going to highlight, if only because Professor McGonagall's classroom is located at its Chapter House, is Durham Cathedral.
If you're up for a stroll through the Forbidden Forest, you'll want to be at Black Park Country Park, located west of London.
The World:
Finally, we've got Harry Potter: The Exhibition, which travels around. I was able to see it in Tokyo last year, and at the time of writing it's in Germany. If you're any kind of fan of Harry Potter, or even just a bit of a film buff, this exhibition is not to be missed.
This isn't an exhaustive list, but it's a starting point if you're interested in seeing some of the recognizable scenes from the films or just imagining yourself walking and wandering the same places Rowling did while she brought the story about The Boy Who Lived to our hearts. If you've been to any of these locations and want to share some tips or pictures or other information, be sure to drop them in the comments below!
Save