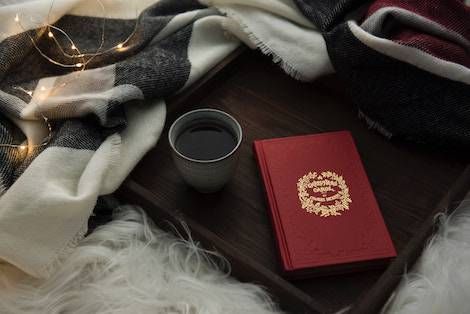 Lists
Wintry Reads To Cuddle Up With This December
This content contains affiliate links. When you buy through these links, we may earn an affiliate commission.
On cold, gray winter days, there's nothing better than a warm fireplace, a cup of hot tea, and a good book. That's just a fact. And when you're looking for a good fireside book, nothing beats out a snowy tale, a bit of romance or mystery, and maybe even a dash of magic! Here are eleven wintry reads to cuddle up with this December in front of the fireplace.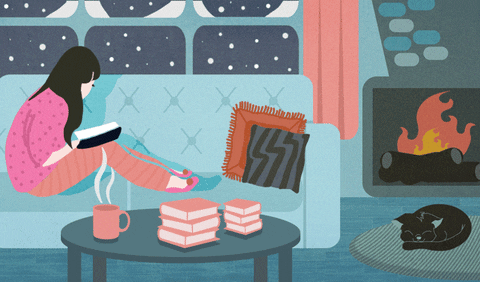 Every fifteen years, in a village on the edge of the woods, the Dragon chooses one village girl to take for his own—and this year that girl, much to everyone's surprise, is Agnieszka. This Slavic-inspired fairy tale is full of dark forests and magic and is perfect to curl up with on a cold winter's day.

Rainbow Rowell's two festive short stories—about falling in love over a series of New Year's Eve parties, and two teenagers waiting in line for the new Star Wars Movie—will warm your heart.
There's something very strange about the Silver House on the Dover cliffs. The Silver family women have always had a strong connection to their ancestors, and when Miranda's mother passes away suddenly and unexpectedly while abroad, Miranda begins experiencing strange occurrences—even stranger than usual—and as her twin brother Eliot and her father look on, she starts to slip away. A bewitching and terrifying mystery you won't be able to put down.
This collection of short stories by bestselling authors like Kelly Link, Laini Taylor, Rainbow Rowell, and David Levithan (among many others) is full of all sorts of Holiday goodness!
A beautiful retelling of "Snow White." Mina's heart was long ago replaced with glass, but now she hopes to win the heart of the King and his daughter. Lynet, the King's daughter, has always wondered why she looks exactly like her late mother, and learns it's because she was crafted from snow in her image. Lynet longs for the love of Mina, the only mother she's ever known, but when she is named Queen of the lands Mina was meant to rule, it seems that love may never come. Are the two women doomed to be rivals, or can they reshape their fates into something better?
In the frosty village of Whichwood, Laylee works as the only remaining mordeshoor, washing the bodies of the dead and preparing their souls for the afterlife. She tries to ignore the way her hands are turning stiff and silver, just as her hair before them, but when a pair of familiar strangers appear, she is reminded of the magic of color and friendship. This colorful tale of magic and friendship will brighten even the grayest of winter days.
A new origin story for the Nutcracker, carved and brought to life by Godfather Drosselmeier and given to a young girl when she most needs it. It's a new twist on a classic story, full of hope and holiday spirit.
A Sapphic retelling of "The Little Mermaid" set in the icy, northern waters with mermaids living in ice caverns, friendly baby belugas, and Viking warriors.
On the edge of the Russian wilderness, where winter is unending and snowdrifts grow as tall as houses, Vasilisa lives with her siblings, listening to their nurse's fairytales about Frost, the winter demon. But when her mother dies and her father returns from Moscow with their new stepmother, things grow dark and difficult in their village—and ancient spirits seem to grow restless and vengeful.
This book about two best friends reconnecting over winter break after a difficult year is soft and melancholy, but ultimately—as the title suggest—hopeful. It's the perfect book to read with your coziest sweater and a mug of tea.
Based on the Russian fairy tale "The Snow Child" and set in 1920s Alaska, this book tells the story of a heartbroken couple who long for a child. After building a snowchild one night, they wake to find a little girl—very much alive—near their house…but is she real? The perfect magical, wintery fairy tale.
For more cozy books to read this winter, check out this list of books for fans of Hallmark Christmas movies.