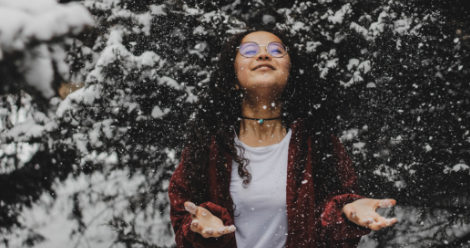 This content contains affiliate links. When you buy through these links, we may earn an affiliate commission.
Winter is coming—and I don't mean in a terrifying Game of Thrones way, but in a grab-your-hot-chocolate-and-let's-cozy-up-in-front-of-the-fire-and-get-to-reading kind of way. Because I don't know about you, but winter is one of my favorite seasons for reading. I don't know if it's the shorter days or the fact that cold weather makes me even more of a blanket-burrito hermit than usual, but either way, there's nothing better on a cold winter's day than a good book. And there are so many great books coming out in the next few months. So grab your hot cocoa and your favorite blanket, because these 25 winter 2018 YA books are definitely going to keep you busy—and entertained.

Genetic manipulation and life extension—how do we create the perfect human specimen? These six interconnected short stories explore the lengths humans might go to remake ourselves and push the very definition of humanity to the brink.
In an Absent Dream by Seanan McGuire (January 8, 2019, from Tor)
The fourth book in the Wayward Children series is all about Lundy, the eternally young therapist at Eleanor West's Home for Wayward Children. But how did she get to be that way? A doorway to a magical world built on logic and lies might seem like paradise at first, to a young girl who wants much more than to just become a housewife. But there is always a price to be paid at the goblin market, and as her time is running out Lundy makes the kind of deal that will cost her dearly.
A new anthology edited by Ibi Zoboi, the bestselling author of American Street and Pride, about the experiences of black teens in America. Featuring stand out authors like Dhonielle Clayton (The Belles), Justina Ireland (Dread Nation), Jason Reynolds (Long Way Down), and Nic Stone (Dear Martin).
The Girl King by Mimi Yu (January 8, 2019, from Bloomsbury YA)
A tale of war and sisterhood. Lu and Min are heirs to their father's Empire, but when he declares their male cousin as future Emperor instead, it sets the sisters down a path that could win back the throne…or cement them as deadly enemies. Because as Lu sets out to gather an army and Min is left behind to discover forbidden powers within herself, they are both pursuing the same goal. And ultimately, there can be only one Emperor.
Echo North by Joanna Ruth Meyer (January 15, 2019, from Page Street Kids)
This fairy tale reimagining draws on the Norwegian tale "East of the Sun, West of the Moon," and is set in a world inspired by 19th century Russia. When sixteen-year-old Echo makes a deal with a wolf to save her father, she finds herself living in a strange house below a mountain with her captor. She discovers an enchanted library and a stranger named Hal trapped inside it. But there is more to the wolf than Echo ever realized, and if she doesn't find some way to solve the mystery, she, Hal, and the wolf may be lost forever.
The Cold is in Her Bones by Peternelle van Arsdale (January 22, 2019, from Margaret K. McElderry Books)
Inspired by the myth of Medusa, this story tells a tale of redemption and love, pain and revenge. Mila has led a sheltered life on her family farm, but when a girl from the village comes to stay she brings friendship and also secrets. Secrets, like the village curse and the fact that girls are possessed at random by a demon. When Iris becomes the next victim, Mila sets out to save her and finally break the curse for good. But Mila has a secret of her own…she's changing and fears she may soon be a demon, too.
Norris Kaplan has seen enough American teens to know that a black French Canadian kid plucked from Canada and living in Austin, Texas is a recipe for disaster. To bide his time, he starts cataloguing his classmates, from the typical Jock, the peppy Cheerleaders, and even the Loners. But when Norris starts to actually get to know his classmates, he realizes there are real people behind those labels—people who can't be easily defined. If he can stop hiding behind his labels and his snarky opinions, maybe he'll finally be able to let these people find a way to his heart.
Someday We Will Fly by Rachel DeWoskin (January 22, 2019, from Viking Books for Young Readers)
Lillia is only fifteen when her mother disappears and she flees with her father and younger sister from Warsaw to Shanghai—one of the only places to accept Jewish refugees without visas. She begins making puppets, remembering happier days when her family worked as circus performers in Poland. But as the conflict worsens, and Japan draws the United States into the conflict, Americans in Shanghai are separated into camps. Once again Lillia and her family are caught in the crossfires. Will they be able to find their way through it—again?
Rukhsana does her best to live up to her conservative Muslim parents' expectations—but it's getting harder and harder to manage. Especially when they blatantly favor her brother. Things reach a breaking point when she's caught kissing a girl. Rukhsana's Bengali parents are devastated and send her away to Bangladesh, with all it's arranged marriages and tradition. But her grandmother's diary—and the surprising support of some of her family—gives Rukhsana the perspective she needs.
Enchantée by Gita Trelease (February 5, 2019, from Flatiron/Macmillan)
Left alone to care for her siblings after smallpox kills her parents in 18th century Paris, Camille relies on petty magic to buy food. But when her brother runs away with all their savings, Camille has to make a choice—obey her late mother's wishes and avoid dark magic, or do anything to survive. It's no choice, really. Camille uses the dark magic to transform herself and sneak into the court of Louis XVI and Marie Antoinette—playing cards to stay afloat. Now leading a double life, Camille struggles to reconcile her enchantment with the Court of Versailles with her hatred of the nobles. And ultimately the cost of magic and revolution will force Camille into impossible situations with dangerous choices.
On the Come Up by Angie Thomas (February 5, 2019, from Balzer + Bray)
Author Angie Thomas's second novel following her smash hit debut The Hate You Give. Becoming a rap legend has always been Bri's dream, but when her mom loses her job and paying for their next meal becomes a real concern, suddenly it becomes more important than ever. But can she help her family and follow her dreams, even with the odds stacked against her? On The Come Up is inspired by Angie's own passion for hip-hop that first sparked her love of storytelling.
The Weight of Our Sky by Hanna Alkaf (February 5, 2019, from Salaam Reads)
Set during the historic race riots in 1969 Kuala Lumpur, Malaysia, The Weight of Our Sky tells the story of Melati Ahmad. Mel is your average Beatles-obsessed sixteen-year-old with OCD, except Mel is positive there's a djinn living inside her that will kill her mother if she doesn't maintain her rituals of counting and tapping. But Mel can't control everything, and when racial tensions between the Malay and Chinese population of Kuala Lumpur boil over, it will take the help of a Chinese boy named Vincent and all of her courage to find her way back to her mother through a city in flames.
The author of We Are the Ants and the Apocalypse of Elena Mendoza is back with another novel. Dino is used to death. He kind of has to be, considering his parents run a funeral home. The one thing he can always be sure of though is that the dead stay dead. At least they did, until his ex-best friend July dies suddenly and then comes back to life—sort of. Now the former friends have to confront everything that went wrong at the end and figure out how—and why—July has come back.
An Affair of Poisons by Addie Thorley (February 26, 2019, from Page Street)
Mirabelle never intended to help her mother poison King Louis XIV—and yet she did. Now forced to see her mother's group, the Shadow Society, in a new light, she brews common cures to try to make up for the terrible part she played in the Sun King's death. But she's not the only one with something to lose. Josse de Bourbon may be the royal bastard, but he's never been much of a prince. Then the king dies along with half the court and suddenly he's next in line for the throne. When their paths cross, they form a tenuous alliance to overthrow the Shadow Society—but their history and a great deal of mistrust might ruin everything.
Rayne & Delilah's Midnite Matinee by Jeff Zentner (February 26, 2019, from Crown Books for Young Readers)
Every Friday, best friends Delia and Josie become Rayne Ravenscroft and Delilah Darkwood for their local creature feature cable show, Midnite Matinee. But with graduation approaching, hard choices have to be made. Like will Josie—who's been dreaming of going away to college and pursuing her dream of a TV career—move away? And will Delia—who hopes her dad might one day see the show and decide he should get to know her again—be able to let Midnite Matinee go? This is a story about friendship and growing up by master storyteller Jeff Zentner, whose previous novels The Serpent King and Goodbye Days broke my heart entirely in two and then rebuilt them.
We Set the Dark on Fire by Tehlor Kay Mejia (February 26, 2019, from Katherine Tegen Books)
Daniela Vargas is the top student at Medio School for Girls, where distinguished young women are trained to either manage their future husband's household or raise children. At the very least it holds the promise of comfort and safety far removed from the endless political uprisings of the lower class. But Daniela's position hinges on a lie—she isn't really a distinguished young woman. Her parents sacrificed everything to get her where she is. But on the eve of graduation, with her marriage to the son of an important politician looming, she's asked to spy for a resistance group. A group fighting for equality for all of Medio, not just the elite. Will Daniela choose to cling to the life of privilege her parents fought so hard for? Or will she risk everything to work toward a better future?
Barely Missing Everything by Matt Mendez (March 5, 2019, from Atheneum/Caitlyn Dlouhy Books)
Juan and JD have plans. Juan is going to get a basketball scholarship—his ride out of El Paso and away from his mom Fabi and her string of worthless boyfriends. JD is going to be a famous filmmaker like Tarantino. But you can't plan for everything, and when Juan starts receiving letters from a death row inmate claiming to be his father—a man his mother claimed was dead—he's determined to meet him. Juan will finally get to meet his father and JD will have the documentary of his dreams—but life rarely turns out the way you plan.
The much-anticipated second book in Tomi Adeyemi's Legacy of Orïsha series starts up where the first book left off. Now that Zélie and Amari have brought magic back to Orïsha, they have to deal with the fallout of their actions. Not only maji but nobles with magic ancestry have developed gifts. With a civil war brewing on the horizon, Zélie must bring together the magic to fight for their future and Amari's rightful place on the throne.
Dealing in Dreams by Lilliam Rivera (March 5, 2019, from Simon Schuster Books for Young Readers)
Gangs rule in Mega City, and Nalah? She leads the fiercest girl gang of them all. But she's growing tired of life on the street and hopes to finally settle down at Mega Towers, a place so exclusive only a chosen few—who prove their loyalty to the city's founder—get to live inside. The journey to proving herself will involve crossing borders, tracking down mysterious gangs, and trying not to lose herself in the process. Because in her desperation to find a place to call home, she may have forgotten what—and who—really makes a home a home.
The Everlasting Rose by Dhonielle Clayton (March 5, 2019, from Freeform)
The Everlasting Rose continues the story of Camille which began in the bestselling novel The Belles. Camille, Edel, and former palace guard Remy are in a race against Sofia's Imperial forces to find Princess Charlotte. They'll have to use every resource at their disposal to return Charlotte to her rightful place on the throne. With the help of an underground resistance group that disavows Beauty treatments entirely, an alternative newspaper, and Camille's own strength and cunning, it might yet be possible to restore the Queen and bring peace to Orleans.
If You're Out There by Katy Loutzenhiser (March 5, 2019, from Balzer + Bray)
Zan is baffled and betrayed when her best friend Priya ghosts her after moving to California. She's sure there's something strange going on with all the completely un-Priya-like social media posts, but everyone tells her to move on and let Priya do the same. It's not until she meets Logan, the new guy in her Spanish class and the only person willing to dive as deep into this investigation as Zan, that she realizes there may be even more to Priya's radio silence than she thought. Maybe it's not just that she isn't talking to Zan; maybe she can't.
Once & Future by Amy Rose Capetta and Cori McCarthy (March 5, 2019, from Little, Brown and Company)
If a gender-bent retelling of King Arthur sounds as good to you as it does to me, then you'll definitely want to add this one to your list. Ari doesn't know she's the most recent reincarnation of the famous King Arthur, but when she crash lands on earth and frees an ancient sword…well, the rest is kind of history. Or, at least, it's history for Merlin, who wakes up to train the newest reincarnation only to find that he's aged backward into—terribly, unfortunately—a teenager. And this may very be his last chance, because if this 42nd version of Arthur can't unite mankind and defeat the greatest evil the universe has ever seen, it may be too late to stop it.
Opposite of Always by Justin A. Reynolds (March 12, 2019, from Katherine Tegen Books)
Jack is the King of Almost. Almost valedictorian, almost varsity. But when he falls hard for Kate—and she falls hard back—it seems like his streak might finally be broken. But this isn't that kind of love story. Because Kate dies. And that isn't even the most complicated part, because when he gets the chance to have a do-over, to fall in love with Kate again and maybe even save her, he learns that messing with time can get, well…messy. But Jack can't save everyone. He's going to have to decide what he's willing to do—and who he's willing to lose.
What do you get when you mix The Serpent King with Stranger Things? This book, apparently. Franny is a part of The Ordinary, a group of teen paranormal investigators just trying to distract themselves from the terrible steel mill accident that affected their whole town a few years back. It's just a fun hobby, putting videos on YouTube, investigating local legends. But when they capture footage of a strange light hurtling toward Earth and decide to go to investigate, one thing is sure: nothing will ever be the same.
Internment by Samira Ahmed (March 19, 2019, from Little, Brown)
The author of Love, Hate, and Other Filters is back with a highly anticipated new release (so anticipated it's already been optioned for film). In a horrifying near-future United States, Muslim American citizens are forced into internment camps. Layla Amin and her family are among them. But Layla is not about to take this lying down. With the help of the new friends she makes in the camp and her boyfriend on the outside, she begins a revolution against the camp director and his guards.
For some more wintery reading: here are some ideas for a more bookish winter, a list of cozy winter reads to cuddle up with, and these November book horoscope recommendations.