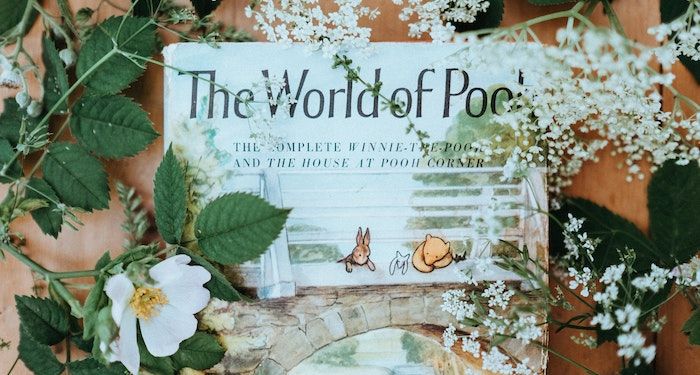 35 Winnie The Pooh Quotes for Every Facet of Life
This post contains affiliate links. When you buy through these links, Book Riot may earn a commission.
If you're under the impression that Winnie-the-Pooh, Piglet, Tigger, et al stop being relevant after a certain age…well, Silly Old Bear. Winnie the Pooh quotes are relevant at every stage of life.
A.A. Milne's beloved books chronicling the adventures of Christopher Robin and his stuffed friends have become a staple in every child's bookshelf, but the lessons the residents of the Hundred Acre Wood learn are evergreen.
So grab your stuffie of choice (mine's name is Marshmallow) and a pot of "Hunny" and settle in for some life lessons from everyone's favorite Bear of Very Little Brain. (Which, by the way, rude.)
---
Winnie The Pooh Quotes on love (aka That Mushy Gushy Stuff)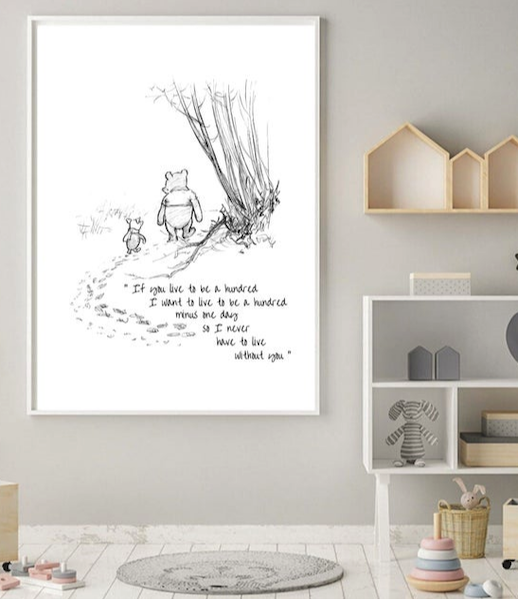 Piglet: "How do you spell 'love'?"

Pooh: "You don't spell it…you feel it." —
Winnie-the-Pooh
"Some people care too much. I think it's called love." —Winnie-the-Pooh
"Love is taking a few steps backward, maybe even more…to give way to the happiness of the person you love." —Winnie-the-Pooh
"If there ever comes a day when we can't be together, keep me in your heart, I'll stay there forever." —Winnie-the-Pooh
"I think we dream so we don't have to be apart for so long. If we're in each other's dreams, we can be together all the time." —Winnie-the-Pooh
---
Winnie The Pooh Quotes on friendship (aka Pooh and Piglet are GOALS)
"Piglet sidled up to Pooh from behind.

'Pooh!' he whispered.
'Yes, Piglet?'
'Nothing,' said Piglet, taking Pooh's paw. 'I just wanted to be sure of you.' —
The House at Pooh Corner
"I wonder what Piglet is doing," thought Pooh. "I wish I were there to be doing it, too." —Winnie-the-Pooh
"'We'll be Friends Forever, won't we, Pooh?' asked Piglet.
'Even longer,' Pooh answered." —Winnie-the-Pooh
"'I don't feel very much like Pooh today,' said Pooh.

'There, there,' said Piglet. 'I'll bring you tea and honey until you do.'" —
Winnie-the-Pooh
---
Winnie The Pooh Quotes on believing in yourself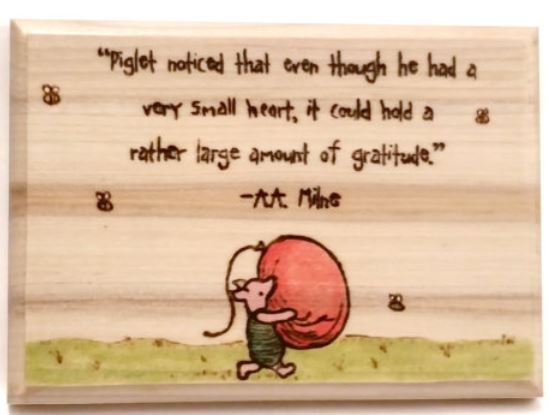 Buy on Etsy
"You're braver than you believe and stronger and smarter than you think." —Winnie-the-Pooh
"People say nothing is impossible, but I do nothing every day." —Winnie-the-Pooh
Piglet: "The things that make me different are the things that make me." —Winnie-the-Pooh
"'I have been Foolish and Deluded,' said he, 'And I am a Bear of No Brain at All.'
'You're the Best Bear in All the World,' said Christopher Robin soothingly.
'Am I?' said Pooh hopefully. —Winnie-the-Pooh
---
Winnie The Pooh QUotes on life in general (aka In Which Pooh is Socrates)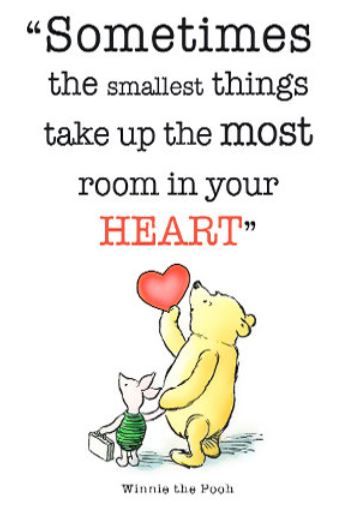 Buy on Etsy
"When you are a Bear of Very Little brain, and you Think Things, you find sometimes that a Thing which seemed very Thingish inside you is quite different when it gets out into the open and has other people looking at it." —Winnie-the-Pooh
"You can't stay in your corner of the Forest waiting for others to come to you. You have to go to them sometimes." —Winnie-the-Pooh
"But it isn't easy," said Pooh. "Because Poetry and Hums aren't things which you get, they're things which get you. And all you can do is to go where they can find you." —The House at Pooh Corner
"Always watch where you are going. Otherwise, you may step on a piece of the forest that was left out by mistake." —Pooh's Little Instruction Book
"How lucky I am to have something that makes saying goodbye so hard." —Winnie-the-Pooh
"Just because an animal is large, it doesn't mean he doesn't want kindness; however big Tigger seems to be, remember that he wants as much kindness as Roo." —Winnie-the-Pooh
"Think it over, think it under." —Winnie-the-Pooh
"I am not lost, for I know where I am. But however, where I am may be lost." —Winnie-the-Pooh
"Rivers know this: there is no hurry. We shall get there some day." —Winnie-the-Pooh
"If the person you are talking to doesn't appear to be listening, be patient. It may simply be that he has a small piece of fluff in his ear." —Winnie-the-Pooh
---
Winnie The Pooh QUotes on living life to its fullest (aka YOLO)
Buy on Etsy
"'When you wake up in the morning, Pooh,' said Piglet at last, 'What's the first thing you say to yourself?'
'What's for breakfast?' said Pooh. 'What do you say, Piglet?'
'I say, I wonder what's going to happen exciting today?' said Piglet.
Pooh nodded thoughtfully. 'It's the same thing,' he said." —Winnie-the-Pooh
---
general wisdom
Buy on Etsy
"My spelling is Wobbly. It's good spelling but it Wobbles, and the letters get in the wrong places." —Winnie-the-Pooh
"But, of course, it isn't really Good-bye, because the Forest will always be there…and anybody who is Friendly with Bears can find it." —The House at Pooh Corner
---
and finally:
…in which Rabbit is a Jackass (aka I am Rabbit)
"Hello, Rabbit," he said, "Is that you?"
"Let's pretend it isn't," said Rabbit, "And see what happens." —Winnie-the-Pooh
"Owl," said Rabbit shortly, "You and I have brains. The others have fluff. If there is any thinking to be done in this Forest—and when I say thinking, I mean thinking—you and I must do it." —The House at Pooh Corner
BONUS: Owl is a Jackass Too
"Owl looked at him, and wondered whether to push him off the tree; but, feeling that he could always do it afterwards, he tried once more to find out what they were talking about." —The House at Pooh Corner