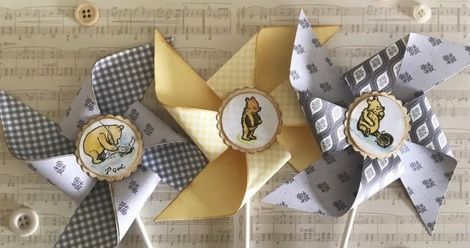 How To
How To Create the Most Adorable Winnie the Pooh Baby Shower
This content contains affiliate links. When you buy through these links, we may earn an affiliate commission.
Throwing a baby shower is a lot of work, and it feels like half of it is just coming up with a way to execute the theme. Thankfully, if you've chosen to throw a Winnie the Pooh baby shower, there are a lot of examples and options! From invitations to favors, we've rounded up a plethora of ideas to help you execute a 100 Acre Wood worthy party.
Food ideas
Whether you decide to serve themed food, or to simply present your go-to party snacks with a cute, themed label, here are few ways to quell the rumbly in everyone's tumbly.
Refreshments suitable for the expecting mother is important! A simple honey lemonade or this Eeyore-inspired punch would do the trick.
Find some serving inspiration with these honeypot cupcakes. And know there is nothing wrong with using Winnie the Pooh cupcake toppers instead.
Vegetables from Rabbit's garden is probably the easiest and most accurately themed food you could have!
Acorn cookies to tie in the 100 Acre Wood.
Tigger tails are an extremely popular Winnie the Pooh baby shower food. You could make a marshmallow tigger tail, like one would find in a Disney park, or these chocolate covered pretzel sticks.
Look, you don't need to make everything from scratch in order to for snacks to be on-theme, pretzel sticks work great!
Kanga fruit kabobs!
Winnie the Pooh baby shower games
While playing Pooh Sticks would be very on theme, it's not very conducive to a baby shower, so here are some more indoor game options.
This download and print set makes for easy and low-key games.
A spin on the classic "don't say baby!" game, but with Tiger's tail!
A bingo card to play along with the opening of gifts.
centerpieces
These simple honeypot centerpieces would work great for a baby shower!
Love this Yummy for Your Tummy sign as a centerpiece.
These wood blocks would make for a great centerpiece, whether stacked together on your main table, or one block each used in smaller arrangements. Then they could be given to the expectant mother as a gift to take home!
There are also diaper cake decorations found on Etsy you could use for centerpieces.
Winnie the Pooh baby shower Decorations
This classic Pooh & Friends bunting banner and verses.
These pinwheels would look wonderful in a clay pot, or scattered on a table.
A simple and easy decoration would be to print off the original Ernest Shepard Winnie the Pooh illustrations (like this or this), stick them in a frame, and place around the room. Or, frame a few quotes from the books!
Winnie the Pooh paper confetti would make for a nice touch, strewn here and there on tables.
Don't forget to give the mom to be a fun ribbon corsage!
You can also find several shops on Etsy offering printable party decoration sets.
favor ideas
Who wouldn't want a little honey bear to take home?
Cute Winnie the Pooh honey bee soap favors.
Attach a small favor tag (search Etsy for "favor tags" to find more!) to a few honey sticks or some handmade treats as a sweet favor.
Looking for Winnie the Pooh gifts to give as a shower prize? We have a roundup of great ones from Etsy.