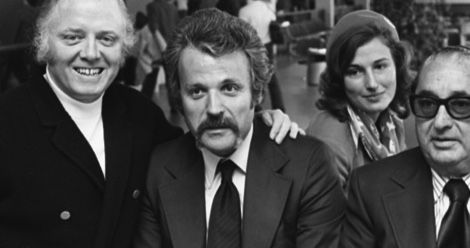 News
William Goldman, Author of THE PRINCESS BRIDE, Has Died
This content contains affiliate links. When you buy through these links, we may earn an affiliate commission.
Like most of the world, I woke up to the seemingly impossible news that William Goldman has died. That he was 87 and in poor health seems inconsequential—he just couldn't die. "Bill Goldman does not die at this time," I wanted the ledes to read, but none of them did. He is really gone.
You probably know Goldman best as the author of The Princess Bride (he also wrote the screenplay for the wildly popular movie version). His "abridged" version of the fictional S. Morgenstern's tale of adventure has captivated readers for decades, with the movie elevating it further. To this day, readers are convinced Morgenstern is a real person. If he is, he has outlived Goldman—I could find no obituary for him. Inconceivable.
He is lauded in Hollywood for his Oscar-winning screenplays for Butch Cassidy and the Sundance Kid and All The President's Men, and I personally admire him for Adventures in the Screen Trade and his little-known novella The Silent Gondoliers. Altogether he wrote 34 produced screenplays, four produced plays, dozens of unproduced screenplays and plays, 16 novels, and ten nonfiction books and memoirs, not to mention a children's book and several articles and short stories.
Nearly everyone has a story about William Goldman. They're all delightful. Go read them and feel good about his life.
Thinking about reading The Princess Bride? Why You Should Read The Princess Bride Out Loud.