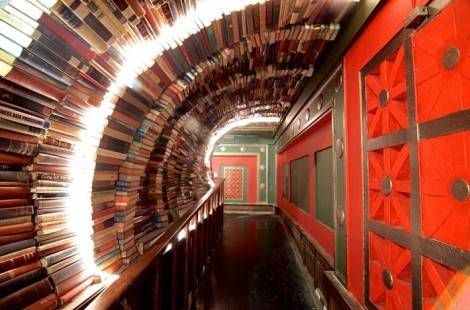 How To
Will Work For Books: 5 Tips For Getting Hired at an Independent Bookstore
This content contains affiliate links. When you buy through these links, we may earn an affiliate commission.
So, you want to be a bookseller. Well, who doesn't want to get paid to work in a building full of books? Bookselling can be kind of magical—discovering new titles, meeting authors, and connecting books with other like-minded people. Bookselling can also be kind of a drag—frantically searching shelves and databases for an elusive title, dealing with difficult or rude customers, and a whole lot of heavy lifting.
When it comes to getting hired at an independent bookstore, a love of books is a starting point, not a qualification. The position requires a large amount of energy, enthusiasm, curiosity, patience, and the ability to think on your feet. And no, booksellers do not get to read all day, or even part of the day. So let's talk realistically about what a job in bookselling entails, and then how to land one.
What You Need to Know
1. Bookselling is a retail job, and that means people skills.
The ability to communicate with people is probably the most important skill any bookseller can possess. You need to be comfortable with starting conversations, listening, and giving book recommendations at the drop of a hat. Most of the customers I interact with are lovely human beings who are just excited to be in a bookstore. The rest range between odd (have you seen Weird Things Customers Say in Bookstores?) and downright rude. You need to be polite, helpful, and outgoing—even on the days you just want to crawl into your reading nook and never leave.
2. (Most) Booksellers don't work Monday-Friday, 9-5.
Retail usually requires you to work weird hours. This can be great for people who have odd schedules or are artists, but not so great for people who like weekends off. It may be difficult to get time off during certain peak seasons, like the holiday shopping season. Make your peace with this now. Every bookstore has different scheduling requirements and staffing needs, so who knows what sort of flexibility may be available to you once you're hired, but you should go into this job expecting to re-arrange your schedule as needed.
3. It's very likely you'll start out part-time.
In my experience, most indie bookstores hire part-time first, and require you to work your way into a full-time position. First-time, full-time positions are hard to land unless you have previous publishing, sales, or related experience. It sucks, especially if you can't afford to live on a part-time salary, but don't despair—you might be able to get a foot in the door as seasonal, evening, or weekend help. And you never know what might open up!
If you're still with me and want to go for it, then here are five things you can do to stand out as an applicant!
1. Get involved with your bookstore's community.
Be a customer. Talk to the staff (you all love books, it shouldn't be too hard!), attend book signings, join a book club, sign up for the newsletter, follow the bookstore on social media if that's your thing. Don't stalk the manager, but make yourself familiar with the store and your future co-workers. So often I receive applications from people who gush about how they've always dreamed of working in a bookstore, only to never ever see them again. Community is important to bookstores. Be a part of it.
2. Identify what you can bring to the bookstore.
Most bookstores are small or medium operations that expect their staff members to do more than just sell books. Ask yourself what you can bring to the team. Do you have design skills, or social media know-how that the store might benefit from? Do you possess a master-level knowledge of poetry that could be used to help strengthen the store's poetry section? Do you have a cool idea for a new book club that you're willing to organize and lead? Communicate this! It'll show you think of the bookstore as more than just a place to work.
3. Specialization is great, but be willing to work wherever you're needed.
You may know almost everything there is to know about children's books…but the bookstore you're applying to already has a children's specialist. That's okay! Make sure you tell the bookstore your strengths, but also let them know you're open to working in and learning about other sections of the store—and then really be open-minded about it. The reality is that no matter how large the bookstore, you're going to have to know a bit about every section. It doesn't matter if you're standing next to the board books while wearing a Goodnight Moon t-shirt, someone is going to ask you where they can find Fifty Shades of Grey. Welcome to bookselling.
4. Write a really great cover letter to go with the application.
The application and hiring process can vary wildly from bookstore to bookstore. Some bookstores only require a generic application, while others require you to apply in-person, or fill out lengthy forms with questions about your favorite books, reading habits, or your general book knowledge. Not every bookstore will require a cover letter and resume, but I think you should write one anyway.
Cover letters allow you to show off your superb writing skills (an important tool for any bookseller!), and they give you an opportunity to highlight special expertise or knowledge that you can bring to the store. It's your opportunity to show the store that you're serious, and why they should hire you. Keep it short and sweet, and don't go overboard with the flattery or how working in a bookstore has always been a dream. Even if it's not a requirement, a focused, well-written, professional cover letter can't hurt your chances of getting an interview.
5. Don't wait for an opening.
Where and how bookstores advertise job openings can also vary. If you're an active member of their community and know what you could bring to the bookstore, then write a letter of interest (aka cover letter) and submit it to the manager. Make sure you indicate that you understand that there might not be any openings at the moment, but ask that they consider you when there are. You might get a "thanks, we'll keep you posted" email, or an interview right away, or you might have to wait a while to hear anything. But you'll have gotten your foot in the door and shown that you're a serious candidate.
Where do you find bookseller job listings? So glad you ask. Check your local bookstore websites, and then keep an eye on the American Bookseller's Association Job Openings page, and the Shelf Awareness Job Board.
Getting hired takes patience and persistence, but hey, I believe in you. Any booksellers out there with more tips and advice? Share them in the comments!