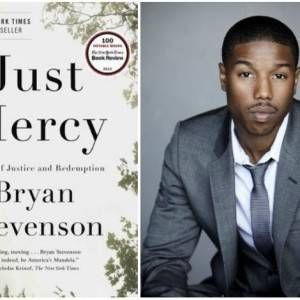 Pop Culture
Will It Suck? JUST MERCY by Bryan Stevenson
This content contains affiliate links. When you buy through these links, we may earn an affiliate commission.
Late last month, various news outlets reported that Michael B. Jordan will be starring in an adaptation of Bryan Stevenson's memoir Just Mercy. Hollywood and movies about race are always a dicey combination, but this one has strong source material and a very appealing young actor. Is that enough to make this great? Let's break it down.
Source Material: Just Mercy is an incredible memoir. If you haven't read it, please go get a copy right now (or wait just a few days until it's out in paperback on Aug. 18, whatever makes you happy). In the book, lawyer Bryan Stevenson shares the story of his work defending the poor and wrongly condemned to the death penalty through the organization he founded, the Equal Justice Initiative. The main case he writes about is that of Walter McMillan, a man sentenced to death for a murder it is glaringly obvious he didn't commit. As Stevenson and his colleagues investigate the case, they soon learn that the criminal justice system – especially in the South – does not treat all defendants equally. This book moved me to tears several times – it absolutely has the drama and heart to make an excellent film.
Writer/Director: The screenplay is being written by Andrew Lanham and director Destin Daniel Cretton. Both are young, but have been recognized for their previous work. Lanham was a 2010 AFF Drama Screenplay Winner and 2010 Nicholl Fellow. Cretton was also a 2010 Nicholl Fellow who received good buzz for his feature film Short Term 12. It's hard to know how they'll handle Just Mercy, but I like the idea of it being adapted by people used to doing smaller projects – this story is good enough it doesn't need to be made sentimental or, well, Hollywood.
Cast: Michael B. Jordan is signed on to play Stevenson (as well as be a producer on the movie), which is really great news. He is a delightful, funny, talented actor. He has some blockbuster/mainstream recognition thanks to his current role as Johnny Storm in Fantastic Four and upcoming starring role as Adonis Johnson in Creed. Yes, I know Fantastic Four is getting panned but Jordan is fantastic and willing to talk about race and his character so… whatever. He was in Friday Night Lights, one of my favorite tv shows of all time! I love him! But what convinces me that he'll be great is his role in another true story movie on race and justice, Fruitvale Station.
In that movie, Jordan plays Oscar Grant, a 22-year-old resident of San Francisco who was killed by police officers at the Fruitvale BART station. Jordan got wide praise for his work, with one critic comparing him to a young Denzel Washington. Coincidentally, rumor has it that both Denzel Washington and Will Smith are interested in roles in the production, both decent signs for a successful adaptation. Jordan is the perfect young actor to embody the tough, brash, empathetic young Stevenson – definitely a win here.
Wild Card: I think the biggest wild card here is Hollywood itself. Or maybe American filmgoers? I'm trying not to be too much of a downer but yeah, movies of stories like this one can turn into inspirational crap… a good-hearted young lawyer takes on the system to find justice for the poor and downtrodden! And while that's at least part of what the book is about, the more important message is about how the criminal justice system is unfair to a lot of people. The system can't be fair if the people in charge of it let their personal biases affect the outcome or the people in need of a good defense can't afford one. Those parts of the book are deeply uncomfortable… if the movie commits to showing that, it will have done the book justice.
Will it suck? I desperately hope not.
Save