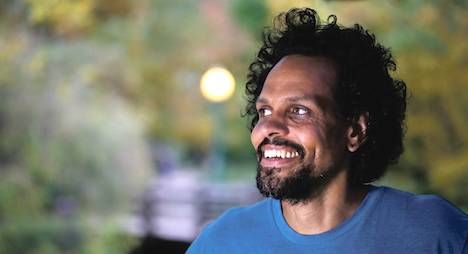 Poetry
Why You Should Read Ross Gay This National Poetry Month
This content contains affiliate links. When you buy through these links, we may earn an affiliate commission.
"and yes, it is spring, if you can't tell
from the words my mind makes
of the world,"
Upon writing this, spring has finally awakened in the winter-weary city of Chicago. After weeks of bizarre snow flurries and temperatures hovering around the mid-twenties, the trees are finally beginning to bloom and Lakeshore Trail is inundated with a stream of joggers, dog-walkers, bicyclists, beachgoers, and skateboarders.
Everyone can appreciate this changing of the seasons, but I don't know that anyone can do it more eloquently than Ross Gay. Each April, during National Poetry Month, I find myself returning to his second collection, Against Which, particularly the poem "The Hernia," which always reminds me how exciting the newfound warmth can be, even in a moment of unpleasantness.
Against Which is an eclectic collection, and though the poems cover a wide range of subject matter, there is a hopefulness that resonates throughout the work that makes it ideal for the end of winter. For those who aren't naturally drawn to poetry, this is another plus of Gay's work in general – there are poems that burst forth with so much joy. Whereas we often associate poetry as a dense, somber art form, Gay's poems are not only loaded with accessible language (please don't mistake accessibility as lacking depth), but also praise the quotidian elements of life in which we find meaning.
This is even more apparent in his newest collection, Catalog of Unabashed Gratitude. Nominated for a National Book Award, this collection mostly focuses on Gay's passion for gardening, but examines many other subjects through this lens. In "Burial," Gay nails readers with candid, doleful lines about the loss of his father, but they are juxtaposed by the undeniable beauty of the literal plum trees that bloom from the ashes. It's a poem that will make you bawl your eyes out and develop an entirely new relationship with produce.
In "Patience," a poem I recently memorized for a class, Gay appreciates the simplicity of taking a nap in the grass surrounded by the garden he has helped blossom. It is a piece best read sitting on the ground, whether in an open field or under a tree, not with any kind of pretense but because it's so easy to connect with your surroundings.
Perhaps most importantly, it's easy to recognize Gay's genuine love for nature and language. From the moment you pick up Catalog, the vibrant colors of the cover announce a lightheartedness that is great for anyone who may not usually browse the poetry section of a bookstore. Gay artfully strips away any expectations of pretentiousness and exclusivity, and hurls readers into a stream of honest odes and (forgive me) unabashed, grinning lines.
If you're not sure where to start during National Poetry Month, I recommend starting here. Gay will provide you with a great read that syncs perfectly with the new season. Happy spring everyone.