Opinion
Why We Need NOUGHTS AND CROSSES and Its Upcoming Adaptation
This content contains affiliate links. When you buy through these links, we may earn an affiliate commission.
It's not an exaggeration to say that Malorie Blackman's Noughts and Crosses series has had a massive impact on my life. I read the first book in the series when it came out in 2001, when I was a tiny baby 15-year-old, and it was a major factor in helping my mindset shift from a broad "racism is bad" to "racist micro- and macroaggressions are real, present, and need to be challenged".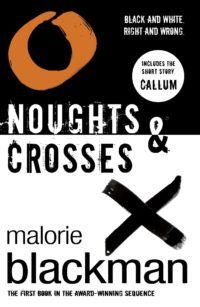 Set in a world where black people (Crosses) have racial privilege and white people (Noughts) are marginalised, the Noughts and Crosses series follows childhood friends Sephy (a Cross) and Callum (a Nought), and their families, as they negotiate and try to change the racist world around them. Malorie Blackman had held off writing about racism for much of her career prior to Noughts and Crosses, because she wanted to write the books she'd missed out on as a child – books with black main characters "just getting on with their lives", who faced problems and challenges that weren't centred on racism. However, for her 50th book (Malorie Blackman takes prolific to a whole new level), she felt ready to write about racism, drawing both on history and her own experiences (for example, an important scene in Noughts and Crosses where Sephy naively comments on how odd a brown plaster/Band-Aid looks on a Nought girl's face is based on Blackman's thoughts about seeing pink plasters on her own skin).
The Noughts and Crosses series has grown into five novels and two novellas, showing how the fictional society progresses (and also remains frustratingly the same). Crossfire, the latest installment, was published earlier this year – and, equally exciting for long-term fans, a TV adaptation is finally on its way. The upcoming series isn't the first time that Noughts and Crosses has been adapted for other media. The first novel in the series was adapted for the stage by Malorie Blackman and Dominic Cooke in 2007, and again by Sabrina Mahfouz in 2019. For a while, in the early 2000s, there was talk of a film, but studio meddling killed the project before it could begin.
But, looking at the cast for the TV version of Noughts and Crosses, it looks like this adaptation has been worth waiting for. With fantastic actors like Paterson Joseph (playing Kamal Hadley) and Helen Baxendale (Meggie McGregor) on board, as well as grime superstar and publisher behind #Merky books Stormzy making his TV acting debut as new character Kolawale, it seems that we can expect some brilliant performances when the series launches.
Not only does Noughts and Crosses promise to be a great adaptation, it's also shaping up to be essential viewing for young people (and everyone else) in the UK. At the time of writing, we have a Prime Minister who's made racist comments that wouldn't have sounded out-of-place at a Blackshirts rally, heading up a party whose election pledges include plans to increase stop-and-search tactics, in a society where structural racism is as rife as ever. While it shouldn't take a race-flipped storyline to make white readers pause and consider (including me back in 2001 – I should have been thinking more critically before I first opened the book), there can be no doubt that Noughts and Crosses is a brilliant, crucial story that explores the far-reaching impacts of racism, and how important it is to fight it at every turn.
For more anti-racist YA, try The Boxer by Nikesh Shukla: YA that tackles rising racism in the UK. If you're a white reader wanting to challenge your own privilege, browse the titles in So You Want to be Woke: A reading guide for white people.