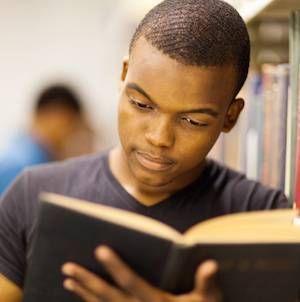 Opinion
Why We Need Diverse Libraries
Public librarians fight the good fight: we're champions of literacy and intellectual freedom, we oppose book bannings, and we're pro-education and public service. We've had a bit of a public image problem what with our shushing and our late fees, but we've been hard at work reinventing our image as welcoming, affirming professionals who are here to spread the love of books and information. We even have literary tattoos and bookish roller derby names.
All of this makes it harder to say this next thing: Public librarians need to do better with race.
When I recently read about the Napa Valley Wine Train that apologized for wrongfully escorting a book club of 11 black women off the train for being "too boisterous" (i.e. #laughingwhileblack), my first thought was of how many times I've seen the same thing happen in public libraries — I've witnessed many similar microaggressions against people of color throughout my time in libraries.
The nature of microaggressions makes them tricky to define, especially since they're often so specific and personal, but I'll do my best to describe a few of the instances I've seen.
Several years ago I ran an after-school computer lab for teenagers in a midwestern public library. Most of the teens were black and latino. When I took over the lab, my supervisor advised me that I would need to spend most of my time watching for bad behavior and making sure these "at-risk" teens didn't misbehave. What I actually observed was intellectually curious teenagers who wanted to learn about MySpace, YouTube, and Runescape. I taught them how to make and edit videos, and we all had a great time. Other librarians had labeled them "at-risk" and targeted them for behavior problems because they were black and brown.
At another public library, we offered a festival with free pizza for teenagers. The teens were mostly white, but near the end of the day a group of young black women came in with their little brother. One of the librarians stopped the boy and told him he wasn't allowed to have pizza unless he was at least 13. When the boy said he was 13, the librarian accused him of lying and escorted the entire group out of the festival. Instead of trusting the young black kid who was very likely 13, the librarian judged him untrustworthy and chose to humiliate him and his family. At the end of the day we had leftover pizza that we just threw away.
Perhaps the subtext in my work with teenagers in libraries is that I've seen too many librarians who believe that white teenagers are at the library because they want to succeed academically, and black and brown teenagers are at the library because they have nowhere to go and want to make trouble.
Racial microaggressions in libraries aren't limited to teenagers. I've also seen white librarians ask for backup from security guards simply because they were outnumbered in a room with two people of color. I've seen librarians withhold computer guest passes from black and latino patrons because the patrons hadn't anticipated needing ID at the library. (It's easy in most libraries to print a temporary guest pass that anyone can use without ID.) And time and again I've seen black and brown patrons escorted out of libraries or even banned permanently for talking too loudly. I've seen white patrons treated these ways, too, but in my experience I've seen patrons of color disproportionately targeted.
Working in a public space does come with its own set of personal safety challenges. As public servants, librarians interact daily with people from all walks of life, including those who are intoxicated, mentally unstable, even publicly masturbating. There's a legitimate need for security measures to help maintain a peaceful and safe environment. But I've seen enough instances of racial microaggressions in libraries to convince me that we often go too far when it comes to how librarians treat patrons of color, especially teenage patrons of color. We think we're monitoring behavior, when what we're actually monitoring is race.
As librarians, one of our greatest challenges in this arena might come when we overlook the differences in cultural dynamics from one group to the next. What might seem loud or disruptive to one group of people might be a totally normal interaction to another. Before we ban and humiliate patrons for being "too boisterous," I challenge librarians to ask ourselves: "Is this creating a real problem — is anyone actually threatened or in danger here? … Is this really worth adding one more cut to the thousands this person already has?"
A lot of well-meaning librarians have talked about how part of our mission is to guide and teach the public about "the proper way to behave in a library." When what they really mean, I think without realizing it, is "the proper way to behave white and middle class."