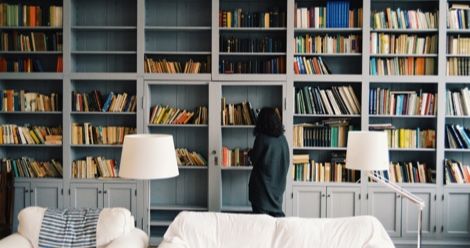 Critical Linking
Why We Don't Read All the Books On Our Shelves: Critical Linking, July 28, 2019
Critical Linking, a daily roundup of the most interesting bookish links from around the web, is sponsored by Libro.FM.
---
"Doesn't every bibliophile do this, buy books and fail to read them? Actually no—or so I learned halfway through those 19 years of owning Love and Loss, when I started dating the person I would eventually marry. This man reads every book he acquires. If a friend writes a book, he gets to it as soon as he can; if his father randomly sends him a biography of some musician, he'll read that; I myself am hesitant to ever give him a book, knowing that it represents an obligation that I would never feel in his place, namely to read the thing from start to finish."
I don't know who this husband of her thinks he is, but I feel like he's judging me? I am very here for these nostalgia-filled musings on the reasons we buy more books than we can read.
---
"As yet another record-breaking summer heats up, the effects of climate change — and the debates surrounding it — aren't going away. It only makes sense then that literature has continued to respond in kind. Authors as varied as Paolo Bacigalupi, Jenni Fagan and Ben Lerner, in their novels The Water Knife, The Sunlight Pilgrimsand 10:04, have tackled just how devastating climate change in the 21st century might be. Their variations on climate fiction, or cli-fi, have become even more resonant as megastorms get stronger, ice caps melt and politicians drag their feet. Climate change, however, is not a new thing, and science fiction authors have been exploring the impact of weather-gone-wild for decades. Here are a few proto-cli-fi novels from years past that ring eerily cautionary today."
Oh how I do wish climate change was only fictional.
---
"The laptop shouldn't have come as a surprise, though. The cover of Myles' most recent poetry collection Evolution is an Instagram picture (Myles has 25.2k followers on the platform and their Instagram pictures have been exhibited in New York), and the author's photo on the back is a bathroom selfie. Myles finds that technology and social media have opened new channels for their poetry. 'Writing a poem, composing a tweet, or adding a caption to an Instagram photo, all feel like one and the same gesture,' they tell me at the coffee shop where we met before the writing session. 'I see poetry as capturing what is happening around me and social media simply offer more options for doing the same thing.'"
Next time someone asks me about "that Instagram poet," I may just put some Eileen Myles in their hand.