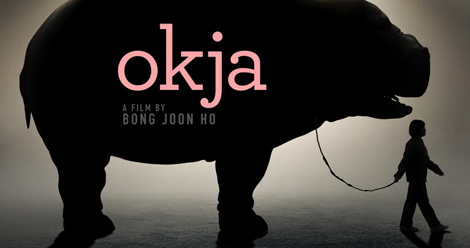 This content contains affiliate links. When you buy through these links, we may earn an affiliate commission.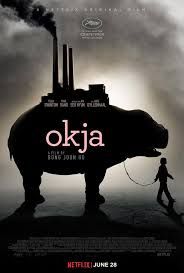 I was talking to my mom one recent evening when she asked about my plans for the night. I told her that I was going to see a screening of the movie Okja. She wanted to know what it was about, and I had no idea what to tell her.
If I had started by naming a few of the actors, like Tilda Swinton and Paul Dano, she'd have thought that it was one of those artsy movies that she doesn't like. If I had mentioned the "super pig" or that much of the movie takes place in South Korea, she would have commented on my weird taste in movies or my fondness for foreign films.
Instead, I decided to tell her that it looked like it might be something more along the lines of one of those animated Miyazaki films my brother would make us watch that always made us cry, like Spirited Away. Something like that, but live action. I figured it was a stretch, but, as I sat there staring at the screen, I discovered that I hadn't been all that far off the mark. The characters, especially the titular super pig Okja, are practically begging to be drawn. Animation is not the right medium, however. What Okja really needs is to be brought to life on the pages of a graphic novel.
The story takes place in an alternate timeline, parallel to ours. It begins in 2007, when Lucy Mirando (Swinton) announces her super pig project to the world. Twenty-six of these creatures, supposedly bread from a lone specimen discovered in the Chilean mountains, were given to local farmers in each of the countries where the Mirando Corporation has offices. The growth of each animal was monitored, and 10 years later, in 2017, the best of the pigs would be put on display at a big event in New York. Okja is that pig.
A super pig, by the way, looks something like a hippo and has the temperament of a really large puppy. Look at that face. It's just begging to be on the pages of a graphic novel.
What Mija (newcomer Ahn Seo-hyun), the granddaughter of the South Korean farmer that is tasked with raising Okja, doesn't understand is that, after all the fanfare Okja will be eaten. Super pigs must, in the words of Mirando, "taste fucking good." They are intended to help solve the world's food shortage, after all. All Mija wants is her best friend to stay with here there, in the mountains.
Mirando is the villain that wants to do good. She's convinced herself that she is doing the right thing and that the world should love her. She wants to stand apart from her family legacy of super-shady business practices. She sees the misinformation that is being shared with the masses as nothing more than a few perfectly acceptable "white lies." Her hair is also so blonde that it's nearly white, and she wears only white and shades of pale pink. Such purposeful color choices are well-suited to the graphic novel format.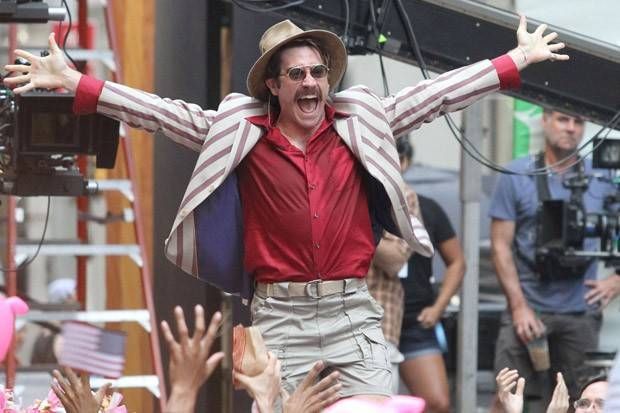 She's not the only over-the-top personality. Jake Gyllenhaal plays a washed-up TV animal expert, the face of the Mirando Corporation and the judge in the super-pig competition. He's always wearing cargo shorts and knee socks, even on formal occasions.
Paul Dano plays Jay, the leader of an activist group called the Animal Liberation Front. He usually looks like he just walked out of a Wes Anderson movie, and in one scene, you'd have sworn he worked as a bellboy at the Grand Budapest Hotel. He believes very strongly in non-violence, and he holds his group to a very high standard. When that standard is violated, he's been known to kick ass. K, played by The Walking Dead's Steven Yeun, can attest to that. K even gets a tattoo with the lesson he learned as a result of his ass-kicking.
The characters and the settings are the most graphically appealing elements of the film, but it is the story that really makes Okja a perfect fit for the graphic novel format. It's a story about "the little guy" or, in this case, a little girl fighting against an evil multinational corporation for the love of a friend. While their life on the mountain is peaceful and idyllic, when Okja is taken from them, a darkness creeps in the story. Mija endures many obstacles, and even injuries, but she remains largely unchanged throughout the film. There is a purity about her. She is still the innocent, hopeful, and fundamentally kind child at the end that she is when she first appears on screen.
So there's a hero, a villain, and a band of misfits who help out along the way. There's a battle to be fought and won, though the war rages on. The movie has some really impressive action sequences, and Mija more than holds her own in every one. She is a young Korean girl who speaks nothing more than very broken English, and she wins against incredible odds. That's definitely something that needs to be seen, whether on the screen or on the page.
Perhaps most importantly, at least from my viewpoint, the story exposes the audience to a larger truth about the world around us and just what could happen in the future. Maybe it is even happening now. The images of all those super pigs at the slaughterhouse are not ones that a anybody turning the page of a graphic novel would be quick to forget. On the chance that this movie slips through the cracks, a graphic novel would make it more readily available and easily accessible to the generation that needs to know this story. Until it hits the shelves, you'll just have to look for it on Netflix. It's there now.
Save
Save