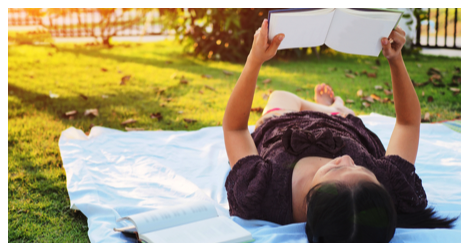 This content contains affiliate links. When you buy through these links, we may earn an affiliate commission.
As you're probably aware, most days, if I'm not being forced to, you know, be a person, you'll find me with my nose in a book (shocker). And many times, as you glance over in my direction and think oh, well, there she goes again, off into her own world — and we probably won't be seeing her for long, long time, you might also notice that the cover of the book I'm reading is…very well-loved. The corners have been so bent, one looks like it might be torn away by the next breeze. Folding lines and cracks criss-cross across the cover. You might even see, as I flip a page, that it's become a dignified yellow-ish brown, which indicates a certain age.
At this point, many people, bookworms and non-bookworms alike, often stop and ask, "Wait. Didn't you read that book already?"
The answer, often, is yes, of course I have. And sometimes, that's exactly why it's in my hands again.
It's surprising to me, actually, how many bookish people I know don't reread books. My mother, for example, has only ever reads each book on her shelf once — barring a few extenuating circumstances. She's also often the one who wonders aloud why I'm reading Harry Potter for the ten billionth time — and when I try to tell her that it's because "Hogwarts will always be there to welcome me home," she doesn't quite get it, sadly.
My sister, though, has a bookshelf filled with books that are loved, and loved again — by both of us. In fact, over Thanksgiving weekend, I noticed my sister's nose buried in a worn copy of Tamora Pierce's In the Hands of the Goddess in between watching movies, cutting vegetables, sorting through pictures, and eating. It's a book we discovered in our years as late-middle schoolers and early teens, and, like many others from that time in our lives and beyond, it's a series we come back to often.
What makes us reread these books again and again? First of all, from a practical standpoint, rereading books we've read before certainly isn't going to help us diminish that actual tower of books we call our TBR pile. More importantly, it might delay our discovery of that next fantastic book that we'll read until the cover is worn down to veritable shreds! Second, it's not like the story is going to change when we pick the book up once again. The characters stay the same. They do what they do, they say what they say without any deviation. The go through their journey in exactly the same way. I can understand why that sounds boring to many of us.
But to me, an avid re-reader of beloved books, there's a different kind of magic in returning to the worlds we love. Growing up, and even now, there has always been a sense of soothing and warmth knowing that in the pages of a book are characters that I truly love. As I revisit them again and again, over time they become as well-known to me as my own family. Every mistake, every triumph, though I see it coming, helps add to that sense of belonging. The world becomes as familiar as my own house, the complications become as real as those in my own world. Best of all, experiencing these beloved stories over and over actually ends up opening new avenues into imagination and creativity.
Not to mention, rereading books can also end up helping us re-discover ourselves. Sometimes, what I see in the pages of the book as a child is exactly the same when I read it again as a twenty-something. That indomitable sense of kinship I feel with Anne Shirley, for example, as she rides with Matthew through P.E.I for the first time. No matter how many times I read that story, I suspect that rush of understanding will never dim. Or my utter contempt for Snape, which has never changed, despite the years I've spent reading and rereading his story. In such cases, it feels good to know that there are parts of me that will always hold on to a sense of wonder, or a set of important principles. Other times, though, I find that what I felt within a book as a kid or a teen has become very different as I move through adulthood. When this happens, I become aware of how far I've come in my own life, of what different experiences have actually changed my view of the world. In this way, rereading a book becomes a powerful tool for figuring out just who I am as a person, too.
So yes, you'll often see me with my nose stuck in between the softened pages of that worn out old book, laughing at the same jokes I've read a million times, crying when the character I loved dies. Because, in the end, nothing compares to that feeling of coming home…over again.