Classics
Why Fans Should Watch the New LITTLE WOMEN
This content contains affiliate links. When you buy through these links, we may earn an affiliate commission.
For most fans of any classic work, there is one definitive adaptation against which all other adaptations are measured. Perhaps for you, only Megan Follows is Anne Shirley. (I urge you to give Anne With An E a real chance.) More to the point, you probably have a Jo March who is, for you, the one and only Jo March. It may be Katharine Hepburn or June Allyson, but most likely, if you're within ~15 years in either direction of my age (which is 40), it's Winona Ryder.
I am not a huge fan of the Winona Ryder Little Women, a fact which which some people find shocking—especially people who know how much I adore Ryder. I don't hate the movie, but I just cannot love it, either. My favorite thing about the movie is the time spent on the sisters' newspaper and theatrical society play, but nearly all of the actual story feels rushed and overly dramatic; perhaps this is unfair, as teenagers' lives tend to the dramatic and feature films are by necessity rushed, but what I want from an adaptation is a quieter story, one that has not appeared on screen until this past year. This month, PBS aired the recent Masterpiece presentation of Little Women, and I finally found my Jo.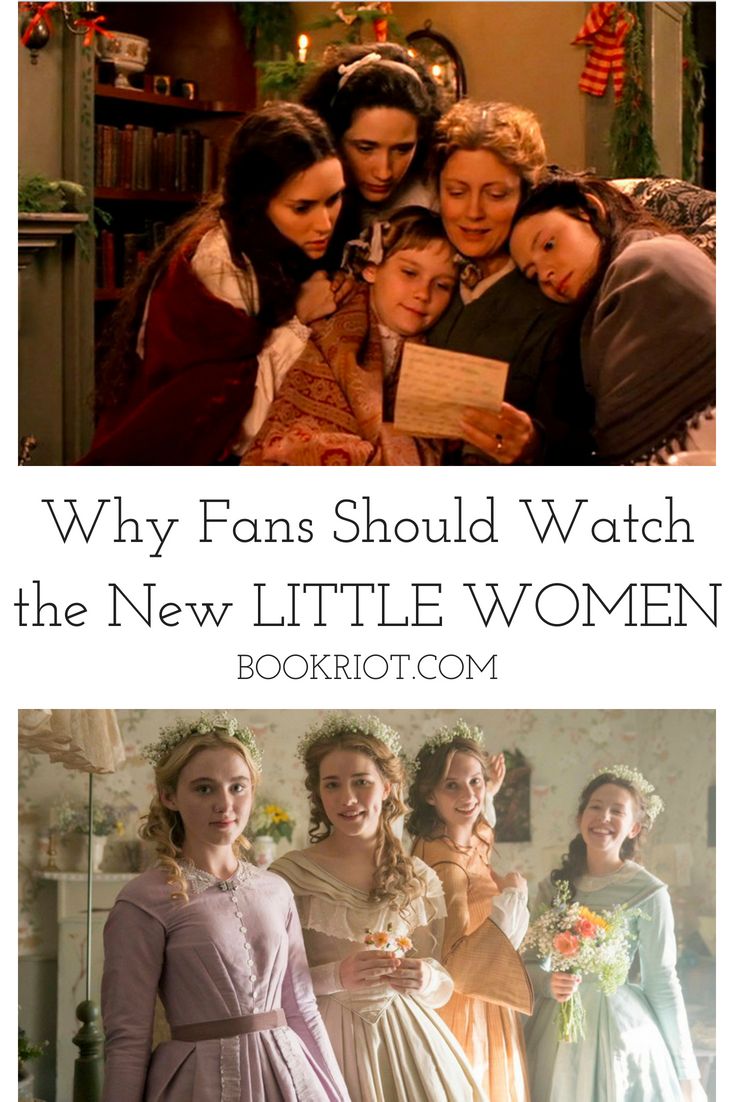 There was a brief moment in 1994 when it looked like Susan Sarandon was only ever going to play Marmie, over and over again. Not only did she actually play Marmie in the Gillian Armstrong–directed Little Women, but she played a character quite a lot like Marmie in Safe Passage (based on Safe Passage by Ellyn Bache), in which she had seven sons instead of four daughters. Sarandon was, of course, one of the most famous women on earth in 1994. (She still is, but now it's for…other reasons.)
In fact, everyone in that version of Little Women was extremely well-known; the least famous is arguably Trini Alvarado, who had 16 years' acting credits to her name when she played Meg. Casting such famous actors was a double-edged sword: they were all of them famous because of their tremendous talent, but they were all of them so well-known—even 12-year-old Kirsten Dunst—that the audience was not necessarily watching Jo, but was watching Winona Ryder play Jo. Fortunately, a majority of the audience was young enough that this was not the case for them; if you were, say, eight years old when you saw Little Women, then Winona Ryder will always be Jo for you, and not Lydia Deetz/Veronica Sawyer/Charlotte Flax/Mina Murray/Winona herself playing Jo.
Listen, I am not here to convince you that Little Women was not a good movie or that you shouldn't love it. I am here to tell you that if you love Little Women, whether it's the 1994 movie, one of the classic adaptations, or, you know, the book, you should really watch the new one. It is a delight and I am confident that you will love it.
The movie is gorgeous. The photography feels both lush and intimate. It owes a great deal of both, of course, to the beautiful locations, sets, and costumes, not to mention the lovely cast. Every detail is perfection. The script (written by Heidi Thomas of Call The Midwife) somehow manages to keep the story moving smoothly while feeling like a portrayal of real life, unhurried except in those moments when life forces hurry. (It helps that it is three hours long, which gives it time to do that.)
And the cast. Oh my word, the cast. It is difficult to explain what I mean by describing a performance as natural, but every actor fully embodied their character to the point that I even forgot that Aunt March was played by Angela Lansbury—she was just Aunt March. Kathryn Newton, though 20, was as perfectly believable as Amy at 12 as at 22—and she was delightfully detestable, as Amy must be, but also showed us why Amy is the little brat we all love to hate. Annes Elwy gave Beth a strength that's missing from most portrayals, and the show subtly but firmly suggested that Beth is not just shy but agoraphobic. Willa Fitzgerald gave us a Meg who was, for the first time I've seen on film, a believable eldest sister; so often it is Jo who feels like the oldest, because she is the leader, but this Meg feels like a second mother the way that oldest sisters often are, while also being a complete person.
And Jo. Dear Jo. I admit, Jo is not my favorite character (I'm not actually sure that I have one), but she is the most important. Maya Hawke, who looks a great deal like her mother, Uma Thurman (which is, miraculously, not particularly distracting), is a revelation as a Jo who is constrained by her femaleness and situation and dreams of bigger and better things; a Jo who loves fully and feels abundantly and is determined, so determined. This is a Jo who makes mistakes, a Jo who tries and fails. This is a Jo who could be my favorite.
It has been ages since I've read Little Women; it is too saccharine for me to get through most days, and I prefer to watch adaptations. Until now, the 1994 film was the closest to the book; now I've found one that is even closer, and that I enjoy more. And it skips the annoying voice-over.