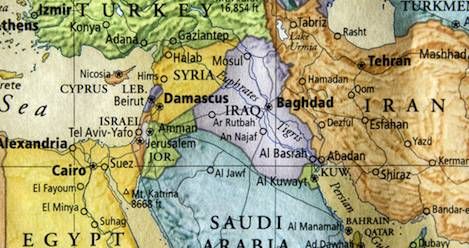 This content contains affiliate links. When you buy through these links, we may earn an affiliate commission.
This is a guest post from M. Lynx Qualey, who ghostwrites, edits, criticizes, valorizes, and manages (among other things) arablit.org. Follow her on Twitter @arablit.
---
Saddam Hussein's final novella will be out in English this coming Christmas.
That, apparently, being the proper season for dictator lit.
But it's already been Christmas in July for Hesperus Press: When the publisher dangled the news that they were bringing out one of Hussein's attempts at fiction — this one apparently written in the run-up to the US-led invasion — it got more pre-pub media than any English-language debut by a serious Iraqi author. Hesperus has billed the novella, the title of which could roughly be translated as Get Out, Ye Damned, as a "Game of Thrones meets House of Cards."
Much of the news about creative, sophisticated works of contemporary Iraqi authors is already drowned out. First, there's the distancing, anthropologizing lens on anything to do with Iraq, which turns literature into a "forensic" interest, to borrow the words of Iraqi poet-novelist Sinan Antoon. Second, there's the flood of fiction, poetry, and memoir written by US soldiers, journalists, aid workers, and others. Lists of "books to read about Iraq" include few, if any, works written by Iraqis.
Hussein's Get Out, Ye Damned isn't the first book attributed to Iraq's long-time ruler. The love story Zabiba and the King has been published in several languages, including an an apparent English translation by an American businessman, who self-published his efforts and assures the reader that no compensation went to the author.
Yes, there is an understandable titillation factor to any "celebrity" writing. What was Boris Johnson planning to say about Shakespeare? But most US and UK coverage of Get Out, Ye Damned seems to lack the queasy feeling that should surround a hipsterization of Iraqi dictator lit, particularly at a time when Iraq remains a warzone and a horror for many of the Iraqis who live in the shadow of the US-led war.
There are, of course, Iraqi books that you could feel good about looking forward to:
Quercus recently signed Luke Leafgren's translation of Muhsin al-Ramli's 2013 novel The President's Gardens, a moving novel that critically examines the Saddam Hussein regime and beyond, into occupation and the civil strife that followed. Leafgren's translation of al-Ramli's earlier novel Fingers of Dates is already available from AUC Press.
Sinan Antoon's International Prize for Arabic Fiction-shortlisted novel Hail Mary is forthcoming from Hoopoe Fiction, as translated by Maia Tabet. His acclaimed, self-translated The Corpse Washer is already available from Yale University Press.
The shocking and talented short-story writer Hassan Blasim, whose work came out in two collections in the UK (Madman of Freedom Square and The Iraqi Christ) and was condensed to one in the US (The Corpse Exhibition), has a third UK collection forthcoming from Comma Press in 2017. All the translations are by Jonathan Wright.
Comma Press is also bringing together a collection by Iraqi short-story writer Muna Fadhil, whose brilliant work appears in the 2015 Flash Fiction International anthology.
Penguin is bringing out Ahmad Saadawi's surreal, apocalyptic Frankenstein in Baghdad, which won the International Prize for Arabic Fiction. Also in Jonathan Wright's translation.