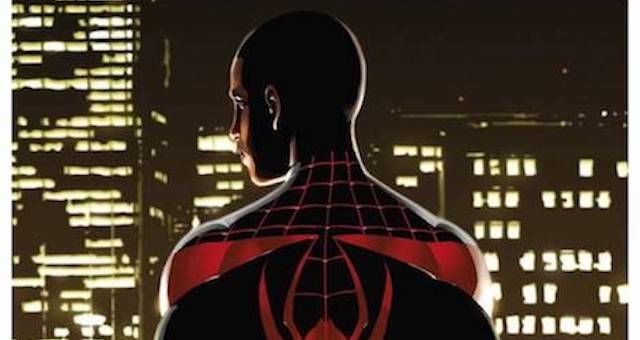 This content contains affiliate links. When you buy through these links, we may earn an affiliate commission.
Who is Miles Morales and why should he be your favorite Spider-Man ever? Read on to find out all this and more in this introductory guide to the Marvel character Miles Morales.
Who is Miles Morales?
Miles Morales is a comic book character created by writer Brian Michael Bendis and artist Sarah Pichelli. The character first appears in the Spider-Man comic Ultimate Comics: Fallout #4, published in August 2011.
Morales's Spider-Man character was created specifically for the Ultimate Marvel Universe, an imprint that reimagines classic Marvel superheroes in a contemporary world. The son of an African American father and a Puerto Rican mother, Miles Morales is meant to be a response to a culturally diverse America that just elected its first African American president a few years earlier in 2008.
"When we were planning 'Ultimatum,' we realized that we were standing at the brink of America electing its first African-American President," explained Axel Alonso, the then-editor-in-chief of Marvel Comics. "We acknowledged that maybe it was time to take a good look at one of our icons."
Another major influence for the Miles Morales Spider-Man? The television show Community, specifically an episode in which Donald Glover wore Spider-Man pajamas. Glover did this as a reference to the Twitter campaign for him to be the next Spider-Man. And while Glover never did get to play Spider-Man, he was given a role in Spider-Man: Homecoming as Miles Morales's uncle, Aaron Davis. In the movie, he even mentions his nephew, suggesting that Miles Morales does exist in the Marvel Cinematic Universe. Art inspiring art inspiring art!
How old is Miles Morales?
When Miles Morales first becomes Spider-Man, he is 13 years old, and thus when we first meet him in the comics and in the film Spider-Man: Into the Spider-Verse, Miles is 13.
At the start of Ultimate Comics: Spider-Man, Miles Morales is living with his mother Rio Morales and his father Jefferson Davis in Brooklyn, New York. Miles wins a spot at Brooklyn Visions Academy in a charter school lottery. Although Miles is intelligent and has an aptitude for learning, he feels reluctant about attending his new school because it means leaving behind his old friends and becoming an outsider in his new environment.
So that's Miles: a smart, gifted young 13 year-old.
How does Miles become Spider-Man?
Remember Miles's uncle Aaron, that guy I mentioned earlier? Fun fact: he's a criminal. Even more fun fact: he goes by the name The Prowler. But Miles doesn't know any of this.
The Prowler is an essential part of Miles's origin story, however. It's because of him that Miles gets bitten by a genetically engineered spider. The Prowler breaks into Osborne corps, and unbeknownst to him, a spider gets into his backpack. Later, when Miles goes to visit his uncle to get advice, the runaway spider bites him.
Miles Morales was bitten 11 months before Peter Parker's death. At first, Miles is not thrilled to have superpowers. But after he witnesses Parker's death at the hands of the Green Goblin, Miles reexamines his powers when he realizes he could have stepped in to help.
What are Miles Morales's Powers?
Like Peter Parker before him, Miles Morales's Spider-Man has enhanced strength, agility, spidey senses, and the ability to stick to walls.
But Miles is also gifted with a few powers that are unique to him. For one, he has the ability to instantly camouflage himself so that he blends in with his surroundings. Miles first discovers this ability in Ultimate Comics: Spider-Man when he is running away from his father and uncle and suddenly notices that half of his body has blended into the buildings behind him. Later, Miles learns how to control this ability so that he can camouflage himself (including his clothes) at will.
Miles also has as special "venom strike" that allows him to paralyze people with just a touch. The venom strike can also work when Miles and his opponent are both touching the same material. Although it has "venom" in its name, the power is actually about channeling electric energy rather than using venom.
Who are the other notable characters in these Spider-Man comics?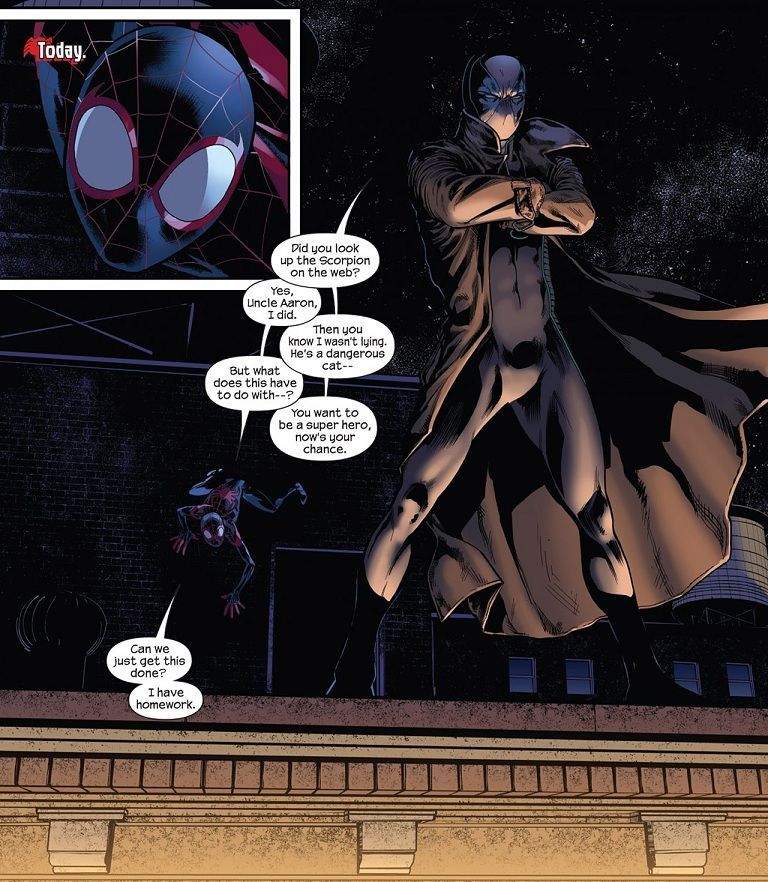 Uncle Aaron has been mentioned several times in this article, and for good reason. He, as previously mentioned, is a very important part of Miles Morales's story. Not only is Aaron Davis (aka The Prowler) the reason Miles becomes Spider-Man in the first place, he's also a major antagonist for our favorite superhero. And he's the best kind of antagonist, because he and Miles have a close personal relationship that complicates things. Initially, Miles trusts his uncle and even looks up to him. But eventually, Miles learns of his uncle's evil ways, and severs ties with him. Donald Glover plays Aaron Davis in Spider-Man: Homecoming, but in Spider-Man: Into the Spider-Verse, the character is played by Mahershala Ali.
Another important figure for Miles? His best friend Ganke Lee. When Miles first gains powers, Ganke is the first one to find out about it, and he helps Miles understand his newfound abilities. Ganke works as a comic relief character, but he's also the moral compass of Miles's story.
Obviously, Miles's parents play an important role in his life as well. Miles's father Jefferson Davis (yes, he does share a name with the former president of the Confederate States of America—maybe that's why he sometimes goes by "Jeff") is a former criminal and now a police officer. Jefferson has a strong moral code and warns Miles against hanging around his brother Aaron on multiple occasions. Jefferson is also very much against vigilante justice, meaning he's not Spider-Man's biggest fan.
Rio Morales is a kind, loving mother who loves science, a love that she's passed down to her son Miles. Yes, Miles does have his mother's last name. No, there is no official answer for why, so I'm going to say it's for the alliteration.
Who plays Miles Morales in the movie?
Hot take: Spider-Man: Into the Spider-Verse is the greatest Spider-Man movie of all time. And it's one of the best superhero movies of all time. One of the reasons Into the Spider-Verse is so great is because of its revolutionary animation that gives the movie a feel of a comic book come to life. But another main reason this film works so well is the depiction of its main character: our guy Miles Morales.
But who plays Miles in the movie? The Marvel superhero is played by Shameik Moore, an actor, singer, dancer and rapper from Atlanta, Georgia. Moore first gained major recognition as an actor for his role in the 2015 film Dope, which I would highly recommend if you want to see Shameik act in non-cartoon form. And also just because it's a great movie.
There will be a sequel to the Spider-Verse movie coming out in 2022 (SO LONG FROM NOW! I DIE!), but no official word yet on whether Shameik Moore will reprise the role of Miles Morales. Let's hope that he does!
Which Miles Morales comics should I read?
Ready to get into some Miles Morales Spider-Man comics? Great. Why not start with Miles Morales: The Ultimate Spider-Man: Volume 1? Here, we get Miles's origin story and the beginning of his journey.
After reading Volume 1 and Volume 2, try Spider-Men, a series in which worlds collide and Peter Parker and Miles Morales work together.
Two Spider-Men not enough for you? Then maybe try Spider-Verse, a series in which all the Spider-characters from all the universes must work together.
For a great comprehensive suggested reading order of the Miles Morales Spider-Man comics, check out this article at Comic Book Herald.
Want even more Spider-Man/Miles Morales?
For more Miles Morales content right here on Book Riot, here are a few suggestions: You might enjoy this breakdown of the Spider-Man: Into the Spider-Verse movie. Or how about you become Miles Morales with these costume ideas? Not sure which Spider-Man (or woman) you are? Take the quiz to find out.