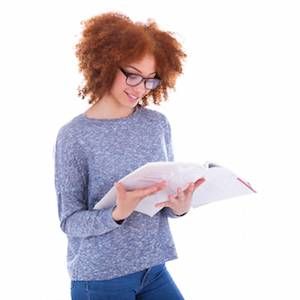 This content contains affiliate links. When you buy through these links, we may earn an affiliate commission.
The post you're reading is part of Book Riot's observance of #BlackOutDay. We are turning our attention fully to issues facing black authors and readers with help from the folks at #BlackoutDay and #WeNeedDiverseBooks. Book Riot is grateful to have a platform to celebrate diversity and critically examine the book world every day, but today we have turned the reins over to our black contributors and guest contributors all working towards social justice and good books. Enjoy!
____________________
This is a guest post from Marissa Rei Sebastian. Marissa enjoys reading, eating, and cats. A recent graduate of New York University, she is currently spending her time as co-creator of the Social Justice movement "The Blackout," home of #blackout and #blackoutday. She is passionate about Human Rights and is an outspoken leader of discussions of racial inequality in her communities. Follow her on Twitter @MarissaRei1.
____________________
I've always loved to read. Where other kids would get in trouble for not reading enough, I often found myself in hot water for having my head down and buried in a book. In school, I would have moments of drowsiness, a natural consequence of staying up all night chasing characters through the pages. I'd whisper "one more chapter" to myself as if I hadn't already decided that I would be up all night just for the sake of finding out how the story ended. I blew through books; titles that were 300 pages or less were gone the next morning and thicker books, 500 to 700 page behemoths, were my reading for the week.
My parents, when they weren't chastising me for staying up all night or for failing to pay attention because I was preoccupied with fiction, encouraged my habits. A trip to the local library required a backpack and a firm limit of "only eight" from my mother. My other family members would give me gift cards but only after they'd figured out that buying me books always carried the risk that I already had already read what they were gifting. My grandmother pledged to buy me any books I asked for. My literary wish list became long and I built a personal library full of my favorite series; lovingly crammed onto my bookshelf were all of the current novels for protagonists like Rick Riordan's Percy Jackson and James Patterson's Maximum Ride. My bookshelf was also packed with gateways to worlds like Narnia and Alagaesia, the world built around the dragon-riding hero Eragon. In my English classes, I was exposed to the classics and loved each one for a myriad of reasons, admiring them for their impact on literary history.
As I got a bit older, passed through my obligatory Twilight and Hunger Games phase, entered college, and became a young adult interested in Social Justice and Human Rights, I became a bit critical of the things I had encountered. A large number of the protagonists I had learned to love, both contemporary and classical had one thing that tied them together: they were white. I had consumed hundreds of books, encountered thousands of characters and a large majority of those that were human, or humanoid, were white or white coded. Characters of Color were lacking and many of my favorite series were guilty of having all white characters or one or two token People of Color. Lack of diversity isn't a trend specific to literature; we see it all the time in the other forms of media we consume. The idea that literary characters, even when they are left open for a bit of interpretation, are white by default contributes to this lack of representation for readers that are People of Color. I realized that "white unless described otherwise" had become an internalized idea I had despite the fact that I was a little black girl growing up within African American and Afro-Caribbean cultures. Lack of representation on the page lead me to believe that people that looked like me did not really exist in the worlds authors built. Even characters that could exist as any race with no major change to the story were white.
Despite becoming aware of this problem, I do not regret the books that I love because they lack diversity. My love for those books has shaped my life in ways that I will forever be grateful for and I still hold my favorites in very high regard. It is because I love those books that I recognize that we should do a better job of combating the "white as the default" idea present in popular fiction and literature. As I continue to do work to increase positive visibility and representation for black people through my project The Blackout, I'll also be seeking to diversify my literary palate and encourage young readers like my kid brothers to get into books where they can see themselves represented on the page.