Interviews
Where to Start with Serbian Lit (Hint: Not Just With Male Authors)
This content contains affiliate links. When you buy through these links, we may earn an affiliate commission.
Translator Rachael Daum lives in Belgrade, Serbia. In addition to her work for the American Literary Translators Association, she also translates from five languages. Two are big languages, relatively well-represented in translation: German and Russian. But Daum also translates from Serbian, Bosnian, and Croatian.
There is fairly little Serbian literature in translation. Book Riot has previously covered a Serbian fantasy novel by Aleksandar Tešić and Directions for Use by Ana Ristović, which made the 2018 Best Translated Book Award shortlist. But here, as elsewhere, there has been little chatter about Serbian lit.
I wanted to ask Rachael: Where should we start with Serbian literature in translation?
To start off, I'm interested how & what took you to Serbia and Serbian literature? Before you arrived in Belgrade, did any books lay the Proustian groundwork? For instance, before I moved to Cairo, I certainly had Mahfouz's Trilogy running in my bloodstream and was primed to see it echoed everywhere…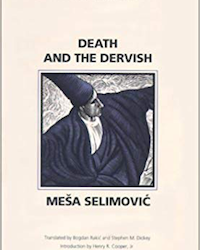 Rachael Daum: I actually came to Belgrade in quite a roundabout way: I had been intending to do my PhD in Russian language and literature at Indiana University, and one of the prerequisites for the doctorate is to learn another Slavic language. So I packed up to learn a year's worth of Serbian in an intensive summer program in Belgrade. The instructors there were very open about our interests, so they brought poetry and novel excerpts (one really important one was a selection from Selimović's Death and the Dervish) for me, which I ate up. It wasn't till I came here that I got into the Balkan literary canon, so there's actually no Proustian groundwork to speak of—but now that I've started, I can't imagine my life without it. Of course, had I done my homework right, before boarding the plane to Belgrade I would have read The Bridge on the Drina, Death and the Dervish, and Dictionary of the Khazars, to start.
As you noted, most of the lists online of Serbian writers are about dead men, mostly (Nobel Prize winner) Ivo Andrić and Danilo Kiš, and then some more Andrić and Kiš. That's probably who would come to mind for me, too, but can you tell us about a couple of the interesting living women writers?
RD: Oh gosh, so many! It is a shame to me that while Andrić, Kiš, Selimović are fabulous writers, more contemporary folks are not more recognized. (United Nations workers on being sent here to work during the wars of the '90s were handed copies of Andrić's The Bridge on the Drina and were told that it explained the whole region—talk about problematic!)
There is, however, a whole slew of younger female writers now getting spoken about. I admit I have been much more into poetry since I've moved here, but know there are so many folks at work across ex-Yugoslavia, and I'm scared to start listing for knowing that I'm going to leave so many out: I have the privilege of having been able to work with Milena Marković, an unsettlingly poignant poet, and have been soaking up the works of women like Hanna Gadomski, Olja Savičević, and of course the ever-excellent Dubravka Ugrešić (widely translated by ALTA Vice President Ellen Elias-Bursac!). They push boundaries and make their work dark, smart, and funny.
You pointed me to this short reflection, which suggests that Serbia is a bit like Iceland: a small language and everyone producing books. If I were to walk into some of the bookshops mentioned, what would I find facing out?
RD: There are a few prolific publishers in Serbia, all with a very distinct style! For example, you can always tell a Lom book from one from Geopoetika. And there are bookshops everywhere, which, especially as an American who witnessed the bookstore scene in the U.S. diminish to only Barnes & Noble, is thrilling. If you walk into a Serbian bookstore, you'll find a lot of different genres from across the globe, but it's especially interesting to see them divided, first, between translated and domestic titles. You'll find varying ratios of both depending on the store you walk into, but it seems like, if they're not writing, everyone's always translating—I feel that it's more likely that I'll be able to find a French, Italian, or Chinese bestseller in Serbian than in English!
What is the community of Serbian-English translators like? And the community of Serbian writers? Are writers fairly accessible? What are some of the important annual literary events?
RD: Translators and writers here, in my (admittedly short) experience, are open and warm. The folks of Serbian PEN are excellent, and it's a delightful circumstance that when you add one author or translator as a friend on Facebook, a number of others will request you—my feed on Facebook has been overrun with Serbian poetry, which really is a great antidote to so much else that can end up there. It's pretty informal, warm, and fun.
As to important literary events, Belgrade has a few exciting ones: there's Sajam Knjiga, the annual Book Fair that happens each fall, and KROKODIL, a literary festival that takes place in the summer. These are great places to meet publishers and authors, respectively.
How did you come to translate the poetry of Marko Tomaš?
RD: That was another happy accident that came of having a little too much time between events: I popped into a bookstore and peeked through the domestic poetry books, and the cover of Marko Tomaš's collection Regata Papernih Brodova (A Regatta of Paper Boats) popped out at me. One of the poems made me cry on the bus (very embarrassing) so I knew I had to track him down to translate him. When he and Milena Marković, another poet I've worked with, both happened to be giving a reading in a café close to where I lived, I bugged him to allow me to send him a translation sample, and we've been working together since. I'd never worked with a living author before, and it's been a dream being able to just ask the author, now what did you mean here? and hear the stories behind the poems. So much pressure is off that way, it seems to me, and exchanging photos of our pets makes the translation process that much more pleasant.
And, bonus question: Is there a book you'd particularly like to work on?
RD: There was a young woman I met at a publisher-poet pairing event in a café who hadn't yet published her poetry, and she read some of what she'd been writing to a friend and me. As soon as she publishes her first collection, I plan to devour it and beg her to let me translate it!