LGBTQ
Where To Start with Bi & Lesbian YA
This content contains affiliate links. When you buy through these links, we may earn an affiliate commission.
So you want to read sapphic young adult books! That's fantastic! Luckily, you have tons to choose from. LGBTQIA YA has come a long way, and bi and lesbian YA, while still not as common as I'd like, has expanded considerably recently. There are hundreds of books to choose from! Although I have not read nearly that many, I do have a soft spot for sapphic young adult books, so I thought I would share some of my favorites, in case you need a jumping off point beyond Annie On My Mind.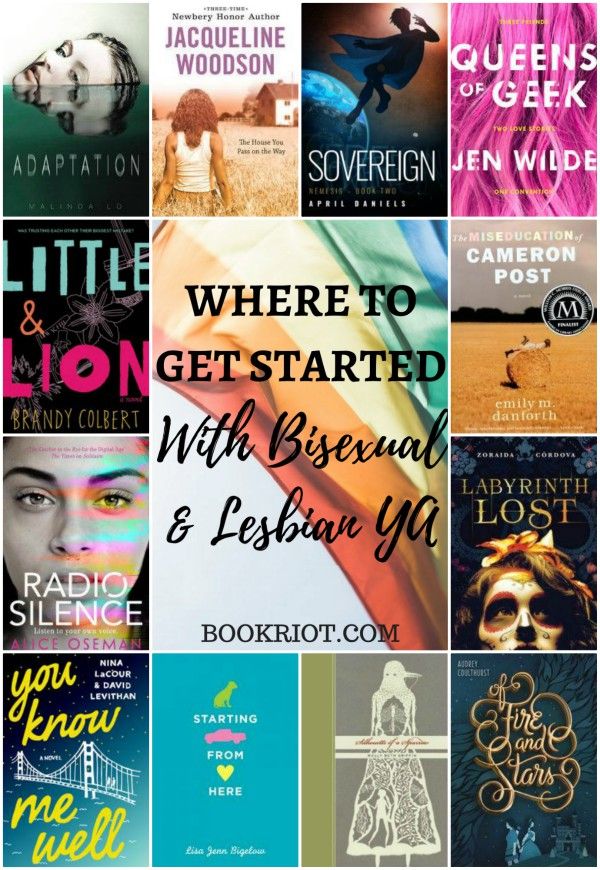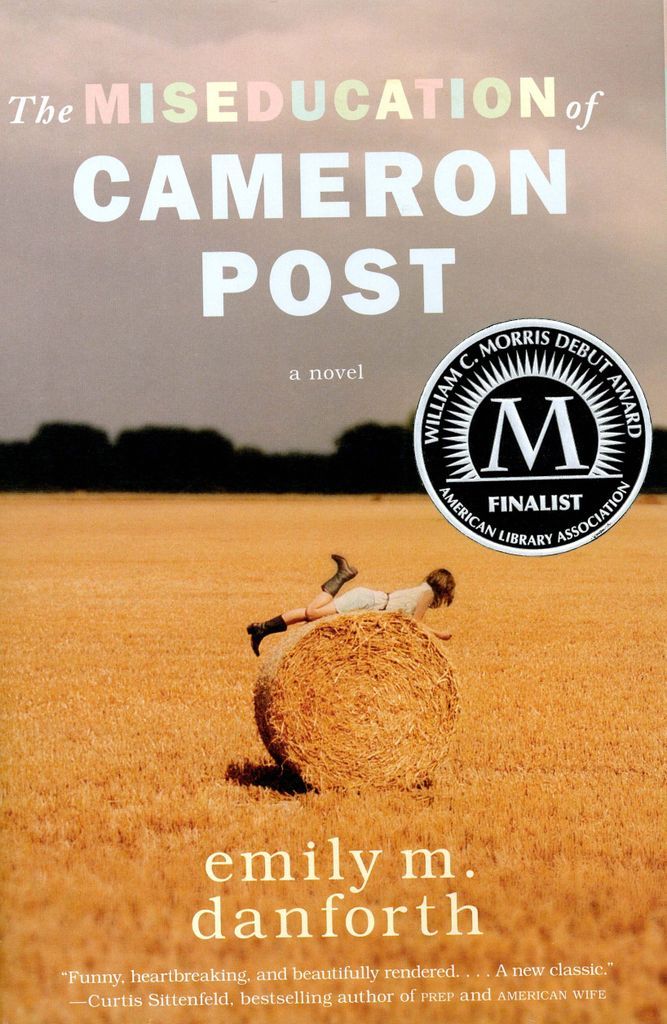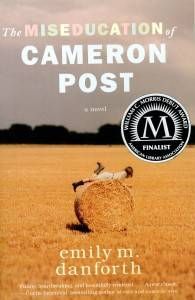 I had to start with not only my favorite bi or lesbian YA, but my favorite YA in general. Hopefully this is getting some more attention from the recent movie adaptation, because it deserves it. This isn't an entirely upbeat book; it does take place partly at a "pray-away-the-gay" camp. But it is absolutely beautiful, and you can't help but root for Cameron as she stumbles through her queer adolescence. It's quirky and thoughtful and moving. I absolutely adore it.
You Know Me Well by Nina LaCour and David Levithan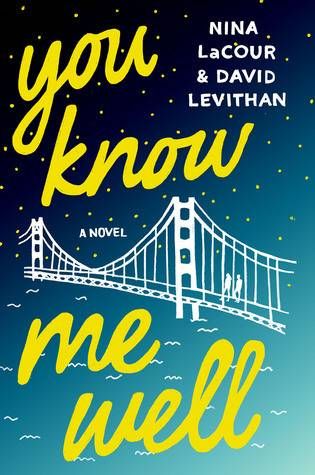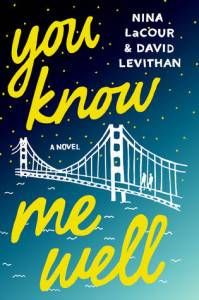 For something a little lighter, I'd go with You Know Me Well. I'm still searching for the bi or lesbian YA equivalent of Boy Meets Boy (that cotton candy gay YA), so it's no surprise that David Levithan would co-write the closest match I have. (I haven't read Everything Leads To You by Nina LaCour yet, but it sounds like it would also scratch that itch!) This is about two teenagers, one lesbian and one a gay guy, who become friends in their senior year of high school. It's a pretty light story about friendship and finding yourself, and it has a cute F/F romance.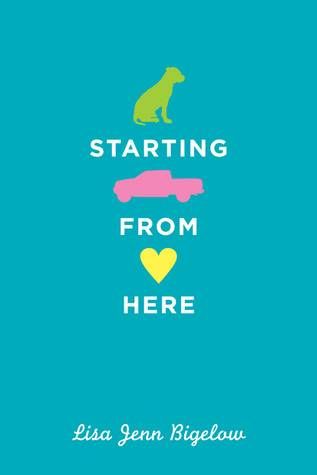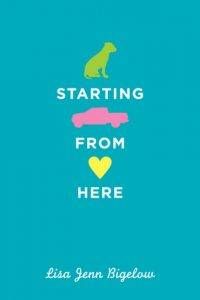 Fair warning: this one may be a bit of a tearjerker. Colby is in a time of crisis: her mother died two years ago, her father is away long-distance trucking six days of the week, she's failing Chemistry (and maybe Algebra), and her almost-girlfriend just broke up with her. When she finds a stray dog by the side of the road, she decides to take him in. This is a book about being vulnerable and struggling to handle it. I couldn't resist a lesbian YA story with a dog, and I did not regret it, even if I was a teary mess by the time I finished it.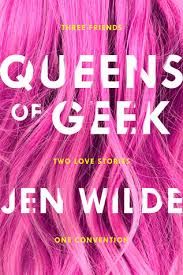 I am absolutely heart eyes over this book. It had two perspectives, showing three friends at a convention together. Charlie is a Chinese-Australian bisexual actor who is at the con to promote her movie, unfortunately co-starring with her jerk ex-boyfriend. Luckily, she bumps into another creator at the con, and they have an amazing, mutually-supportive romance. Which is also an interracial relationship between two women of color. This is geeky and fun, and I was just as invested in Taylor (who is fat, geeky, anxious, and has Asperger's) and her straight relationship, which I have to applaud the author for, because I usually would be just waiting to get to the cute F/F storyline.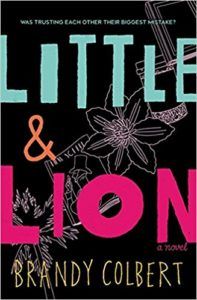 Little & Lion is a quiet, thoughtful book that balances a lot of different subjects, creating an intersectional story not previously common in bi and lesbian YA. Suzette is black, bisexual, and Jewish, and those aspects of her identity all interact and affect her everyday life. This is mostly about the relationship between Suzette and her brother—since he was diagnosed as bipolar and she was sent away to boarding school, they've lost the easy, close relationship they once had. The blurb suggests that her and her brother are fighting over the same girl, but that's inaccurate. Suzette has a crush on a girl who her brother goes on to date, but there's nothing that melodramatic happening here!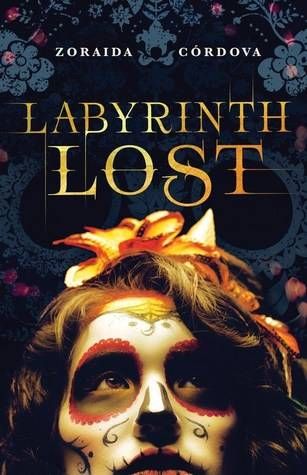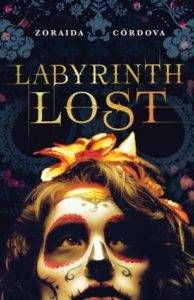 Labyrinth Lost is about Alex, a Brooklyn bruja (witch) who resents her own powers. She believes that magic has done nothing but harm her and her family, and she longs to be free of it. The magical system is inspired by multiple Latin American and Afro-Cuban cultures and beliefs, and it's set mostly in Los Lagos, an in-between world of gods and powerful, unearthly creatures. Daniel Jose Older called it a mix between Alice in Wonderland and Dante's Inferno! Also, Alex's best friend, Rishi, is adorable, and I was rooting the whole time for Alex to ignore the broody guy and kiss her instead. (I won't spoil what happens, but I am recommending it, so…)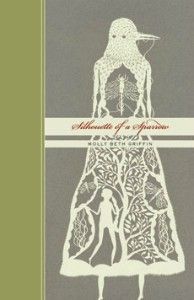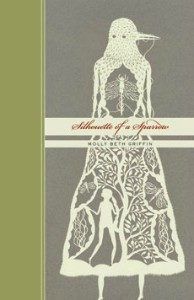 You might be able to tell at this point that I gravitate to a certain kind of book (in all genres, including bi and lesbian YA): quiet, thoughtful stories that rely more on character development and ideas than a fast-paced plot. Silhouette of a Sparrow takes place in 1920s America, where Garnet is hemmed in by the expectations of the time. She cuts out silhouettes of birds: her only outlet for her passion for ornithology. She is torn between her unexpected romance with a flapper girl and her need to get married well to take care of her mother. The love story is sweet, but is a subplot to this coming-of-age narrative.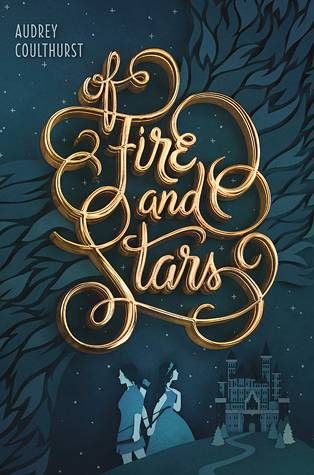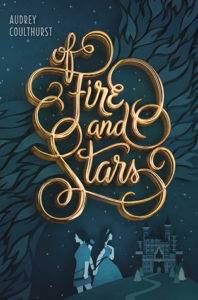 Princesses! Falling in love! Like Frozen, but gay! Your next Tamora Pierce read-alike, horses and all! Sorry. I can't help but get excited about a book that has princesses falling in love, especially when it's a bit of an enemies-to-friends-to-lovers situation. And the drama isn't that Dennaleia and Mare are both women—it's that she's engaged to Mare's brother. Awkward. Meanwhile, political conflicts have gotten deadly, and the pair of them have to try to figure what's happening before more people are killed. (And the people in charge aren't eager to listen to two teenage princesses.) But, of course, if you were going to read this, you would have already been sold on the queer princesses falling in love premise.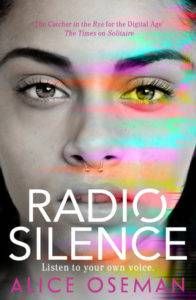 This was a difficult book for me to read. It is infused with this…hopelessness. Frances has concentrated all of her energy into getting into Cambridge, and now she isn't sure she even wants to go to university, which leaves her drifting. She's passionate about Universe City (a podcast very similar to Welcome To Night Vale), and when she finds out that the creator is someone she knows, they build a friendship that becomes incredibly important to both of them—but Aled has his own problems, feeling trapped in his life (including his abusive mother). It's worth pushing through that bleakness, though, for the glimmer of light at the end of the story. Alex is bisexual, but there isn't much of a romance (neither M/F nor F/F) in this one, though, if that's what you're looking for.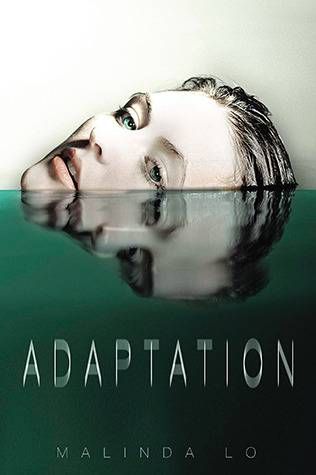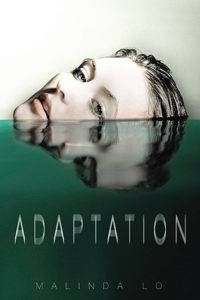 Reading Adaptation was an intense experience. I would pause between chapters to stare into the abyss and swear before I was able to move on. I still had an adrenaline buzz after finishing it. It's a little embarrassing how into this book I was. This is an X-Files-inspired alien invasion story that questions our concept of sexuality, empathy, and communication, throws in some government conspiracies, and manages to pull off a (bisexual) love triangle. I would recommend this for fans of YA dystopias, because even though it's not an exact match, it does have a similar vibe.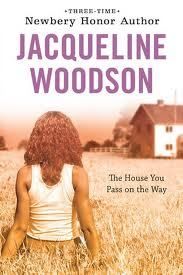 This is arguably more of a middle grade book, but I think it's on the line. This is a tiny book: only 99 pages in the edition I read. It's the story of the summer when Staggerlee was fourteen, confused, and alone. It's also the summer when she met her (estranged, adopted) cousin Trout. It's an atmospheric, emotional novel, which deals not only with Staggerlee and Trout's relationship and questioning of their identities, but also with being mixed race, as well as dealing with being a minor celebrity due to her grandparents' cause of death. I was absorbed within the first few pages and didn't resurface until the last.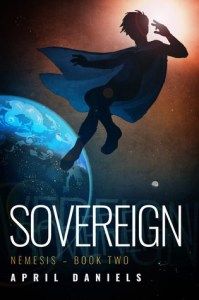 Dreadnought follows Danielle, a closted trans teen girl just trying to survive her abusive household. When she unexpectedly acquires superpowers, it doesn't solve all her problems. She's still fighting bigotry, but now with super strength. This is a catharsis fantasy. Danielle fights the bad guys both in her cape identity and in her everyday life, and it makes her victories even more triumphant. This is about pushing through unimaginable pain and conquering it, surviving, maybe even emerging stronger. Danielle does identify as a lesbian in this first book, but the F/F romance starts up in the second book. This should come with some major trigger warnings. Danielle deals with suicidal thoughts. There is a ton of transmisogyny, including slurs. Her father is extremely verbally and emotionally abusive, and the poisonous words he uses are on the page.
So those are some of my favorite bi and lesbian YA books! There are many, many titles that are on my TBR that I am excited about getting to, but feel free to let me know if I missed your favorite bi or lesbian YA title and I'll bump it up my list!
Looking for more? Check out: