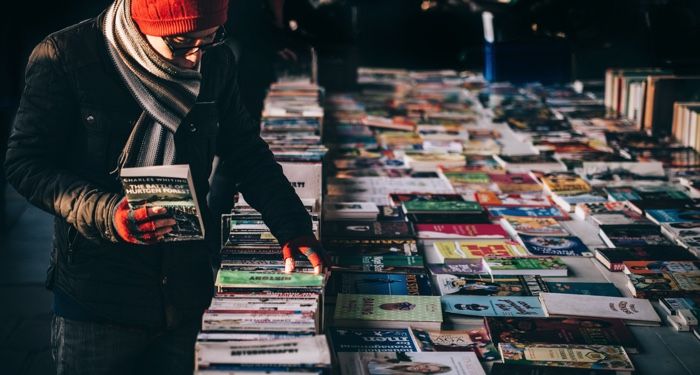 Lists
Where to Buy Cheap Books
Prices might be on the rise across the country, but that doesn't mean you have to break your budget to buy books. If you're tight on cash and can't find your latest must-have read at your local library, there are plenty of places to stock up on fiction and non-fiction books of all genres at a bargain price. This list of where to buy cheap books will help.
1. Find Cheap Books with Book Riot
First, for the very best ebook deals, start by checking out Book Riot's deals page or by signing up for our Book Deals newsletter, each of which features daily deals on favorite Kindle titles. For readers who prefer physical books but don't want to fork over the price of a typical hardcover, you can also shop for affordable used books at several different online retailers or get brand new titles at a discount through a book subscription service. For more of the top ways to find cheap books both online and in stores, check out our top recommendations on scoring the best book deals below.
2. Shop Online Retailers
In addition to shopping for cheaper books at major sites like Amazon and eBay, you can also find discounted books at online retailers, such as AbeBooks, Better World Books, Powell's Books, Book Outlet, and ThriftBooks, among many others. Check out all the best places to find affordable books online here.
3. Visit Used Bookstores
Check out your local used bookstores and book depositories to find some secondhand works at bargain prices. Not sure if you have a used bookstore near you? To find the closest places to buy used books in your hometown, click on your city and state in this handy Used Bookstores Near Me tool.
4. Hit Up Library Book Sales
While libraries may not typically be where you'd think to go to buy a book, many local branches actually hold annual book sales in order to raise money or simply to get rid of their excess inventory. These events often offer excellent deals on both new and older books across genres. To find out whether your library offers any similar sales, ask the the librarian at your local branch or check their website for a calendar of events.
5. Sign Up For Book Subscription Services
For a better price on brand new books, it's also worth checking out book subscription services like Book of the Month. This convenient service allows subscribers to choose a new read from five just-released titles, often from buzzy debut authors. You also have the options of skipping a month if none of the available book choices are appealing, or adding up to two more books a month for an additional fee if all of the available book choices are appealing. The subscription service costs $10 the first month and $15 for every subsequent month, which is still a deep discount from the average price of a new hardcover book release.
6. Scour Thrift Stores
Thrift stores like Goodwill sell more than apparel and furniture; they also sell used books at significantly reduced prices. Keep in mind that these stores rely on donated items and aren't organized like a traditional bookstore, so they're better suited for casual browsing than for seeking out a specific title.
Those who love browsing for books in-store have plenty of options, whether that means hitting up a used bookstore, marking your calendar for an annual book sale at your local library branch, or scouring a nearby thrift shop for a great find. Your bookshelves will be filled with new reads in no time!
For tips on how to organize your book hauls, check out this complete guide on How to Thoughtfully Organize Your TBR.