Opinion
When Trilogies Should Be One Long Book
This content contains affiliate links. When you buy through these links, we may earn an affiliate commission.
It's Tournament of Books time! Every year, the Morning News puts together a little March Madness bracket that pits some of the most popular or best-reviewed books of the previous year against each other. In the past, I've found a lot of great books through Tournament of the Books. Some of my favorites have been The Sisters Brothers, A Tale for the Time Being, and How to Get Filthy Rich in Rising Asia. There always seems to be something interesting or fun and I almost always have my favorites that I'm rooting for.
This year, I'm struggling a little. All the books seems unusually serious. That's all fine and good but I start to get a little oppositional about "serious" art (whether it be books or movies or paintings). I want books that entertain me or make me laugh or at least ones that don't cram their message down my throat. Looking over the list, I was excited about Annihilation since I love a good apocalypse book and it had a cool cover. I thought it could possibly be the book I root for this year.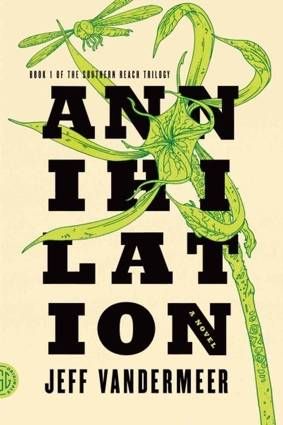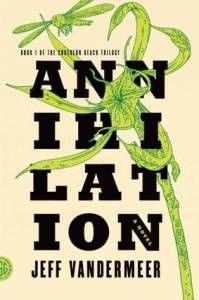 It was an interesting book, I'll give it that. The story is about four women who are sent into a mysterious area that has been taken over by some sort of natural disaster or apocalypse or something mystical (it's never clear). Several teams have disappeared (and reappeared in the real word) under mysterious circumstances, and the team is tasked with observing the area and documenting as much as they can. The main character was very cool, and I liked the idea of the story. I struggled to imagine how the writer was describing the apocalyptic world and the creatures within it, though, and that took me out of the story somewhat. Still, the main character was compelling. It was compelling enough for me to pick up the second and third books in the serious.
That's where I had problems. The first book seemed as though it could stand alone as a story. It had an ambiguous ending, yes, but that would have been in line with the whole mystery of why their teams kept disappearing or reappearing or behaving oddly. When I started the second book, it seemed like it was tacked on to the first. I found myself skimming whole parts which, in the end, didn't even add to the story. I couldn't even make it through the third, even though I really want to know what was happening in this apocalypse bubble.
I know that not all stories can be Harry Potter and not all authors thoroughly plan out their trilogies. Still, it seems like I've read more and more "trilogies" that are actually just long books broken into three parts. Maze Runner, Divergent, Hunger Games: all of these seem to have relatively solid first stories and then weak second and third acts. I'm not sure if it's a YA thing (although Annhilation is not YA) or an apocalypse thing or just an expectation that if one book is good, three will be better. Maybe it's too much for me to ask that a book in a series actually stand alone as its own story.
In the end, I might have rooted for Annhilation to win the Tournament of the Books but the follow-ups soured my view of the entire series. I'll have to go back to the drawing board for who I want to win this year. In the meantime, can someone tell me what happened with Area X and the Southern Reach?
____________________
Expand your literary horizons with New Books!, a weekly newsletter spotlighting 3-5 exciting new releases, hand-picked by our very own Liberty Hardy. Sign up now!