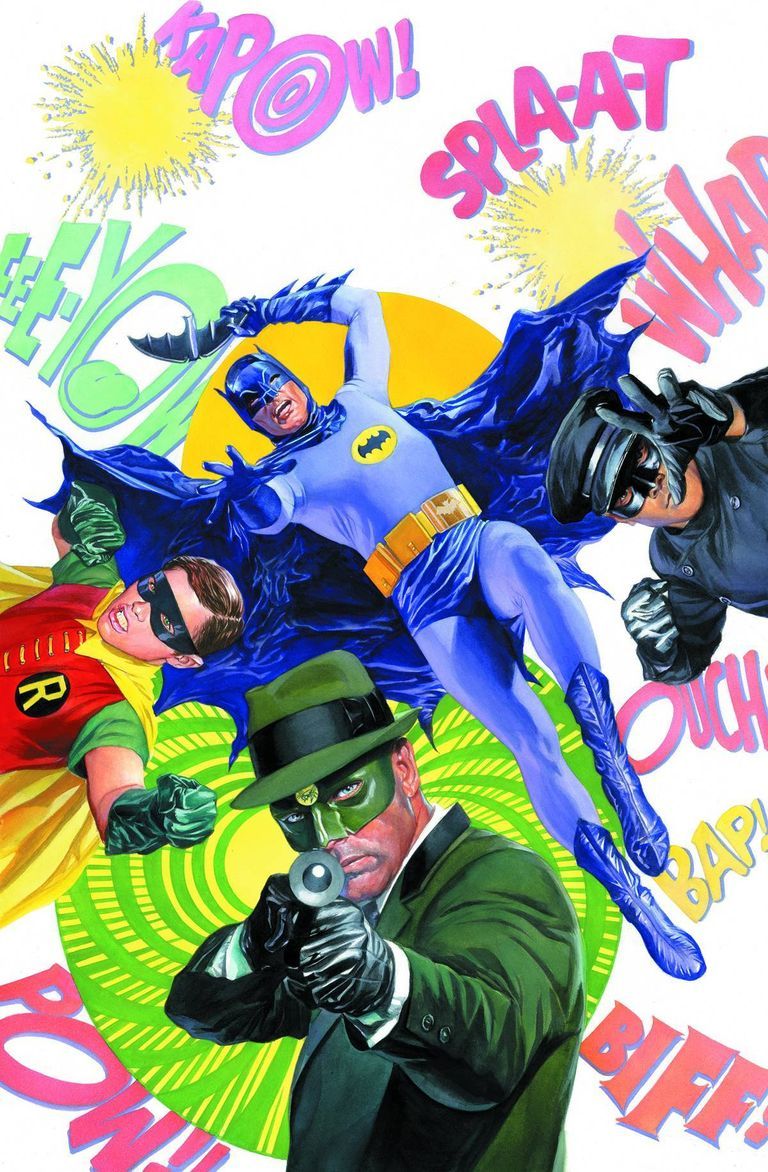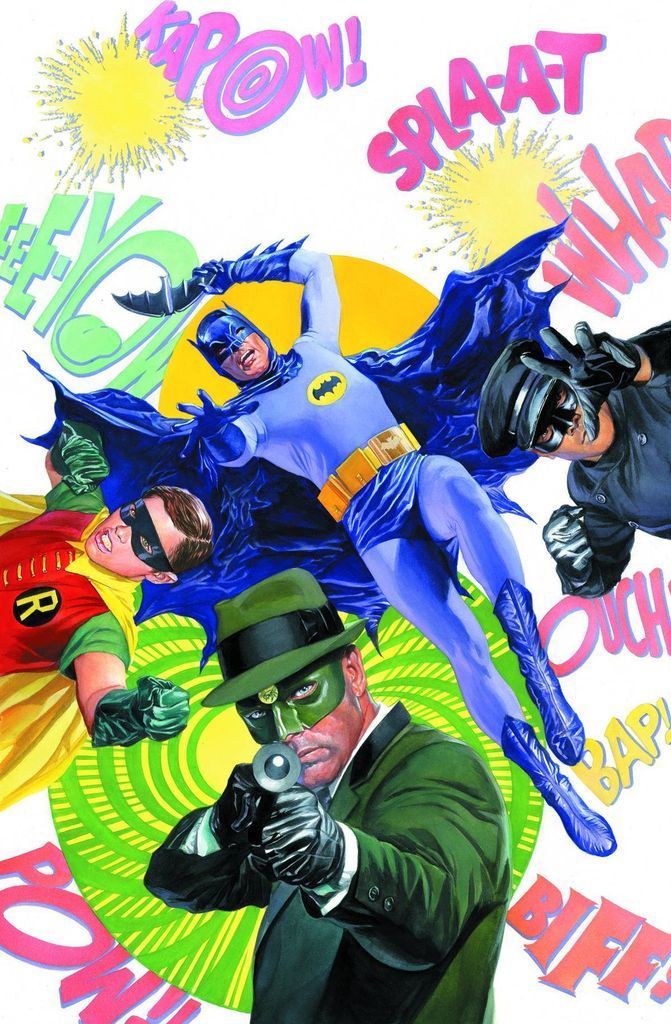 We here at Panels are taking some much needed time off; in the meantime, we're revisiting some favorite old posts from the last 6 months! We'll see you back on July 8 with all new posts for your enjoyment.
This post originally ran on February 4, 2015.
_______________
The beauty of most crossover stories can be boiled down to one of a few formulas. The first is when two similar characters or groups that could loosely be considered peers meet up. This usually is something like badass meets badass, funny meets funny, scary meets scary, etc, generally in some epic struggle that spans universes. The other formula involves an out-of-left-field pairing, an exercise in sheer wackiness, which has readers suspending all disbelief in the name of fun and entertainment.
Batman '66 Meets the Green Hornet is most certainly among the former, and though this title was published in 2014, there is a significant amount of precedent to this duo of duos joining forces in print.
Back in 1966, ABC scored a huge hit with Batman, which generally aired twice a week. The first episode of the week would end in a cliffhanger, and the second neatly wrapped by serving up West-and-Ward-era justice, the type that always resulted in the climactic and memorable Pow! Biff! Whammo! brawls that saw the caped crusaders emerge victorious and the criminals handed over to the police (campy as it was, it was also never not awesome). The series was immensely popular with kids, but funny and clever enough to appeal to adults as well, as the American Way motifs and black-and-white notions of crime and punishment could easily be considered satirical in the turbulent late 1960s.
Hoping to strike dynamic duo gold a second time, ABC looked not to comics, but radio serials, for adaptable material. The Green Hornet and Kato, also products of the late 1930s, first appeared on Detroit's WXYT AM station. As such, some have speculated that the character existed in Detroit, though Hornet's alter ego, Britt Reid, is the son of the founder and publisher of a Chicago-based newspaper, The Daily Sentinel. In any case, after launching a Green Hornet series, ABC decided to have Hornet and Kato show up in Gotham, first making a cameo while Batman and Robin did their standard building-scaling bit.[youtube]https://www.youtube.com/watch?v=EUuv_fEJMpI[/youtube]
This served as a preview for the full-on event, which saw the duos team up to combat the criminal activities of Colonel Gumm, a handlebar-mustached, alphabet soup-eating (at one point, he demands more consonants), stamp factory-overseeing fan of weaponized adhesives. Gumm, as the comic details, only commits crimes that have a stamp-centric theme. Gumm works as the "felonious foreman" of the Pink Chip Stamp Factory, owned by the eccentric and pink-obsessed Pinky Pinkston, who has pink hair and a pink cat and uses pink perfume and at one point says, "I smell pink, the color pink!"
The show brings Bruce Wayne and Britt Reid together to examine stamps (the nostalgic charm is enhanced by the fact that a pair of crimefighting playboys and an organized criminal enterprise both fancy themselves as stamp collectors). They are revealed to be old friendly rivals, and in the comic, former schoolyard chums. They offer a lot of thinly veiled lines hinting at a knowledge that the other has a secret identity, though it would seem that they are ultimately unaware.
Gumm, who also operates under assumed identities, like Boris Severoff and "Señor" Barbosa from Argentina, is running a counterfeit stamp ring, with the focus on counterfeiting the prized Gotham Gothic. While working separately but obviously crossing paths (or streams!), Green Hornet and Kato, and Batman and Robin, look to sniff out and expose the counterfeiting operation. At one point, Gumm sends Green Hornet and Kato through the Enlarged Perforating and Coiling Machine, seemingly turning them into stamps.
Batman and Robin show up, and, once Robin is done posturing about working with rotten criminals like Hornet and Kato, the duos team up for one great, classic Batman scrum, which benefitted immensely from the moves of Bruce Lee, whose technique is fluid and graceful in contrast to those of the hapless-looking West, Ward and Hornet star Van Williams (jump to 3:39, dang timestamps).[youtube]https://www.youtube.com/watch?v=13IuxNixyig#t=03m39s[/youtube]
The comic series is done in the style of the excellently retro Batman '66, which is both nostalgia-inducing and thoroughly entertaining, and I would highly recommend reading it if you haven't but dig this lighter side of Batman. The dialogue reads just like the TV show, and, as a reader, I can practically hear the voices of Adam West, Burt Ward, and the rest of the regular cast. Kevin Smith, who worked on Batman titles from 2008-10 and did a run on Green Hornet titles for Dynamite in 2010, did a spectacular job of capturing the square, over-the-top dramatic dialogue that made the TV show so hilarious, and his pedigree for writing comedy definitely shines. It's easily the funniest thing he's done, comic or otherwise, since Clerks 2.
I won't spoil much about the story, other than to say that it definitely makes several nods to the TV plot. Colonel Gumm, who was just another forgotten, one-off '60s Batman baddie, returns, though he's ranked up and is now General Gumm (and has another identity – "Signore" Bollo, an Italian). He is, of course, joined by Cesar Romero-inspired Joker, and the stakes are a little higher – Gumm calls the new plot "the greatest stamp crime in history." The writing is sharp, the coloring is gorgeous, and the overall experience is straight-up fun. It's a nice reminder of what makes the lighter side of Batman so great.
____________________
Comics in your inbox? With our newsletter The Stack, you can receive a roundup of the best and brightest posts on Panels. Subscribe now!