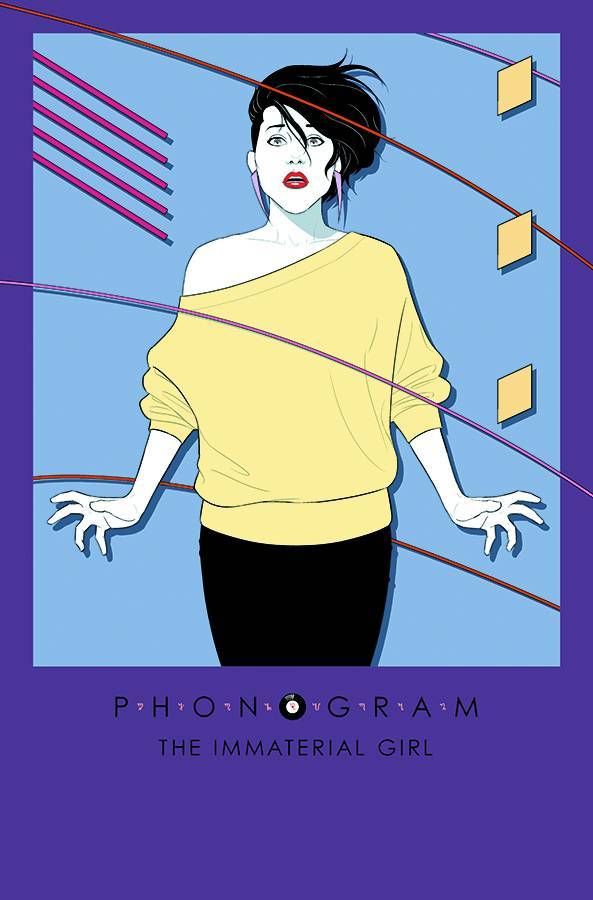 Every week, a different Panelteer will give you a rundown of the comics they're most looking forward to for the week. Floppies, trades and omniboo are all fair game here. This week, Ali tells us whats on her pull list.
This week everything is Phonogram and nothing hurts.
Phonogram: The Immaterial Girl #1 by Kieron Gillen, Jamie McKelvie, and Matt Wilson (Image Comics)

At this point, it is known that I have some
pretty strong feels
when it comes to Phonogram. But my feelings about A-Ha's seminal music video for the song "Take on Me" are probably less well know. When I'm really into a comic, every time I turn the page I hope the main character will reach out a hand and pull me into their world, just like in the video, but without the wrenches. Also the song is amazing and I dare you NOT to dance when you hear it. So on top of being ridiculously excited to revisit the Phonoverse, I am beyond thrilled this volume will be full of "Take on Me" references. This comic has been a very long time coming.
Phonogram: The Immaterial Squirrel Girl #8 by Ryan North, Erica Henderson, and Rico Renzi (Marvel)

It's not a secret that we Panelteers love The Unbeatable Squirrel Girl. Every month there's a steel-cage deathmatch to determine who gets to write about this series in the Best Comics We Read feature. I've wasted 6 regenerations trying to win that deathmatch, but NO MORE! I'm just going to write my Best Comics blurb for What's on Your Pull List instead!
There is no other comic on the stands that makes me smile, giggle, and cheer more than The Unbeatable Squirrel Girl. When I'm having a bad day, I'll pick up whichever issue is in the closest proximity to my couch and re-read it. Unbeatable Squirrel Girl has the magical power to cure all that ails me, largely due to Doreen's indomitable spirit and sass. This book is devoid of darkness and grit, but the only fluff in this comic is Tippy Toe's poofy tail. I want to buy North and Henderson and the entirety of this creative team a beer because the jokes in this series are always perfectly executed and the book has the same sass and wonder of it's leading lady. And issue #8 was no exception. I mean, can you believe Squirrel Girl [redacted for spoilers and not at all because Ali hasn't even bought the issue yet]?! Good stuff!
Phonogram: The Immaterial Bombshells #1 by Marguerite Bennett and Marguerite Sauvage (DC Comics)

You may already be reading this DC Digital-First series, but I like grabbing the printed/collected versions. Based on the amazing pinup interpretations of characters, DC Comics Bombshells #1 is full of World War 2 era origin stories for some of your favorite ladies. And in this universe, the female heroes are not derived from their male counterparts, which I love. Batwoman, Wonder Woman and Supergirl are first up at bat.
Phonogram: The Immaterial Beauty #1 by Jeremy Haun, James A. Hurley, and John Rauch (Image)
A "procedural science fiction tale" is usually enough to pique my interest, but this one looks at a society intently focused on physical perfection and what happens when people take shortcuts to get beautiful. It promises a lot of horror, social commentary, and mystery–definitely worth giving a shot.
Phonogram: The Immaterial A-Force #3 by G. Willow Wilson, Marguerite Bennett, and Jorge Molina (Marvel)
A bunch of kick-ass ladies fighting a team of Thors? YES PLEASE!
Phonogram: The Immaterial Gotham Academy # 9 by Becky Cloonan, Brendan Fletcher and Karl Kerschl (DC Comics)
Ohmygosh you guys! What if Gotham Academy WAS immaterial. Like the whole school became ethereal mists and shifting fog for a whole issue. And everyone was a ghost. Spooooooooky. Maps would love it. She'd get to make a ghost map of a ghost school as a ghost. Totally awesome. This month issue actually has a werewolf in it, which is equally awesome.