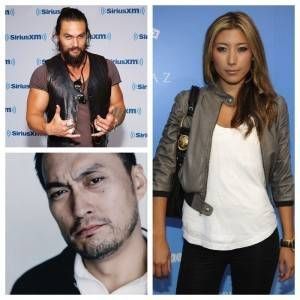 Every week, a different Panelteer will give you a rundown of the comics they're most looking forward to for the week. Floppies, trades and omniboo are all fair game here. This week, Thomas tells us what's on his pull list.
The Sheriff of Babylon #7, by Tom King, Mitch Gerads, Travis Lanham, John Paul Leon (Vertigo)
I like to compare Sheriff of Babylon to walking in on an HBO show as a kid: the full gravity of the story and its characters can be a lot to absorb without girding one's stomach in advance. Hats off to Leon's cover for conveying the blood spilled in the shadows under watchful eyes. The mystery of a corpse found in occupied Iraq circa 2004 refuses to end in anything near a clean resolution, as everyone who's either a suspect or investigator is under the influence of multiple interests. Detailed art from Gerads ensures that the way each character talks matters as much as where they say it and what they wear. Lanham's lettering denotes changes in language and turns simple narration over day and time into snapshots of sudden violence with each white-on-black "Bang." King has been on a blockbuster roll the past couple of years, but his fans absolutely should not overlook this miniseries, especially as this issue kicks off the latter half of its twelve-issue run.
Howard The Duck #8, by Chip Zdarsky, Joe Quinones, Joe Rivera, Jordan Gibson, and Travis Lanham (Marvel Comics)
Sweet & Sour Howard has been mostly sour to everyone in both of his recent series. He might sweeten for a quack's length of friendship or vulnerability, but otherwise he's been seriously cranky. He's offered a hint of wistfulness over separation from his longtime friend Beverly Switzler, and back in issue #5 they were on the brink of a reunion. After a couple of (admittedly great) side-story issues, I'm dying to return to this story thread, whether or not hard feelings separate Howard and Bev.
Injustice: Gods Among Us: Year Five digital chapter #25, by Brian Buccellato, Mike S. Miller, J. Nanjan, Wes Abbott, and David Yardin (DC Comics)
Year Five is past its midway point (out of 40 digital chapters total), and watching all the final pieces fall (or twist, as the case may be) into place to form the plot of the 2013 videogame has been an unpredictable ride. The theme for the comic's final year is "year of the villains," as Batman and Superman's separate camps have made shady deals to recruit and deploy different villains to gain any sort of edge over their opposition. Between Harley, Bizarro, Catwoman, Bane, Doomsday, and Zsasz, there have been plenty of double-crosses, broken allegiances, and plans gone awry. I know, "tie-in prequel comic to a videogame" doesn't sound like the most promising avenue for a good story, especially considering it began with the fridging of a pregnant Lois Lane and subsquent nuking of Metropolis, but I get a legitimate thrill at 10:00am each Tuesday when a new chapter becomes available. This is a self-contained alternate DC universe with permanent consequences and alternately amusing and explosive interactions between characters. An Injustice 2 videogame announcement at E3 later this month will be enough to get my hopes up for a sequel comic.
4001 A.D.: Bloodshot #1, by Jeff Lemire, Doug Braithwaite, Brian Reber, and Dave Lanphear (Valiant Comics)
As praised in my Valiant rave, the company knows how to do crossover events. In the case of 4001 A.D., there's a core story taking place in the future of the Valiant universe centered on the character Rai and his overthrow of the floating nation of New Japan. The tie-in issues show how different characters in the "present day" Valiant universe figure into the far-off future. Rai and Bloodshot both have white-and-red color schemes on their bodies caused by profoundly powerful nanites in their blood. Normally I would trade-wait on Bloodshot, but I can't wait to connect the dots between him and Rai.
(Disclaimer: I would feel remiss to not give a shoutout to the Lumberjanes / Gotham Academy #1 issue dropping this Wednesday from Boom! Box and DC Comics, courtesy of Chynna Clugston Flores, Rosemary Valer-O'Connell, Maddi Gonzalez, Whitney Cogar, Warren Montgomery, Mingjue Chen, and a small army of variant cover artists. I'm as excited as the next Panelteer for this crossover and hope the two casts merge and clash in all the best ways. However, I'm a trade-waiter for both series and will catch up with this party once I'm able to dive in all at once.)