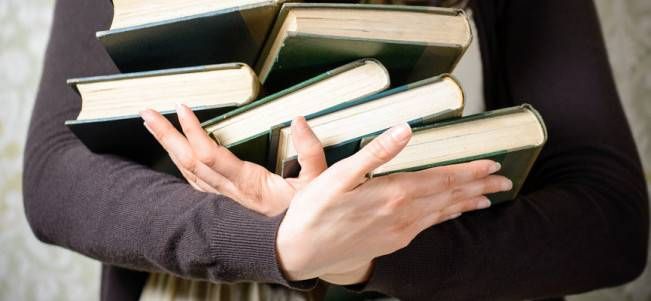 News
What's Catching My Attention, Or, Trends at BEA
This content contains affiliate links. When you buy through these links, we may earn an affiliate commission.
Book Expo America (BEA) is the annual pilgrimage thousands of folks make in May to live, breath, talk, and sleep all things books. BEA allows publishers and other industry folks the opportunity to showcase their latest, their greatest, and their upcoming books and book-related technology, goods, and more to a huge audience.
This was my fourth year in attendance, and now that I'm more comfortable at the event, as well as more savvy to the book world in general, it was interesting to take note of both the trends at large, as well as those key phrases that grab my attention as a reader. Rather than give a blow-by-blow of the event — which, let's face it, is boring for anyone who isn't there — I thought it'd be worthwhile to talk about four show takeaways. And I mean that quite literally: these are four things I took away from the show and am eager to talk about through the coming year when it comes to books.
Takeaway #1: Get it GIRL
As it turns out, there's one word that keeps making an appearance in the books I found myself picked up and that subsequently made the journey back home with me. Take a guess what it it based on the photo of my BEA haul.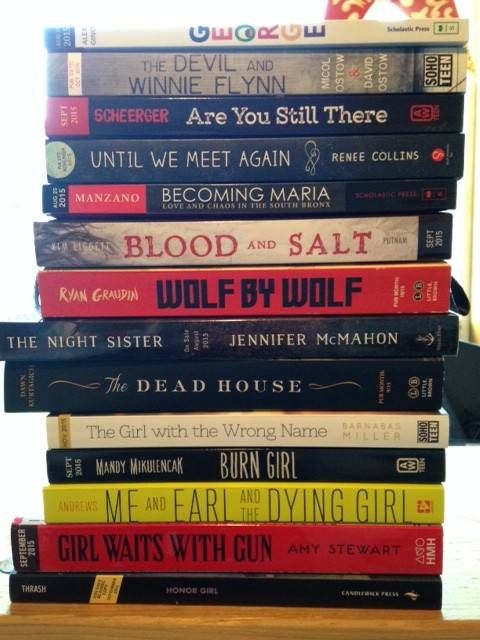 If it's not obvious, that word would be "Girl." I love fascinating female protagonists, and it's interesting to see how book titles have jumped onto using "Girl" in it. Among some of this year's fine "Girl" titles are The Girl with the Wrong Name by Barnabas Miller, Burn Girl by Mandy Mikulencak, Me and Earl and The Dying Girl by Jesse Andrews (which is a back list title hitting big screens this summer), Girl Waits With Gun by Amy Stewart, and Honor Girl by Maggie Thrash.
While "Girl" titles are exceptionally appealing, it's hard not to consider how they might also be somewhat problematic. A few years ago, the huge trend in titles was "The _____'s Wife/Daughter," and that trend framed the role of the female character within the male context. While "Girl" offers agency, since it's not framed within the context of another character, it does anonymize the character.
It doesn't bother me, though, since at least each of these "Girl" figures have a story and get to be at the center (or a significant part) of it. Also, it tells me straightaway that a girl plays a key part in the story and, at least in these titles, she appears to be more alive than dead.
Takeaway #2: The Darker, The Better
I love horror, stories about girls doing things girls shouldn't be doing, and I love when those two things get smashed together in a single book.
These short descriptions were catnip to me:
Once the thriving attraction of rural Vermont, the Tower Motel now stands in disrepair, alive only in the memories of Amy, Piper, and Piper's kid sister, Margot. The three played there as girls until the day that their games uncovered something dark and twisted in the motel's past, something that ruined their friendship forever. — The Night Sister by Jennifer McMahon
Gabriella Mallory, AP student and perfect-daughter-in-training, stands barefoot on a public toilet for three hours while her school is on lockdown. Someone has planted a bomb and she is hiding. The bomb is defused but the would-be-bomber is still at large. And everyone at Central High School is a suspect. The school starts a top-secret crisis help line and Gabi is invited to join. When she does, she is drawn into a suspenseful game of cat and mouse with the bomber, who has unfinished business. He leaves threatening notes on campus. He makes threatening calls to the help line. And then he begins targeting Gabi directly. Is it because her father is the lead police detective on the case? Is the bomber one of her new friends. Could it be her new boyfriend with his complicated past? As the story unfolds, Gabi knows she is somehow connected to the bomber. Even worse she is part of his plan. Can Gabi reach out and stop him? Or will she be too late? — Are You Still There by Sarah Lynn Schreeger
"When you fall in love, you will carve out your heart and throw it into the deepest ocean. You will be all in—blood and salt."
These are the last words Ash Larkin hears before her mother returns to the spiritual commune she escaped long ago. But when Ash follows her to Quivira, Kansas, something sinister and ancient waits among the rustling cornstalks of this village lost to time. — Blood and Salt by Kim Liggett
Takeaway #3: Mixed Media
An emerging format over the last few years, especially in YA, has been mixed media. That means a book is part prose, part illustration, maybe part poetry. It feels more like a scrapbook of sorts than it does a traditional novel. This year, I picked up a couple of books fitting into the mixed media mold, and one of the biggest, buzziest books — Everything Everything by Nicola Yoon, which I loved — is also in that non-traditional format.
The Devil and Winnie Flynn by Micol Ostow and David Ostow (October 13, Soho Teen): Seventeen-year-old Winnie Flynn, a closet horror fan with a starkly realistic worldview, has never known her mom's sister, Maggie: a high-profile reality TV producer. But in the wake of her mother's suicide, Winnie is recruited by Maggie to spend a summer in New Jersey, working as a production assistant on her current hit: Fantastic, Fearsome. At first Winnie figures that she has nothing to lose; her father has checked out, and Maggie is the only family she has left. But things get increasingly weird on set as Winnie is drawn into a world of paranormal believers and non-believers alike. Soon she learns a paranormal ability of her own: she can psychically detect lies. The things she discovers threaten her plan to stay under the radar, and may provide clues to her mother's death.
Told as an ongoing letter to a friend, with illustrations that offer clues throughout, Winnie's story is both a heartrending mystery and a pop culture critique in the vein of Libba Bray's Going Bovine and Beauty Queens—supplemented with illustrations throughout that recall the quirky, dark, and distinct aesthetics of Ransom Riggs's Miss Peregrine's Home for Peculiar Children.
The Dead House by Dawn Kurtagich (September 15, Little, Brown Books for Young Readers): Part-psychological thriller, part-urban legend, this is an unsettling narrative made up of diary entries, interview transcripts, film footage transcripts and medical notes. Twenty-five years ago, Elmbridge High burned down. Three people were killed and one pupil, Carly Johnson, disappeared. Now a diary has been found in the ruins of the school. The diary belongs to Kaitlyn Johnson, Carly's identical twin sister. But Carly didn't have a twin . . .
Re-opened police records, psychiatric reports, transcripts of video footage and fragments of diary reveal a web of deceit and intrigue, violence and murder, raising a whole lot more questions than it answers.
Who was Kaitlyn and why did she only appear at night? Did she really exist or was she a figment of a disturbed mind? What were the illicit rituals taking place at the school? And just what did happen at Elmbridge in the events leading up to 'the Johnson Incident'?
Chilling, creepy and utterly compelling, THE DEAD HOUSE is one of those very special books that finds all the dark places in your imagination, and haunts you long after you've finished reading.
. . . I guess both of these books also fall under takeaway #2, too.
Takeaway #4: There isn't a YA trend of the moment & YA is on the "decline"
Perhaps the biggest takeaway from BEA for me was that there's not a huge buzz around YA as a reading category right now. It's not that there aren't huge YA titles out there — a handful of big ones at the show were definitely on big banners and encouraged big lines for signings — but there's not a specific trend that's standing out.
Little to no floor space itself contained YA books. The vast majority of giveaways for YA this year happened in signing lines; as an Old Person With No Sense Of Adventure, the idea of waiting in a long line for a signed galley of a title is significantly less appealing than wandering the show floor and hoping to stumble upon a lesser-known title serendipitously. Those discoveries are what make this show worthwhile. I know people will be talking about the books they picked up in a line, but will they talk about those that they happened upon by chance?
The sad part, though, is that there were almost no opportunities for chance at this year's BEA.
After talking with others at BEA, it seemed as though the conversation was less about the "it" titles or the "it" trend and more about how YA is perhaps on the decline in terms of what publishers are putting their dollars behind. There could be any number of reasons for that, but the reality of it is that right now, YA is less the focus than it has been in recent years. That doesn't mean YA is disappearing or going to take up less shelf space; rather, right now, middle grade and adult literary titles seem to be heavier hitters.
These things come and go in waves. I suspect as the year rolls on, we'll see this playing our more, as fewer and fewer YA titles "break out" and have the sorts of longevity and name-check recognition outside the passionate YA reading community. This isn't a good thing nor a bad thing. It's simply a shift in the wave patterns of publishing.
Finally…
A moment to cheer the fact that George by Alex Gino, available August 25, is a middle grade novel about a trans girl. Middle grade isn't usually my reading jam, but I will be reading the hell out of this book. More like this, please!
____________________
Book Riot Live is coming! Join us for a two-day event full of books, authors, and an all around good time. It's the convention for book lovers that we've always wanted to attend. So we are doing it ourselves.