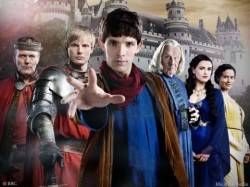 Fiction
What To Read About the Life of King Arthur?
Although my sister, Jenny, and I have drastically different tastes in books, we seem to fall in love with the same television shows.
Right now, we're both obsessed (she a little more than me) with the British fantasy/adventure series Merlin (also available on Netflix, and broadcast on the U.S. on SyFy). The show is loosely based on the legend of King Arthur, but focuses on the friendship of a young Merlin and Arthur Pendragon. The storytelling is a little melodramatic (in every episode someone is in mortal danger) and the special effects are cheesy (I just saw a wraith blow up like a popping balloon), but the central relationship between Merlin and Arthur really is charming.
While Jenny and I were hanging out over the weekend, we started talking about how watching Merlin made us both curious read more about King Arthur. However, both drew a bit of a blank when we tried to think of options, which is why I immediately thought about doing some crowd sourcing.
We're looking for slightly different recommendations. I'm more of a nonfiction reader, so I'm looking for some good, narrative history about the life and times of King Arthur and his court. Or perhaps some literary analysis of the Arthurian legends, which I would love to understand better.
Jenny, on the other hand, is more of a chick lit/historical fiction lover. Her favorite authors are Meg Cabot and Sarah Dessen, and she really enjoyed many of Phillipa Gregory's books. I think she's looking for more of the fantastical, of the reinterpretations and imaginings of the King Arthur story.
So we turn to you, Riot readers: What are some of your best fiction and nonfiction recommendations about the life and times of King Arthur?