Lists
Peek Over Our Shoulders: What Rioters are Reading on September 28, 2017
This content contains affiliate links. When you buy through these links, we may earn an affiliate commission.
In this feature at Book Riot, we give you a glimpse of what we are reading this very moment.
Here is what the Rioters are reading today (as in literally today). This is what's on their bedside table (or the floor, work bag, desk, whatevskis). Gird your loins—this list combined will make your TBR list EXPLODE.
We've shown you ours, now show us yours; let us know what you're reading (right this very moment) in the comment section below!
Liberty Hardy
Binti: The Night Masquerade by Nnedi Okorafor (Tor.com, January 16, 2018): The final book in the freaking fantastic Binti trilogy. One word: eeeeeeeeeeeeeeeeeee! (e-galley)
Anthony Karcz
Apex (Hunter) by Mercedes Lackey: The final entry in Lackey's Hunger Games meets D&D Monster Manual series. I've been hooked since the first book, with its no-nonsense protagonist and gonzo monsters on practically every page. I'm excited to see where Joy ends up, but sad to leave this world behind. (E-book)
Kate Scott
The Sacred Enneagram by Christopher L. Heuertz: I'm always game for a new book on the Enneagram! (Paperback)
Ilana Masad
Prospero's Daughter by Elizabeth Nunez: I'm taking a fascinating class right now in which we read this book, and our professor kept bringing us back to this one extremely salient point—this retelling of The Tempest by William Shakespeare is told from within an already-colonized space, and doesn't give its Caliban character a history of pre-colonization. The book is spectacularly discomfiting (which is good), sometimes a little heavy handed, but ultimately a needed exploration of the continued effects of European colonization of the Caribbean. (Hardcover)
Claire Handscombe
Stay With Me by Ayobami Adebayo: I've wanted to read this ever since it was mentioned at the Buzz panel at BookExpo, and I've convinced my book club to read it with me. Win! (galley)
Celine Low
The Glass Palace by Amitav Ghosh: I'm trying this new thing whereby I organise my reading based on metaphor (now doing glass) and this is the next highly rated one on my list. Any recommendations welcome!
S.W. Sondheimer
IQ by Joe Ide: This is one of the books Kareem Abdul-Jabbar recommended in the interview we posted last week and it is phenomenal. Started it this afternoon and already on pg 229. Think Sherlock Holmes as a young black man growing up in LA, his clients insanely wealthy rappers as well as young Latinx women kidnapped off the street by a pedophile. I'm going to have to fight myself hard not to stay up and finish this one tonight.
Sarah Nicolas
They Both Die at the End by Adam Silvera: I'm going to be finished with this book by the time this post goes live because I'm just tearing through it. It's so good! It's about two teenage boys who are initially strangers spending their last day on earth together. (audiobook)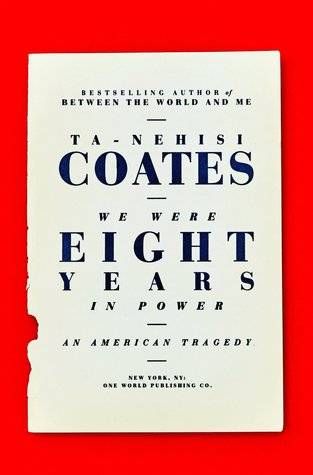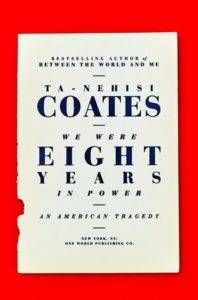 Nicole Froio
We Were Eight Years in Power by Ta-Nehesi Coates: Coates is one of my favorite writers and I can't wait to read this collection of essays about the Obama years. (arc)
Jaime Herndon
The Glass Eye by Jeannie Vanasco: I just started this memoir about family, the stories we tell ourselves, and mental health. And it's captivating. (Galley)
Teresa Preston
The Color of Law: A Forgotten History of How Our Government Segregated America by Richard Rothstein: The magazine I used to work for published several articles by Rothstein on segregation, so I was excited to see he'd written a whole book on the topic. The book is also on the longlist for the National Book Award. (Hardcover)
Steph Auteri
Clean Room Vol. 3: Waiting for the Stars to Fall by Gail Simone, Walter Geovani, Sanya Anwar, and Quinton Winter: There was a conversation among fellow Book Rioters about spooky comics, and Clean Room came up. I like spooky. I read the first two volumes in one quick gulp through Hoopla, and now I'm on the third. (Ebook)
Laura Sackton
Independent People by Halldor Laxness: I've been obsessed with Iceland ever since I had the chance to travel there last fall. So I've decided to work my way through Icelandic literature, starting with Halldor Laxness, the only Icelander ever to win a Nobel prize and beloved in his country. So far, Independent People is a gritty and rather gloomy look at sheep farming in the Icelandic countryside. In other words: awesome. (Audiobook)
Elizabeth Allen
Lily and the Octopus by Steven Rowley: I read this for my local indie's bookgroup. With the exception of The Art of Racing in the Rain, I've been kind of over emotional stories about beloved family pets dying. But, like Garth Stein's book, Rowley finds a completely new and unique way to discuss the painful yet beautiful journey of saying goodbye to a member of your family. He combines stark reality and fabulism to really express what it feels like to live in that stagnant time between knowing your pet will be leaving you soon and actually having to make that final, difficult decision. (Paperback)
Priya Sridhar
Certain Dark Things by Silvia Moreno-Garcia: Silvia is a wonderful editor, and a storyteller. She takes us to Mexico City, where Atl, a woman with Aztec origins and a need to drink blood, has to go on the lam when a gang targets her. She takes an unwitting donor with her, and starts getting attached to the young Domingo. Meanwhile her pursuers, who also have supernatural roots, contend with a reckless member and the stricter laws that don't allow for ample feeding. I love this world so much, and the rich language within the prose. (eBook)
Jan Rosenberg
The Idiot by Elif Batuman: I have heard everyone talking about this book. I listened to a podcast that mentioned a few of the subtle, funny moments that make this book so poignant. Like how Selin can't decide to answer a classmate when he stops to ask how she is, so she stares at him until he just gives up and walks away. I was on the fence for a while, but I'm halfway through and I love it so much. I want to linger with this book so that it takes longer to finish. Selin is the daughter of Turkish immigrants and has just arrived at Harvard from New Jersey. Harvard is supposed to be a haven for intellectuals, but the students and professors are hilariously lost, and no more confident in themselves than Selin is. Selin is such a fresh, honest, and brave young woman. And I'm pretty sure this book makes an argument for wordplay as foreplay. I may have to check out Batuman's other novel when I'm finished. (Hardcover)
Katie McLain
The Devotion of Suspect X by Keigo Higashino: I found a copy of this at a nearby used book sale, and I keep hearing so many good things about Higashino's mysteries that I decided to grab it. I'm not far into it, but I can tell already it's a compelling story. (Paperback)
Derek Attig
Bearly a Lady by Cassandra Khaw: I was desperately in need of something fun and sparkly and delightful, and so I pounced on this werebear-with-a-vampire-roommate story. I don't regret it. Not a bit. (ebook)
Jess Plummer
The Three Lives of James Madison: Genius, Partisan, President by Noah Feldman: I was inspired by Matt Grant's presidential biography challenge to try working my way through biographies of every US president so far over the next four years. Three and half down, a daunting number to go! (Digital ARC)
Jen Sherman
I Know Why the Caged Bird Sings by Maya Angelou: This is one of my books for the Read Harder challenge, which I'm desperately trying to finish in the next six weeks! The book is harder to read than I thought it would be, but as I said to my husband last night, it's narrated by an African American child living in the American south in the 1930s. It was never going to be a light and fluffy read. (Library paperback)
Rebecca Hussey
Border: A Journey to the Edge of Europe by Kapka Kassabova: First, this is nonfiction published by Graywolf Press, and that makes it automatically worth checking out. But it's also a mix of memoir, travel writing, and social/political observations and analysis, a combination of genres I can't resist. Fifty pages into this exploration of the border areas in Bulgaria, Turkey, and Greece, I'm finding it fascinating. (Paperback ARC)
Adiba Jaigirdar
The Mermaid and Mrs Hancock by Imogen Hermes Gowar: I'm basically on board for any book that is about mermaids. And this one had mermaids in the title! So far, it's not exactly what I expected the book to be, but the prose is beautiful and I'm certainly intrigued. (Digital ARC)
Jenn Northington
Basic Witches by Jaya Saxena and Jess Zimmerman: I picked this up on a whim at BEA, expecting it to be a very silly but fun millennial grimoire—a novelty book, something I might flip through once and then pass along. Readers, I read it cover to cover, and I'm keeping my copy forever. Saxena and Zimmerman do an excellent job of talking about intention setting as ritual, laying out the history of witches—particularly in the US—and their relationship with feminism, AND of making me laugh out loud with occasional silliness. This book is a gem—get it for you, for your girl gang, and any woman who might be occasionally tempted to hex a catcaller.
Jessica Yang
The Disappearance of Ember Crow by Ambelin Kwaymullina: I read The Interrogation of Ashala Wolf a while back and loved it, so of course the sequel is on my to-read list! (hardcover)
Tasha Brandstatter
A Kiss in Lavender by Laura Florand: The latest release by one of my favorite authors. (ebook)
Emily Martin
All the Ugly and Wonderful Things by Bryn Greenwood: This was my pick for the book club I'm in, and I'm absolutely loving everything about this book. I know that Book of the Month chose it for their book of the year in 2016, and I can see why. This is a very unique book that leaves me feeling conflicted about each and every character. Honestly, I'm nearly finished with the book and I have no idea how it should end or how I should even be rooting for it to end. Whatever happens, I can't put it down. (hardcover)
Susie Rodarme
Hunger by Roxane Gay: I have finally started this book. I have been circling it since it came out, trying to be brave enough to read it, or maybe waiting for when I really needed it, which seems to be right now. (hardcover)
Simone Jung
Aristotle and Dante Discover the Secrets of the Universe by Benjamin Alire Saenz. I've been on a YA kick lately and getting through my TBR. I picked up this book recently because I've heard so many good things in the past, and the number of awards tacked onto this book cover made me wonder how good it is. Since I'm the type of person who has to find things out for myself, I had to read it for myself. I can't believe how amazing this story is following two boys on their way to discovering their lives as well as themselves. (paperback)
Alison Doherty
The Purity Myth: How America's Obsession with Virginity Is Hurting Young Women by Jessica Valenti: Ooof this book is putting me in a dark mood, but I also can't stop talking about what I'm learning to everyone I meet. From abstinence only "education" programs to abortion laws and the treatment of assault victims, I'm captivated at how society from courtroom to classrooms systematically devalues women to little more than their sexuality through an emphasis on sexual purity. The things that are hard about reading this book are the same things that make it so important.
Deya Bhattacharya
HomeFire by Kamila Shamsie: This was longlisted for the Man Booker this year and I know this book has been doing the rounds on Instagram so naturally, I was curious. Picked it up on my birthday rather abruptly; as traditional goes, I buy at least one book on my birthday, and it was almost 9 pm with the neighbourhood indie closing, so I just grabbed it. Now I'm awake all night telling myself—"Deya, just one more chapter!" What a read this is! (Hardcover)
Jamie Canaves
The Unexpected Inheritance of Inspector Chopra (Baby Ganesh Agency Investigation #1) by Vaseem Khan: On the day of his retirement (due to health issues) Inspector Ashwin Chopra inherits a baby elephant and comes across a case of a dead boy he can't let go of. I picked this up in hopes that I will learn the secret to someone gifting me a baby elephant but also I am always here for a mystery set in Mumbai, India. (ebook)
Karina Glaser
A Boy Called Bat by Elana K. Arnold: A lovely chapter book about a boy on the autism spectrum who falls in love with a rescued baby skunk, and how he tries to convince his mother to let him keep it as a pet. A sweet story with realistically drawn characters and honest emotions. (Library Hardcover)
Margaret Kingsbury
We Should All Be Feminists by Chimamanda Ngozi Adichie: Um, I'm reading this because it's short. Okay, so I have more reasons than that, but I'm running behind on my yearly reading goal. At 52 pages, I should be able to finish this tonight in a single sitting. But of course I'm also reading it because I'm a feminist and I want to read it… (Paperback)
Trisha Brown
Completely by Ruthie Knox: Ruthie Knox is one of the first romance authors whose work I read, and she's definitely the first whose backlist I immediately sought out and devoured. After stepping away from writing for a couple of years—an eternity in romance time—Knox returned this year with a couple of new releases, including new release Completely, and I am delighted to have her back. (e-galley)
jessica pryde
Acting on Impulse by Mia Sosa: I one-clicked this the day it came out (if you know me, star/not-star romances are my total tropetonite) but I've also got a library stack a mile high so this one wasn't started until all I had was my phone and a long wait for someone and I'm so glad I did. Those library books can wait. (ebook)
***
What are you reading?
Save