This content contains affiliate links. When you buy through these links, we may earn an affiliate commission.
If you've heard my readerly origin story, you know that it all started with my mother. For a great deal of my childhood, she was a voracious romance reader. I would read senseless words over her shoulder and then go back and read my Golden Books and Baby-sitters Club and Encyclopedia Brown. When I read everything else in the house, I started picking up her discarded books when she was done. Jude Deveraux, Johanna Lindsey, and Danielle Steel were mainstays of my youth.
Times changed. She changed jobs, had more responsibilities, worked more hours, and now spends very little time relaxing at all, let alone reading. She also very rarely takes vacation.
A few years ago, I moved from the expensive Mid-Atlantic city of my youth to the wilds of the desert Southwest. From day one, I made attempts to coax my mother out with photos of mountain vistas and desert flora. After a rough winter and the tragic loss of multiple beloved pets, she booked a flight and told me to be ready.
It was no surprise at all that the morning after she arrived, I woke to find her already out on my back patio, reading.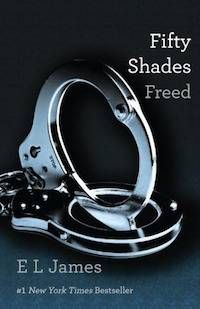 The week before she came out, my mother talked me through the happenings of the movie Fifty Shades Darker while we were having our weekly chat. Having not read the books, I had no idea what was going on, but it was fun to try. She hadn't read the books, but decided to get Fifty Shades Freed for her flight, to see what would happen next. She'd had some guesses, and was satisfied with the answers she got. She had a couple hundred pages left the next day (since the pages are so thin, she totally hadn't realized it was going to be that long), and was done before the sun set. She went back to her room and pulled out three more books, unsure which book to read next. We ended up going to dinner instead of continuing our reading, and then went to bed.
(Since I had taken off the whole time she was here, I joined her on the patio first with Andrew Grey's Love Comes Silently, which I'd started the day before, and later Jen Wang's The Prince and the Dressmaker. Later, I'd also pick up Ascension.)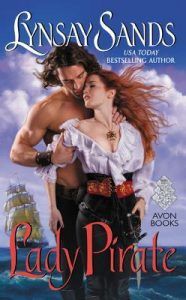 She finally decided on Lady Pirate, which I discovered the next morning. My mother doesn't really sleep much, so by the time I joined her at the poolside dining table, she was already a third of the way through, and had commentary including "She needs to get pregnant and doesn't know what sex is" and "She walked into a bar full of suspicious characters and ordered whiskey like that was a completely safe thing to do," which are totally things that made me curious. (I still don't know how a pirate captain of any sex or gender can live with other pirates and not know what sex is, but apparently her compatriots protected her or something. By the time she finished, my mother was happy with her choice. Especially since she had initially pulled out Beverly Jenkins' Destiny's Embrace and realized several pages in that she'd already read it (and since I'd read the others digitally I couldn't loan them to her :/).
When she finished Lady Pirate she asked me a horrible, horrible question: what should I read next? She'd decided not to read the fourth book she brought with her, so she'd have something for the plane, and wanted something from my stores to go with next. As long as it was fast-paced and romance, she didn't care. I blanked. I stared at both my read and TBR shelves in panic and confusion. Finally, I grabbed Gail Carriger's paranormal Victorian masterpiece, Soulless.
She shrugged and sat down to read.
She laughed a couple times. She was baffled by the parasol. She didn't completely get the preternatural thing. But she finished it.
She didn't continue with the series, though, expressing a preference for more one-and-done style romances. She muttered a bit about werewolves when I woke up the next morning to find her sitting in my Stocksund chair, halfway through Lori Wilde's Cowboy, It's Cold Outside. (Like I mentioned, she doesn't sleep much, even when she finally gets a vacation from her 60-hour workweeks.) I hadn't read that one yet, so I had no idea what she'd think when she was done. She said it was amusing and cute, and wouldn't tell me anything more once I told her that I hadn't read it. She had other words to say about Undressing Mr. Darcy. She said they were trying a little too hard with the Mr. Darcy thing for her. I dunno, sounded good to me.
We had a better conversation after she finished Tempest. She was not expecting the heroine to shoot the hero, and thought they got into bed a little fast. We talked about race in the plains states, and falling back on survival above all else. She was confused by the whole relationship to Rhine and Andrew, but since I borrowed the first two Old West novels and Through the Storm (our first introduction to Rhine Fontaine) from the library (I was a little impatient by the time this one came out), I couldn't put books in her hand to get it and therefore had to try to figure out how to explain it. I think she got it, but I might be wrong.
Eventually, we decided that she was in Arizona and we should probably do some touristy stuff, so we took a couple days off from hanging out back and reading. But she also wanted to make sure she had something to read on the flight back, so we went to Bookmans, my local used chain. After some time spent perusing on my own, we regrouped on the back side of the romance section and she already had two books in her hand: The Highlander Takes a Bride, another Lynsay Sands book (apparently she liked Lady Pirate enough to read more of her work), and Jude Deveraux's Temptation, which I swore she must have read because I remembered it. But maybe I'd bought that one on my own. She wanted one more, and once again I blanked. Thankfully we were standing right near the Ds, and I knew she'd love a Tessa Dare book.
I picked up The Duchess Deal and When A Scot Ties the Knot, the two most recent ones I'd read. I wasn't sure which one she'd like best, so I told her to read the backs and choose.
She proceeded to keep them both.
I snorted. And people wonder where I get it from.
Hey, it was cool, though. I was definitely cool with that. It was always fun to introduce my mom to a new author who I was sure would make her laugh.
We eventually left, her with her four and me with If You Dare by Adrianne Byrd, an author I've heard of but never read, and Victoria Dahl's Talk Me Down, which I'd picked up and put down several times on previous visits, and headed back home to do some more reading.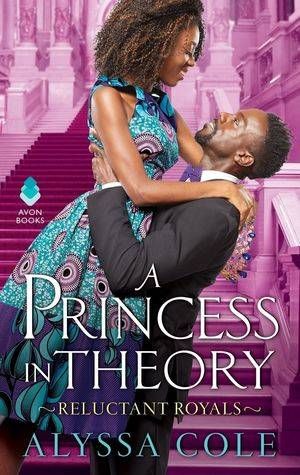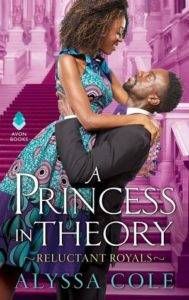 Before starting any of her new purchases, though, she had to finish A Princess in Theory, which I'd handed her alongside Tempest and she was determined to finish before it was time to go back to the East Coast (I told her she could take it with her and I'd get another copy, but :shrug emoji:). She wasn't a big fan of how long Thabiso carried out his ruse, but she thought the email thing was hilarious. And she wanted the dress on the cover. I didn't tell her I have been thinking about buying it, even for the couple hundred you have to drop to get it.
I had a flight out to Philly the next morning, and she was scheduled to leave later that day, but thanks to our buddy Toby, she was stuck in the desert (que lastima!) for another two days. I laughed when I got home from my conference several days later to see that she'd left everything, including Temptation, The Duchess Deal, The Highlander Takes a Bride, and the other book she'd brought with her, Lorraine Heath's Beyond Scandal and Desire, sitting on my romance TBR shelf. Interestingly, Fifty Shades Freed was nowhere to be found. My mother is not really an internetter and doesn't read my stuff, so she'd already told me on that earlier phone call about Fifty Shades Darker that that kind of thing wasn't for me. I guess she took it home to protect me from the ropes and whips. (If you follow me anywhere, especially Kissing Books, you know I enjoy a few ropes and whips every once in a while.)
She probably won't get the chance to do that much uninterrupted reading for quite some time now that she's back at work, but I'm glad I could provide her with a good, solid week's worth of voracious romance consumption.
At least we know where I get it from.