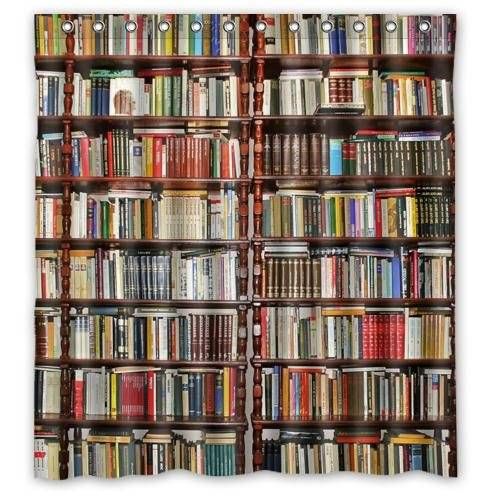 I've had many bookshelves over the years. The built-in floor-to-ceiling ones in my house growing up; the cramped standard three-shelf units in various college dorm rooms, filled more with course handouts and random junk than actual books; and then, for most of grad school, a precariously stacked collection of plastic milk crates. But now, this year, I've finally acquired a real bookshelf, made from the finest white particleboard IKEA has to offer. I had to move said bookshelf out of my room last week while the walls were being painted, and as I was putting all my books back on it again afterwards (a lengthy but enjoyable task), it occurred to me that my bookshelf is a curious pseudo-reflection of who I am as a person. No, I don't mean crappy white particleboard. (Maybe.) Is it true that you are what you read? Or at least, for many of us, what we put on our bookshelves intending to read at some point?
Filling a bookshelf with all your own stuff–even better, filling it exclusively with all your own books–is a curiously personal act of public declaration. A single look at my bookshelf says a lot about me–that my fiction is almost exclusively YA fantasy, that I buy comics by trade and not issue, that I've studied children's literature academically, that I have a slightly unhealthy obsession with cold war espionage and journalism. It reveals that I have more books than can really fit the shelf–many of my paperbacks are wedged in sideways on top of other books jigsaw-style, to utilize all possible space. It reveals that I should really stop buying more books (foul lies). It reveals that I probably ought to dust more.
But it doesn't tell the whole story. My bookshelf is almost two-thirds nonfiction and only one-third fiction, which is the inverse of my reading tastes in reality. Those few Tamora Pierce and Dorothy L. Sayers paperbacks crammed into the top shelf don't properly illustrate my adoration for those two authors. I haven't even gotten more than a few pages into half the Cold War nonfiction. And short of buying print collections, there's simply no way for me to display my favorite webcomics on a bookshelf. My bookshelf is not an inaccurate representation of me as a reader or a person, but it doesn't tell my full story, or emphasize the right details. It's also squeezed inside my bedroom facing away from the door, so it's really not on display to much of anyone, even my roommates.
But like many forms of self-expression, I don't really care if anyone else sees it. It's not for them. It's for me. At any time, I can glance up from my computer and see my books are with me. If I'm in a room where I can see Brewer's Guide to Phrase and Fable, 10 used books about hacking and espionage, and a complete set of Harry Potter all at once, then I know I'm home. This space is all mine. But even if a stranger were to stand there and take note of every book on the shelf, I'm fine with that. I'm more than happy to be judged by the content of my bookshelf.