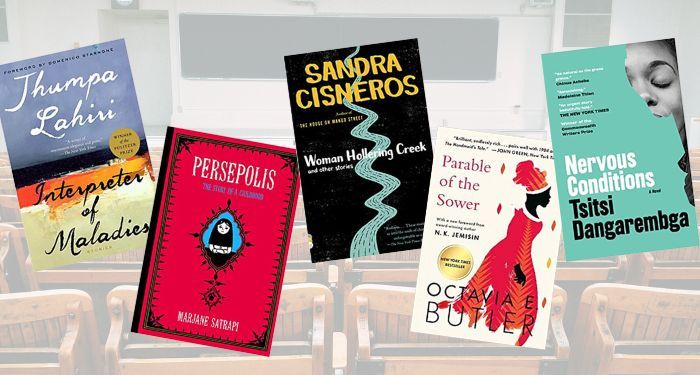 Lists
What Literature Do We Study From the 1980s, 1990s, and 2000s?
This content contains affiliate links. When you buy through these links, we may earn an affiliate commission.
In a recent article for The Pudding, a digital publication that explains ideas debated in culture with visual essays, Matt Daniels used Open Syllabus to explore what books from the 1980s, 1990s, and 2000s are being assigned in college-level literature classes. It's a fascinating look at a new "turn-of-the-century literary canon" pulling out the top ten titles for each decade, both fiction and nonfiction. This is a deep dive into the fiction titles — the titles you might have expected to show up on the lists, the titles you may not have, and an examination of diversity, discourse, and all of the various factors that play into the makings of the academic cannon.
Starting with the top ten fiction titles from the 1980s feels like the easiest place to begin, both linearly and in terms of expectations. I feel like many people in literary circles could guess a large percentage of the fiction titles in the top ten. And if they maybe missed the exact book featured, they would still likely land on the author. Toni Morrison, Margaret Atwood, Sandra Cisneros, Amy Tan — these authors are widely considered touchstones of contemporary literature and many of their books considered classics.
Top Ten Fiction Titles From the 1980s
Things get more interesting as we enter the 1990s and 2000s in my mind. The lists have a lot of big players, but they are slightly less predictable. Likely, I would argue, because the passage of time has not cemented them in the same way the '80s have been cemented at this point in time. These lists overall are much more diverse than I might have guessed they would be. While yes, there are five white straight, cisgender, male authors in the top ten for the 1980s, there are six women and five women of color.
Five of the authors in the top ten for the 1990s are people of color and six are women. And the top ten for the 2000s is even more diverse than the 1990s. While I may have hoped that college classes were reading and discussing Octavia E. Butler, Jhumpa Lahiri, and Marjane Satrapi's work, I honestly don't know if I would have guessed it.
There is, of course, absolutely room for improvement though! There's very little queer representation and, as far as I'm aware, there's no transgender or nonbinary representation. And how amazing would it be to see more literature featuring disabled characters and written by disabled authors read in college classrooms across the country? There are a whole host of ways these lists could be better. But with the thoughtful work of many academics and librarians I think these lists will continue to become increasingly diverse if we looked back on them again in 10, 20, and 30 years time.
And as a lover of literature in translation, I'm always struck by how few contemporary titles in translation make it to general literature classes. Or if they do make it, the translators are overlooked. I wrote down the titles on these lists as they are in The Pudding article, but it's important to note that Persepolis by Marjane Satrapi is translated by Blake Ferris and Mattias Ripa and the second volume is translated by Anjali Singh. It's also interesting to see that Persepolis, Watchmen, and American Born Chinese are the only graphic titles on the lists but with two titles listed in the 2000s, maybe this is a sign that there will be more graphic memoirs and novels on college syllabi going forward?
Top Ten Fiction Titles From the 1990s
The Things They Carried by Tim O'Brien (1990)
Woman Hollering Creek by Sandra Cisneros (1991)
The God of Small Things by Arundhati Roy (1997)
Harry Potter and the Sorcerer's Stone by J.K. Rowling (1997)
Interpreter of Maladies by Jhumpa Lahiri (1999)
Disgrace by J.M. Coetzee (1999)
The Giver by Lois Lowry (1993)
Angels in America by Tony Kushner (1992)
Parable of the Sower by Octavia E. Butler (1993)
The Lone Ranger and Tonto Fistfight in Heaven by Sherman Alexie (1993)
But there are some real complexities to these lists, as a few of these authors have been criticized for a variety of reasons, including J.K. Rowling's transphobia and allegations of harassment and sexual misconduct against authors like Sherman Alexie and Junot Díaz. While the discourse around these authors feels widespread to me in literary circles, it's interesting to note that these authors are still on these syllabi lists. Does the discourse criticizing these authors not make it out to the general public? Or are academics including these authors on their syllabi despite the critiques? Or are they including conversation of the critiques within their exploration of the literary works? I'd love to know more. It will also be fascinating to see the way these conversations might change these lists in the future.
Top Ten Fiction Titles From the 2000s
Persepolis by Marjane Satrapi (2000)
Never Let Me Go by Kazuo Ishiguro (2005)
The Hunger Games by Suzanne Collins (2008)
The Road by Cormac McCarthy (2006)
Absolutely True Diary of a Part-Time Indian by Sherman Alexie (2007)
White Teeth by Zadie Smith (2000)
The Curious Incident of the Dog in the Night-Time by Mark Haddon (2003)
The Brief Wondrous Life of Oscar Wao by Junot Díaz (2007)
The Reluctant Fundamentalist by Mohsin Hamid (2007)
American Born Chinese by Gene Luen Yang (2006)
And what books from the 2010s will make the list? Or our current decade? If I had to hazard a guess for the 2010s I would include The Sympathizer by Viet Thanh Nguyen (2015), The Underground Railroad by Colson Whitehead (2016), and Exit West by Mohsin Hamid (2017).
Will My Brilliant Friend by Elena Ferrante and translated by Ann Goldstein (2011) make the list? Will The Fault in Our Stars by John Green (2012) or The Hate U Give by Angie Thomas (2017) make the list as young adult cultural touchstones and phenomenons in the same way that The Hunger Games did? Only time will tell.