This content contains affiliate links. When you buy through these links, we may earn an affiliate commission.
The best pen for writing marginalia in the margins of your books is, You tell me. I'm out to crowd source the best pens for marginalia-writing like I'm looking for the best BBQ or eyelash curler. I am convinced this is what the Internet is for: smart pen reviews.
What Is Marginalia?
"Marginalia (or apostils)," as defined by Wikipedia, "are marks made in the margins of a book or other document. They may be scribbles, comments, glosses (annotations), critiques, doodles, or illuminations." And I have done them all, friends. In fact, here is the last page of my copy of The Great Gatsby: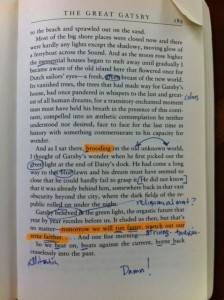 Though some people feel (wrongly! [sorry]) that marginalia is contrary to the care of books, I'm in an opposite camp: that writing in books is Claiming Not Maiming. It makes books personal and a record of your reactions to them. Plus, I'm a bit of a pen nerd. Fabulous, luxurious pens? Here are some.
However, since a marginalia habit depends on good pens, I have had my share of disappointment. I have had my share of bad pens. Sticky, leaky, pens what's ink doesn't dry fast enough.
Where Are All The Good Pens?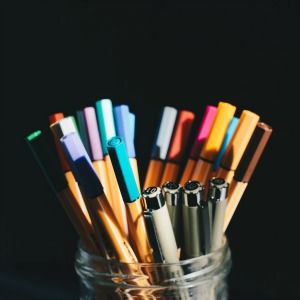 My trusty ultra-fine-point green Sharpie that I use for #bujo bulletjournaling in my Rhodia notebook bled! Bled! Gah! Not cool! through the pages of Tom Perrotta's Mrs. Fletcher (my beach read of choice). It's a first world problem, I know, and, easily solvable (unlike so many other problems).
These Pens Are My New Favorites
I switched to the Pigma Micron PN pen in blue by Sakura. (PN stands for Plastic Nib. That is just one of the things you will learn when you begin your journey down into the rabbit hole of online pen reviews because pen reviewing is a thing.) Even The Wirecutter weighs in on the best pens; ditto The Strategist. See their recommendations here (hint: it's the Uni-ball Jetstream) and here.
So caps off and start scribbling in the margins, friends! (but use archival ink for best results) and let me know how it goes. Send me your best pens reviews.