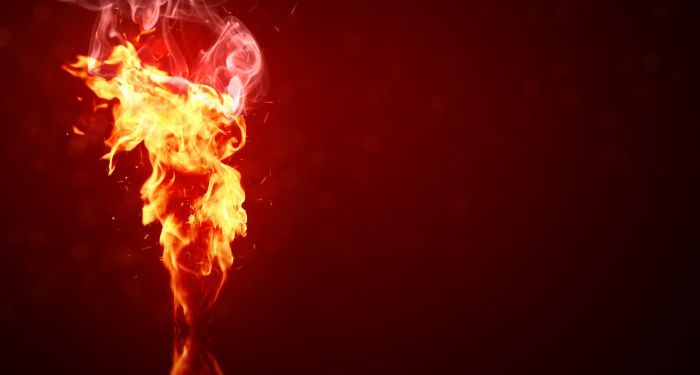 This content contains affiliate links. When you buy through these links, we may earn an affiliate commission.
What exactly does it mean for a romance to be a fast burn? There's no true authority on this matter. It's simply a term that has come up in opposition to the "slow burn." But I read tons of romance, and I'm an avowed fan of the so-called fast burn romance, so I'll weigh in. Simply put, a fast burn romance does not involve much delay before the main characters get together. What complicates the definition is what "get together" means and what causes the fast burn.
There's something of a chicken-or-egg question in the strong preferences of romance readers and the wide variety of romances that cater to very particular tastes. But some readers really want to be put through the wringer. They'll wait possibly hundreds of pages for protagonists to do anything more than secretly yearn for each other. Sometimes I'm in the mood for that, too. But more often I say, let's get this show on the road! I want to see mess. I want to see characters who can't pry themselves away from each other even if logic dictates that they should not give in to their impulses. So if you're wondering what is fast burn romance, here are some traits.
I think more often than not, a fast burn romance does ratchet up the physical aspect of the relationship early in the book. While a romance's plot may simply depict characters who are hot for each other and jump right into the sack — let's face it, that's perfectly realistic — there are often some tropes at play.
On the more realistic side, there are one night stands that don't end up being one night only. Similarly, friends with benefits sometimes can't stay only friends. Less realistic but theoretically popular are tropes like sex pacts or "kissing lessons" that give characters some kind of practical reason for sex. In the realms of the speculative, we get tropes like aphrodisiacs and fated mates, where characters might bang in the first act. And any romance labeled as erotic more likely has sex fairly early in the story.
If we're talking about books where the emotions are running hot right from the start, those books often get labeled as instalove. That term can used derisively from readers. Given that you can find plenty of books online using "instalove" in their kindle edition subtitle, however, it's obviously a draw for other readers. Whether sex happens early in these books isn't a given.
What makes this all even more confusing is what constitutes "normal," as in the pace slow and fast are compared to. I suppose mathematically, we can gauge from the halfway mark. But again, at that halfway mark, should characters have realized their feelings? Kissed? Gone to the bone zone? There's a lot of subjectivity. While some may consider it a spoiler, I think it's a wonderful service when readers specify something like "They didn't even kiss until 85% into the book!" so that I can (cue Dionne Warwick) walk on by.
Can a book without sex on the page be considered a fast burn romance? I don't see why not, as characters can have instant sizzling chemistry regardless of how explicitly sex is written. But I can't think of an example. When it comes to fade-to-black romances or open-door vs. closed-door romance (just don't call them "clean"), I think it's safe to say books labeled as fade-to-black or closed-door are unlikely to be a fast burn.
Some critics of the fast burn romance may feel they lack tension and therefore quality. I don't believe in such hard and fast rules for romance. Sexual tension isn't the only kind of tension out there, and even if characters have sex early on, there may be plenty of obstacles to face before finding their happily ever after. So as with any other flavor of romance, these books run the gamut in terms of quality. I'd urge readers to be cautious of dismissing an entire category/trope without seeking out the best it has to offer.
I'm guessing you'll burn through that list pretty quick, so you'll find plenty more fast burns on our list of steamy romance novels. I hope you've got some money to burn on new books. And if you burn the midnight oil to finish all these romances, I won't judge. Just don't burn out! OK, I'll show myself out.