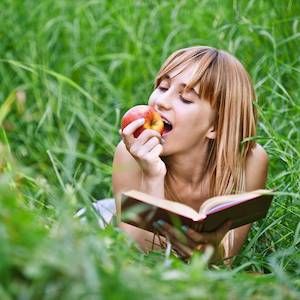 This content contains affiliate links. When you buy through these links, we may earn an affiliate commission.
While we at the Riot are taking this lovely summer week off to rest (translation: read by the pool/ocean/on our couches), we're re-running some of our favorite posts from the last several months. Enjoy our highlight reel, and we'll be back with new stuff on Wednesday, July 8th.
This post originally ran Feb. 6, 2015.
_________________________
Valentine's Day is coming up, and for single people like myself, we can find ourselves fielding questions or comments from friends and family members like "Why don't you put yourself out there?" and "You should do one of those dating things." So this year, I found something bookishly social to go to – a happy hour thing at a bookstore where people bring their favorite book to exchange. My only conundrum is, what book do I bring? I have many favorite books, but if a favorite book says something about you, I have to choose wisely. Plath's The Bell Jar might not be the best message I want to send. I don't know if The Catcher in the Rye is too cliché, or too much of a "guy's" book. I love anything and everything Flannery O'Connor, but I'm not quite sure what that message would be. Gone With the Wind? Might send a confusing message without my explanation of why I love it, and who wants to carry around such a hulking book, anyway? Little Women? I mean, come on – ask most writers, we love Jo March. But it seems a little quaint for me.
But it got me thinking of things our favorite books say about us, both in a joking way and not. The Great Gatsby– high-maintenance, or a fun-loving partier? If a guy brought American Psycho or Lolita, I would probably be a little wary. (Even if either of them IS your favorite book, don't tell me until much, much later). Infinite Jest? A bit too self-conscious-hipster for me. (And yes, I read it. Last summer.) The Handmaid's Tale? Feminist, forward-thinking…extra bonus points if you're a guy. Same with anything Virginia Woolf.
I read a lot of non-fiction, which has made this a little tricky. I have many favorite non-fiction books, many of them medical or psychological in nature. Not exactly happy hour material. In the end, I've chosen to go with To Kill a Mockingbird. I adore Harper Lee, and I've always envisioned myself as Scout, especially when I was younger. Atticus is a strong character, fighting for social justice and doing the right thing. The story has endured, and in today's climate, is more relevant than ever. It's a story about family and relationships, sometimes where you least expect them. I'm still amazed every time I read it, which, for me, is the hallmark of a great book.
What is your favorite book, and what do you think it says about you?
Save