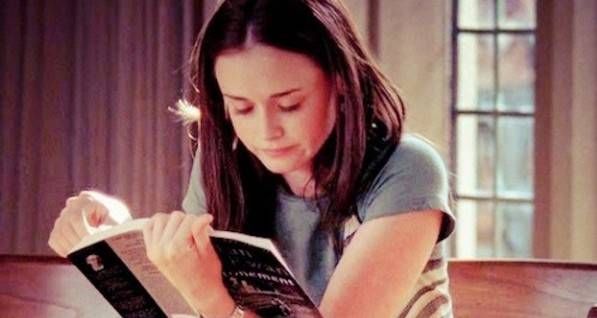 Pop Culture
What Did Rory Read After Gilmore Girls Ended?
This content contains affiliate links. When you buy through these links, we may earn an affiliate commission.
While we at the Riot are taking this lovely summer week off to rest (translation: read by the pool/ocean/on our couches), we're re-running some of our favorite posts from the last several months. Enjoy our highlight reel, and we'll be back with new stuff on Wednesday, July 8th.
This post originally ran June 17, 2015.
_________________________
Did you know that Rory Gilmore read 339 books during 7 series of Gilmore Girls? 339. At first glance that's only 48 books a year, but let's consider the fact that while doing all that reading Rory also graduated from Yale, began covering Barack Obama's presidential campaign, and took part in various hilarious japes that separated her from the printed word (dance marathons will do that to you, as will descending into an abyss of ennui while living in your grandparents' pool house).
The girl was a machine and she wasn't just reading 15 page-long novellas and adult coloring-in books. The History of the Decline and Fall of the Roman Empire, The Grapes of Wrath, Finnegan's Wake, The Fountainhead, Swann's Way, Rory was grappling with some hefty tomes and she wasn't a book snob. Among all those Dead White Guys, Rory was also finding time to read bestsellers like The Divine Secrets of the Ya-Ya Sisterhood, Carrie, The Da Vinci-Code, Harry Potter, and The Godfather. Not only that but she was also pretty diverse with her reading. Obviously there's always potential for improvement but she managed to venture quite far outside the white-is-right curriculum she was being taught at Chilton: The Kite Runner, Reading Lolita in Tehran, The God Of Small Things and The House Of Spirits are all standouts.
Rory was a fantastic reader and we should all bow down to her ability to, apparently, read the entire The Norton Anthology of Theory and Criticism without turning into a gibbering wreck. There's hours of fun to be had comparing reading lists with her, and then hours of bitter self-recriminations when you realize you've only read a fraction of her list (I got a struggling 84 on this checklist). But what about post-Gilmore Girls? What was Rory reading on the Obama campaign trail? What book was in her purse at Lorelai and Luke's wedding? Most importantly: what was she reading on the day she turned up at my house and asked me to be her best friend and help edit her first novel? Well, wonder no more! Here is Rory's post-Gilmore Girls reading list!
Inspirational Women (always a fave GG genre)
I Am Malala by Malala Yousafzai
The Immortal Life of Henrietta Lacks by Rebecca Skloot
Heroines by Kate Zambreno
I Know Why The Caged Bird Sings by Maya Angelou
The Underground Girls Of Kabul by Jenny Nordberg
Dystopian/Post-apocalyptic Novels (because Huxley and Orwell can only take a gal so far)
The Hunger Games by Suzanne Collins
Station Eleven by Emily St. John Mandel
Zone One by Colson Whitehead
Lagoon by Nnedi Okorafor
The Road by Cormac McCarthy
Feminism (because The Second Sex and Backlash were, surely, only the beginning)
ain't i a woman by bell hooks
Men Explain Things To Me by Rebecca Solnit
Sister Outsider by Aurdre Lorde
We Should All Be Feminists by Chimamanda Ngozie Adichie
Unspeakable Things by Laurie Penny
Bestsellers (another shout-out to Rory's lack of book snobbery)
The Fault In Our Stars by John Green
Fangirl by Rainbow Rowell
Gone Girl by Gillian Flynn
Fifty Shades Of Grey by E.L. James
The Girl On The Train by Paula Hawkins
Big Books (because Rory would have torn through 1100+ pagers like a beast)
2666 by Roberto Bolaño
The Goldfinch by Donna Tartt
Infinite Jest by David Foster Wallace
The Luminaries by Eleanor Catton
Wolf Hall/Bring Up The Bodies by Hilary Mantel
Just Really, Really, Good Books (because Rory wouldn't have let these beauts pass her by)
Graceland by Chris Abani
We Are All Completely Beside Ourselves by Karen Joy Fowler
Blonde Roots by Bernardine Evaristo
Of Bees And Mist by Erick Setiawan
Pigeon English by Stephen Kelman
*Disclaimer: the Rory reading lists linked to here are composed of every book referenced in Gilmore Girls and it has been pointed out that she might not have completely read all of them. But! We also have to assume that she was probably reading between series (because she is a real person) and I like to think that Rory was a pretty conscientious reader who would have got around to all these books at some point. Yes, even The History of the Decline and Fall of the Roman Empire.