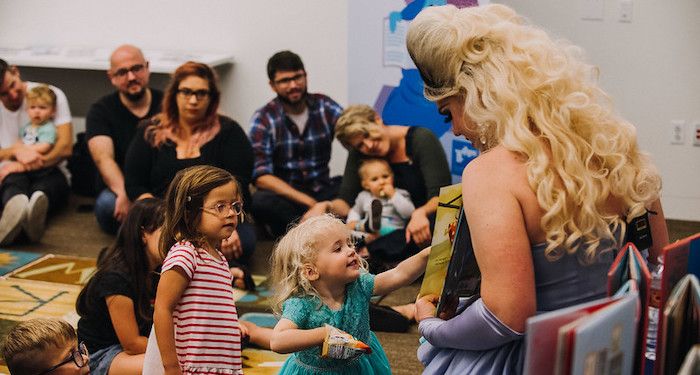 Children's
What a Drag Story Hour Actually Looks Like
This content contains affiliate links. When you buy through these links, we may earn an affiliate commission.
It's a balmy afternoon in a suburb of Kansas City. Flowers are in full bloom, worshipping the sun. Standing at the entrance to a nondenominational Christian church, two people stand vigilant. They're dressed in black, holding black parasols. Their outfits are frilly, sparkling, and their faces are painted white. One of them has a walkie-talkie. They're standing guard for a Drag Story Hour. If you wander the grounds of the church, you'll find more pairs just like them, keeping watch and checking in with one another.
This is a sad part of the reality in which we live. Drag queens, kings, and drag story hours are the victims of disinformation campaigns and bigoted legislation. Talking heads are throwing around words like "grooming," not even knowing what those words mean. This begs the question: What does a Drag Story Hour really look like?
Welcome to Drag Story Hour
I don't have children myself, so I'd never attended a Drag Story Hour before. Drag shows? Absolutely. I've even performed alongside drag queens and kings as part of several burlesque and variety shows. I couldn't well write this without witnessing one in person, so my wife and I drove across town to a local church. Let me tell you, the place was hopping. We arrived a few minutes before the scheduled start time, and as we were handed door prize tickets, I noticed the big room was already full. Children were gathered around one of two craft tables. They were painting, coloring, and excitedly grabbing little pride flags.
A large snacks table was set up on the other side of the room, children and adults alike loading up little plates of charcuterie, cookies, and little plastic cups of soda. The room was already nearly standing room only.
The crowd surprised me a bit. I expected plenty of children and their parents. Maybe some fellow drag queens. There were plenty of people who looked to be grandparent age, too, all sitting near the back windows so as not to impede the views of the children down in front. As you would expect, half the crowd were wearing various pride shirts, including my own intersex tank top. "God is Nonbinary" was a common shirt theme.
Let The Stories Begin
A member of the church took up the microphone, thanked everyone for attending, and read a letter from Kansas Governor Laura Kelly, thanking the church for the invitation, even though she was not able to attend. "Thank you for all you do for our community," the letter said. Then the first reader took a seat in the large, throne-like chair.
Andy Anarchy (they/them), read Moo Bird! and If You Give a Mouse a Cookie. Next was Freddy Mac, who read You Are Special. Then Sister Dee Compose of the City of Fountains Sisters of Perpetual Indulgence took the throne and read It Feels Good to Be Yourself. Andy and Freddy took turns again, reading Penguin's Big Adventure and What's So Terrible About Swallowing an Apple Seed?, respectively.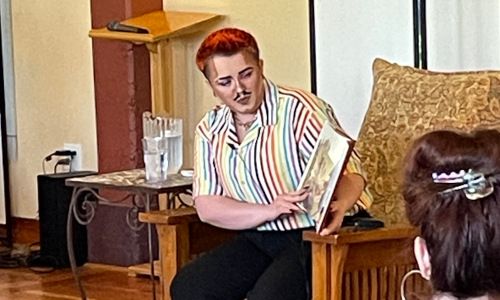 Most of these stories hovered around a central theme: loving yourself exactly as you are. The children were enthralled, laughing and ooh-ing at all the right moments. The readers did some fun voices, and spoke before and between each book, talking about why they chose them and why they loved them so.
The reading concluded; the event's organizers invited all of the children up to talk about the paintings they had made. My own 7-year-old nephew gushed about his painted heart, even if it was difficult to hear since it was his first time using a microphone. He didn't know to project. Finally, the door prizes were handed out, and the crowd began to dissipate.
Just Another Drag Story Hour
This is pretty standard for a Drag Story Hour. Children and their families gather, people in drag read children's stories filled with positive messages, and good times are had by all. Some children might ask questions about gender, and that's a good thing. These conversations need to happen so that children can be accepting and understanding of themselves and their peers. My own nephew didn't have any questions, but he did think Andy Anarchy's purple mohawk was pretty cool. He liked Sister Dee Compose's makeup.
If you think my experience was unusual, just check out these videos of other Drag Story Hours:
Or maybe these Instagram feeds from some excellent drag performers who read at Drag Story Hours:
The locations vary, maybe the snacks or extracurriculars change, but the core remains the same. Under all the makeup are people who have fought to just be themselves, and here they are, being themselves with children. At a perfectly child-appropriate event.