A Western Civilization History Course In 40 Audiobooks
This content contains affiliate links. When you buy through these links, we may earn an affiliate commission.
Several years ago, my husband convinced me that audiobooks were not just for little old ladies who sat in their rocking chairs knitting afghans (though I love knitting). I just never really understood what audiobooks could do for me. Then one day, I listened to Proust's biography while I did my usual Sunday afternoon house-scouring and EUREKA, the audiobook made my chores so much more bearable!
And then I started thinking. Unfortunately, I hadn't been able to minor in history during college (sigh) but I luuurrrved reading about it. Why not design my own history course? I'd go through my library's catalog and write a list of all the histories and biographies that piqued my interest (my tastes are pretty eclectic). Then, like all people obsessed with chronological order, I arranged them according to time period.
Below, I share with you a snapshot of the nonfiction audiobooks I've listened to, complete with listening-time (which is specific to my editions- the Amazon links may not refer to those same editions). All audiobooks are unabridged unless otherwise specified. As you'll see, the 19th and 20th centuries contain the most entries, but that just reflects my general interests. Recently, I've started jumping around, temporally, once more, but I'll probably try to fill in the gaps in, say, my 14th-century knowledge (14th century? Yeah, all I can think of is the Black Plague. Other stuff happened?).

Enjoy, and tell me about your listening strategies in the comments!
To the 13th century
The Year 1000: What Life Was Like at the Turn of the First Millennium
by Robert Lacey (6 hours).
God's Crucible: Islam and the Making of Europe, 570 to 1215 by David L. Lewis (18 hours 30 minutes).
14th century
(hmmm looks like I skipped this century- time to rectify that!)
15th century
Leonardo da Vinci by Sherwin B. Nuland (4 hours 30 minutes).
The Renaissance by Paul Johnson (6 hours 14 minutes).
16th century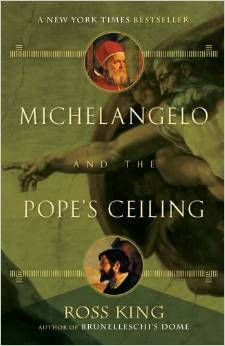 The Reformation: A History by Patrick Collinson (7 hours 30 minutes).
Over the Edge of the World: Magellan's Terrifying Circumnavigation of the Globe by Laurence Bergreen (15 hours 15 minutes).
Six Wives: The Queens of Henry VIII by David Starkey (34 hours 25 minutes).
Michelangelo and the Pope's Ceiling by Ross King (ca. 10 hours 30 minutes).
Elizabeth and Mary: Cousins, Rivals, Queens by Jane Dunn (ca. 19 hours).
17th century
Isaac Newton by James Gleick (5 sound discs).
18th century
Joseph Haydn by Jeremy Siepmann (4 hours 40 minutes).
Mozart by Peter Gay (ca. 4 hours 30 minutes).
The Great Upheaval: America and the Birth of the Modern World, 1788-1800 by Jay Winik (31 hours 30 minutes).
19th century
Napoleon's Wars: An International History, 1803-1815 by Charles J. Esdaile (25 hours).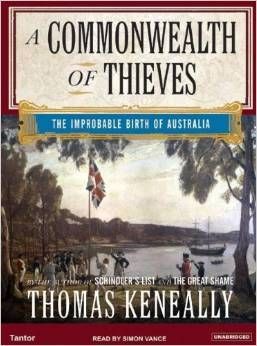 A Commonwealth of Thieves: The Improbable Birth of Australia by Thomas Keneally (12 hours 30 minutes).
Lost Kingdom: Hawaii's Last Queen, the Sugar Kings, and America's First Imperial Adventure by Julia Flynn Siler (11 hours).
The Map that Changed the World: William Smith and the Birth of Modern Geology by Simon Winchester (10 hours).
The Sea of Glory: America's Voyage of Discovery, the U. S. Exploring Expedition, 1838-1842 by Nathaniel Philbrick (12 hours).
The Judgment of Paris: The Revolutionary Decade that Gave the World Impressionism by Ross King (13 sound discs).
Nothing Like It in the World: The Men Who Built the Transcontinental Railroad, 1863-1869 by Stephen E. Ambrose (15 sound discs).
The Man Who Saved the Union: Ulysses Grant in War and Peace by H. W. Brands (27 hours 51 minutes).
Krakatoa: The Day the World Exploded, August 27, 1883 by Simon Winchester (10 sound discs).
Into Africa: The Epic Adventures of Stanley and Livingstone by Martin Dugard (6 hours).
The Devil in the White City: Murder, Magic, and Madness and the Fair that Changed America by Erik Larson (12 sound discs).
The Journey of Crazy Horse: A Lakota History by Joseph Marshall (11 hrs).
Mark Twain by Geoffrey C. Ward, Dayton Duncan, and Ken Burns (8 hours).
20th century
The Flyers: In Search of Wilbur and Orville Wright by Noah Adams (5 sound discs).
Emily Post: Daughter of the Gilded Age, Mistress of American Manners by Laura P. Claridge (18 hours).
The Endurance: Shackleton's Legendary Antarctic Expedition by Caroline Alexander (6 hours).
E=mc2: A Biography of the World's Most Famous Equation by David Bodanis (6 sound discs).
Higher: A Historic Race to the Sky and the Making of a City by Neal Bascomb (11 hours 30 minutes).
The Warmth of Other Suns: The Epic Story of America's Great Migration by Isabel Wilkerson (ca. 23 hours).
Coolidge by Amity Shlaes (21 hours).
Public Enemies: America's Greatest Crime Wave and the Birth of the FBI, 1933-34 by Bryan Burrough (ca. 6 hours).
The Irregulars: Roald Dahl and the British Spy Ring in Wartime Washington, 1939-1945 by Jennet Conant (11 hours 30 minutes).
George Orwell by Gordon Bowker (24 hours, 45 minutes).
Edward R. Murrow and the Birth of Broadcast Journalism by Bob Edwards (4 hours 30 minutes).
The Ghosts of Hero Street: How One Small Mexican-American Community Gave So Much in World War II and Korea by Carlos Harrison
The Butler: A Witness to History by Wil Haygood (2 hours, 30 minutes).
Nixon and Mao: The Week That Changed the World by Margaret MacMillan (15 hours 15 minutes).