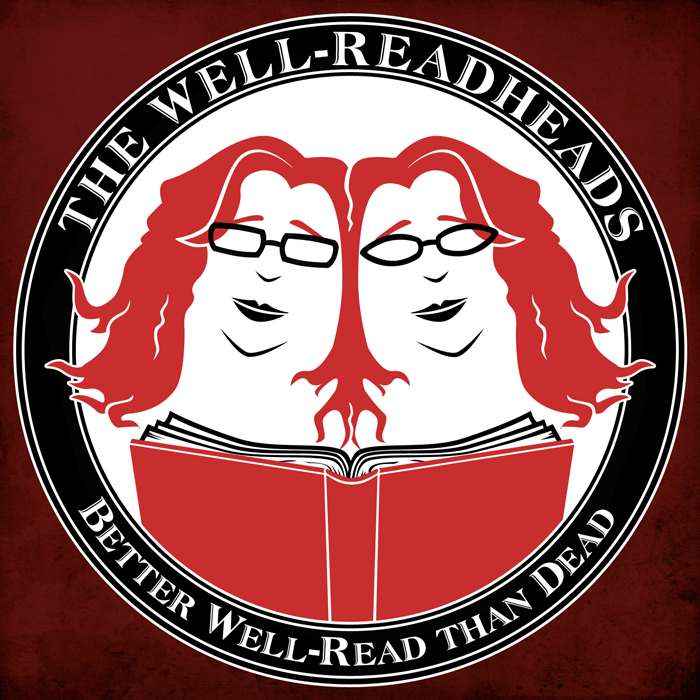 This content contains affiliate links. When you buy through these links, we may earn an affiliate commission.
Rebecca and Liberty descended on NYC for this year's Book Expo America, North America's largest book trade show. Spoiler: Everyone survived in one piece.
LH: So…that happened.
RJS: We went to BEA. We saw authors and snuggled each other and got books, and we did not almost give ourselves a concussion on a merry-go-round this time!
LH: It was someone else's turn to get a head wound. I showed remarkable restraint and only took 28 books at BEA this year. I bought another 30 books at The Strand and McNally Jackson, but…the point is, only 28 from BEA. Usually I end up with 50 or 60. And you – you only grabbed 5 books! Whadidja get?
RJS: Is it cheating if the one I'm most excited about wasn't actually at BEA? I had a meeting at the Random House offices, and a Very Wonderful Person gave me a galley of Margaret Atwood's The Heart Goes Last. It has a marriage theme and some dystopian elements, and I'm pretty sure my bells are going to be ringing from now until September when it comes out. What was your #1 find?
LH: If I had to pick just one – and this is really hard – I would say the new Adam Johnson. It's a short story collection called Fortune Smiles. He's the author of one of my favorite books, The Orphan Master's Son, and getting the new book came along with the chance to meet him. I have to say, he just might be the nicest person ever. And I was on my best behavior – I didn't even jump up and lick his face. Now, kittenhips, tell me more about what you snagged.
RJS: I gave up waiting in line for books a few years ago, but this year I made an exception for Lily Tuck. I Married You For Happiness is one of my favorite books, and her new one, The Double Life of Liliane, is very intriguing. The cover also bears a freaky resemblance to the cover for the new Franzen novel, so I'm gonna go ahead and call it right now: Tuck would totally take that cage match. She was quiet and lovely and exactly what I expected her to be like based on her writing, and standing in line was totally worth it. Back to you, sugar.
LH: I had to sleep with one eye open to keep Amanda from stealing my copy of the new Stacy Schiff, called The Witches: Salem 1692. She's the author behind the fantastic Cleopatra biography, and I can't wait to read what she has to say about the Salem witch trials. My grandmother, seven greats back, was one of the witches, and I always read everything about the trials that I can get my hands on. It's just one of my many morbid fascinations. Did you see anything interesting you didn't manage to pick up?
RJS: I'd have loved to get my paws on a copy of Mindy Kaling's new book Why Not Me?, but it wasn't in the cards. I'll just have to continue loving her from afar until pub date, I suppose. What about you? Any coulda-woulda-shouldas?
LH: I reaaaaaally wanted Lair of Dreams, the new Libba Bray. It's the long-awaited follow-up to The Diviners. But the line just to get a ticket so you could go get in another line was reaaaaaaally long, and I would have missed our lunch. I waited this long, what's another couple of months? I did manage to get Beastly Bones, the sequel to Jackaby, which was one of my favorite books last year. That makes me reaaaaaaally happy. What else did you come home with?
RJS: After hearing glorious praise of Bonnie Jo Campbell for years and years, I am finally going to read her! I picked up Mothers, Tell Your Daughters, a collection of stories coming out in October, I can. not. wait. The very first line in the description is about "flawed but strong women." Give me short stories that fit that bill, and I'll be in it to win it. Did you get any short fiction at the show?
LH: Ohhhhhhhhhhh, I am so jealous! She's so great! And, yes, on top of the Adam Johnson book, I snagged a short fiction collection by Lincoln Michel, called Upright Beasts. It's out from Coffee House Press in October. They have impeccable taste, so I'm sure it's wonderful. So, BEA is in Chicago next year. I'm nervous! I've never been to Chicago before. Trying to decide how I feel about it.
RJS: I'm stoked! I love Chicago, and I couldn't be happier to have a break from the soul-crushing Javits Center, even if it is just to move to another ginormous convention center. And just think: a whole new city for us to unleash our ginger mania on!
LH: Oooo, yes! I want to visit Unabridged Bookstore, fo sho. I think I can muster up the courage to travel to a new city for book adventures. Speaking of adventures, is now when we should mention our new podcast?
RJS: OH RIGHT! Yes. We should do that. Because we have a podcast! It's about new releases, and it comes out every Tuesday, and it's called All the Books!
LH: It's so much fun! Really, any excuse for us to talk on the phone every week. And to not have to put on pants and leave the house.
RJS: One week of multi-day pantswearing per year is more than sufficient. Any final words about BEA?
LH: Books are rad and people are more excited than ever to write them, make them, talk about them, and sell them. Does that about cover it?
RJS: Heh, cover! I can think of no better note to end on than a book pun. Until next time….