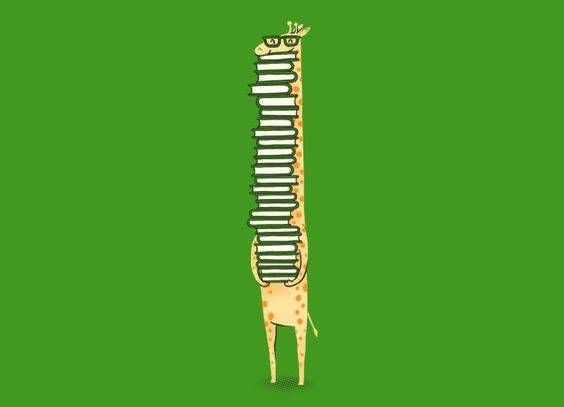 Children's
Welcome Baby!: 8 Children's Books About Giraffes
This content contains affiliate links. When you buy through these links, we may earn an affiliate commission.
Forget our current political climate. Forget Russia. Forget Envelopegate. April the Giraffe is where the real controversy of 2017 has been. People have been watching Animal Adventure Park's live stream since February, focusing a disturbing amount of attention on a giraffe's vagina (I, with shame, admit that I am among that creepy population). After a few days of exclamations that April would be giving birth "any moment now" (spoiler alert: they lied), rumors started circulating that the giraffe wasn't actually pregnant. She had a big lunch, she was like that faker panda, she was pulling a Beyonce.
But the much anticipated day has finally arrived. April has finally crapped out that damned baby. A weary world rejoices! Angels swoop down from the heavens to celebrate The Good News! A rousing rendition of The Hallelujah Chorus plays in the background as velvet depictions of giraffes as Madonna and Child are un-ironically painted into existence.
To celebrate the birth of this baby so steeped in scandal that even Suri Cruise is looking at her askance, I wanted to share a round-up of some great children's books featuring this beautiful, statuesque creature.
Because one day, we're going to have to admit to our children that we, as a nation, spent over a month obsessively watching a giraffe's backside.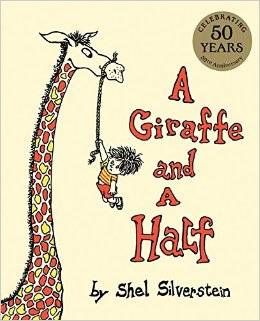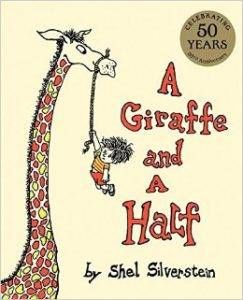 A Giraffe and a Half by Shel Silverstein
If you had a giraffe . . . and he stretched another half . . . you would have a giraffe and a half. And so it goes until . . . but that would be telling too much! Filled with Shel Silverstein's iconic line drawings and wildly funny rhymes, this book will keep children laughing up to the very end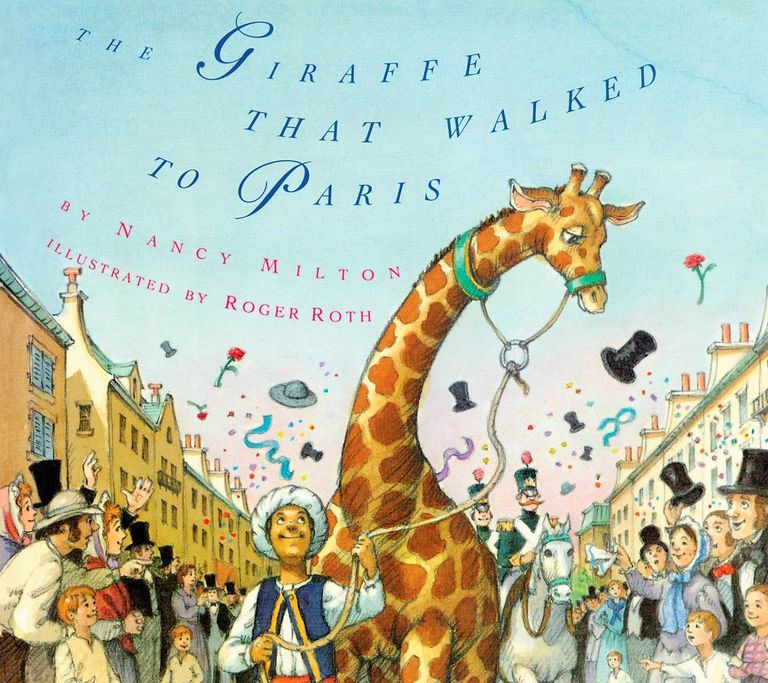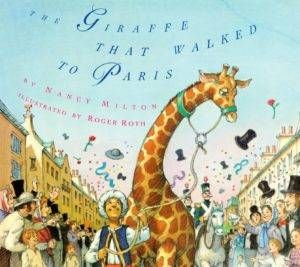 The Giraffe That Walked to Paris by Nancy Milford, illustrated by Robert Roth
Here is the beguiling true story of the first giraffe ever to live in Europe. The year was 1826, and the giraffe belonged to the pasha of Egypt, who decided to give her as a gift to the king of France. The giraffe journeyed first by boat to Marseilles, then on foot through the towns and villages of France, all the way to Paris. Her arrival in the capital was celebrated with a splendid royal parade, and everywhere she went she caused a sensation. First published in 1992.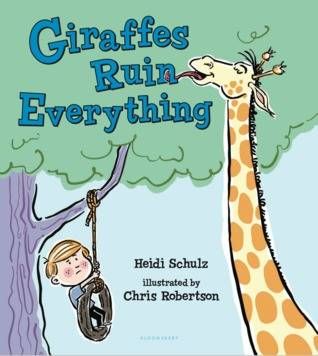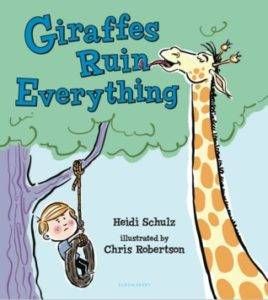 Giraffes Ruin Everything by Heidi Schulz, illustrated by Chris Robertson
In this mischievously funny picture book, friends come in all shapes and sizes. In case you were wondering, here's an incomplete list of things giraffes ruin: Birthday parties. Going to the movies. Playing at the park. Hide and Seek. Everything else. Yes, that's right. Giraffes ruin everything. But what happens when our narrator gets into a tricky situation? Perhaps he'll find giraffes aren't so bad after all .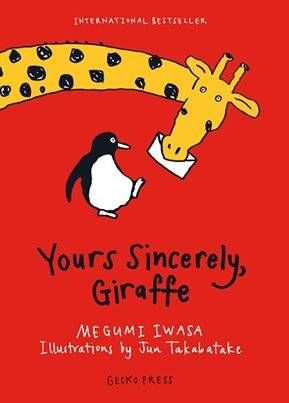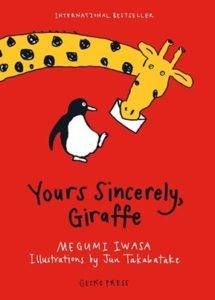 Yours Sincerely, Giraffe by Megumi Iwasa, illustrated by Jua Takabatake
Giraffe is bored, as usual. He'd love a friend to share things with. So he writes a letter and sends it as far as possible across the other side of the horizon. There he finds a pen pal, Penguin.
Oh Dear, Geoffrey! by Gemma O'Neill
Geoffrey is a very tall, very clumsy giraffe. He tries to make friends with the animals down on the ground, but he just trips, slips, and falls . . . usually flat on his face. Poor old Geoffrey tries everything to fit in, but it's only when he realizes that his height can be an advantage that he stretches out his long neck and finds a host of friends in the trees. Soon he discovers he can find friends just by being himself.
Abigail by Catherine Rayner
Abigail the giraffe loves counting. One day, she tries to count the spots on her friend Ladybug, but the little bug scurries away. Abigail tries to count Zebra's stripes and Cheetah's spots, but her friends just won't stand still! After several more unsuccessful attempts, Abigail begins to wonder if there is anything at all that she can count. Then, she has an idea.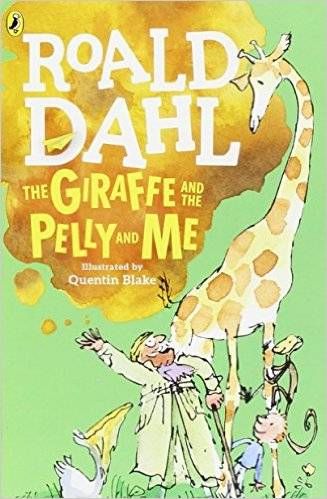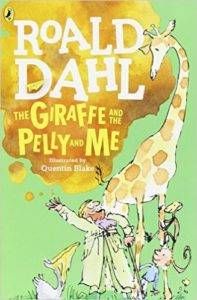 Giraffe and the Pelly and Me by Roald Dahl, illustrated by Quentin Blake
The Ladderless Window-Cleaning Company certainly doesn't. They don't need a pail, either, because they have a pelican with a bucket-sized beak. With a monkey to do the washing and Billy as their manager, this business is destined for success. Now they have their big break—a chance to clean all 677 windows of the Hampshire House, owned by the richest man in all of England! That's exciting enough, but along the way there are surprises and adventures beyond their wildest window-washing dreams.
And most relevant to recent events…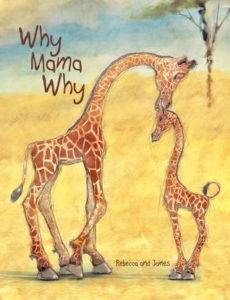 Why Mama Why?: A Little Giraffe's First Day on Earth by James McDonald and Rebecca McDonald
"Why, Mama, Why," asks Little Giraffe as she tries to make sense of the new world around her. Little Giraffe is new to the world and she has all kinds of questions for Mother Giraffe. Sometimes the answers are easy and sometimes they're hard. It doesn't take long for Little Giraffe to realize that life is full of lessons and Mother Giraffe is a loving guide.
Now what are we supposed to care about?