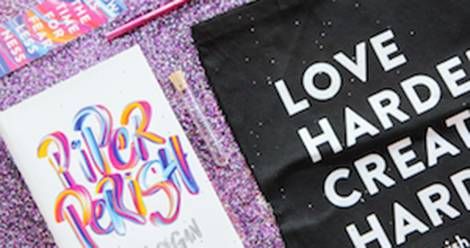 Giveaways
Weekend Giveaway: PIPER PERISH By Kayla Cagan
This weekend giveaway is sponsored by Chronicle Books, publisher of Piper Perish by Kayla Cagan.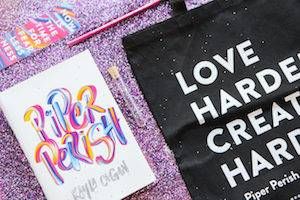 Piper Perish inhales air and exhales art. The sooner she and her best friends can get out of Houston and get to New York City, the better. Art school has been Piper's dream her whole life, and now that senior year is halfway over, she's never felt more ready. But in the final months before graduation, things are weird with her friends and stressful with three different guys, and Piper's sister's tyrannical mental state seems to thwart every attempt at happiness for the close-knit Perish family. Piper's art just might be enough to get her out. But is she brave enough to seize that power when it means giving up so much?
Order Piper Perish and receive the Piper Swag Pack with proof of purchase, including tote bag, pencil, bookmark, and glitter vial. Open to US only, while supplies last.
---
One (1) winner receives the Limited Edition "Gift with Purchase" swag items:
Copy of Piper Perish
"Love Harder. Create Harder." tote bag
"Now is the Time for Fearlessness" bookmark
Color changing mood pencil
Vial of glitter
And if you've already bought the book, go here, enter purchase information, and Chronicle Books will send you the tote, bookmark, pencil, and glitter for free!
To enter to win the prize pack, just complete the form below. Entries are limited to the United States and will be accepted until 11:59pm, Friday, March 3rd. Winners will be randomly selected.
Save
Save