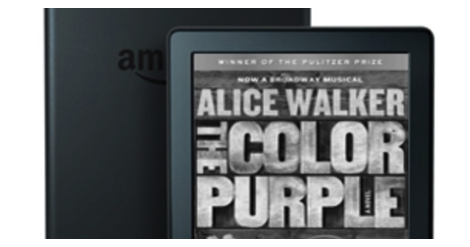 Giveaways
Weekend Giveaway: A Kindle Loaded With Iconic Bestsellers
This weekend giveaway is sponsored by Early Bird Books.
Having trouble stuffing all the books on your TBR list into your suitcase for your summer getaway? Open Road Media and Early Bird Books have got you covered—enter for a chance to win the brand new Kindle 6" touchscreen loaded with six iconic bestsellers.


The Color Purple by Alice Walker
The Lone Ranger and Tonto Fist Fight in Heaven by Sherman Alexie
The Group by Mary McCarthy
A Sport and a Pastime by James Salter
The Parable of the Sower by Octavia Butler
Tracks by Robyn Davidson

Travel light and read well.
____________________
Up for grabs this weekend is 1 Kindle 6″ touch screen loaded with the books above, courtesy of Early Bird Books. This is a US-only giveaway, and a winner will be randomly selected. Entries are through the form below and close July 22, 2016, at 11:59 pm Eastern time.
This giveaway is now closed.